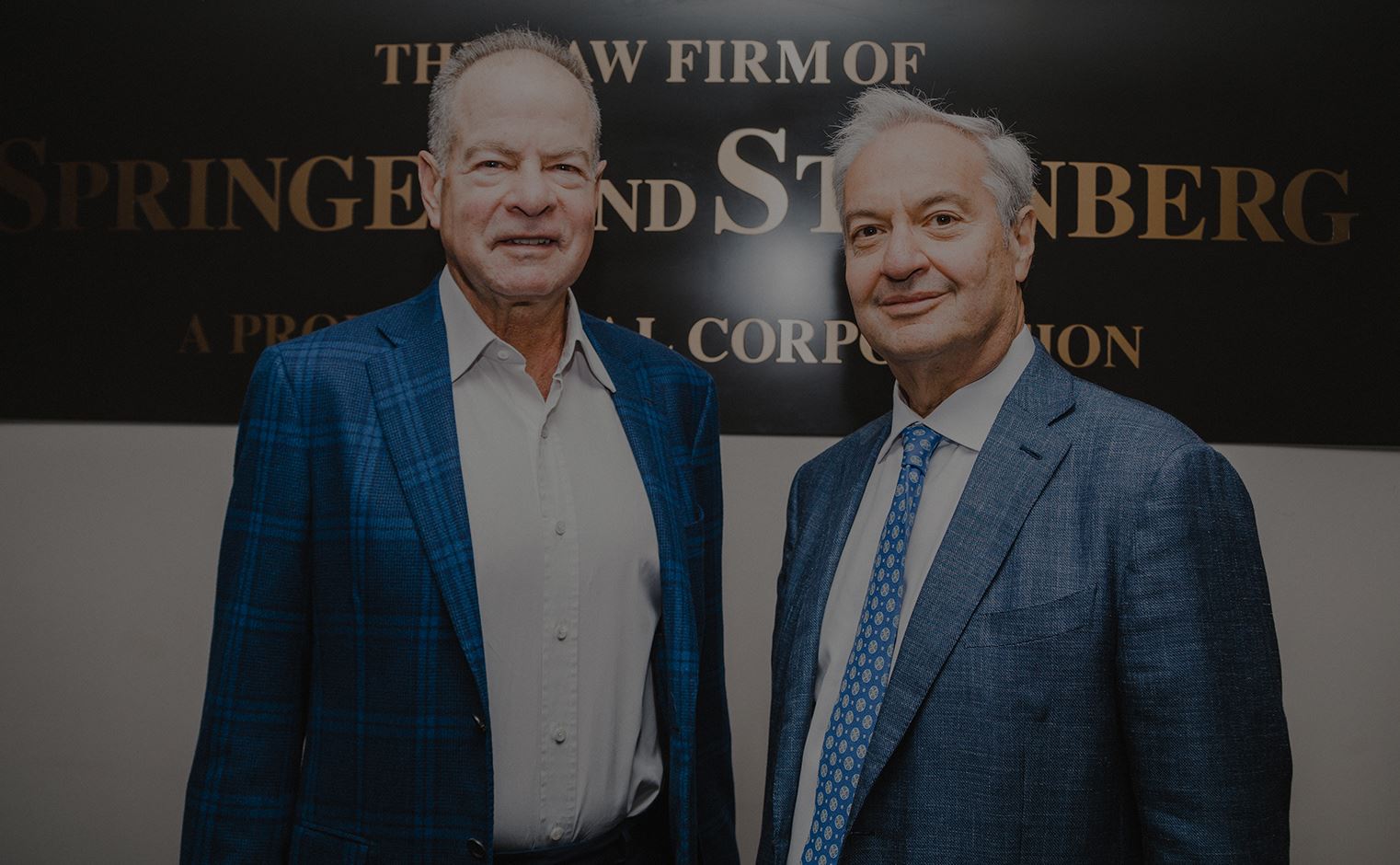 Brighton Personal Injury Lawyers
Skilled Personal Injury Attorneys in Brighton, CO
At Springer & Steinberg, P.C., our skilled Brighton personal injury lawyers are comprised of nationally recognized and award-winning legal advocates who provide the expansive resources, connections, and knowledge our Colorado clients need to pursue success inside and outside the courtroom.
For nearly four decades, our experienced personal injury attorneys have worked closely with Adams and Weld County individuals and families whose lives have been impacted by another person or party's negligence, so they can pursue more than the financial compensation they need to get their lives back, but justice that provides the confidence to move forward.
Our devoted legal advocates work diligently to ensure the insurance companies are fully aware of how our clients' injuries have affected their day-to-day lives and overall well-being, so we can pursue the best outcome for each case.
Our committed team of experienced and diverse attorneys and support staff have transformed the way personal injury cases are handled in Colorado to ensure that each of our clients is treated fairly and with respect throughout settlement negotiations or the litigation process.
We can help produce the same legal solutions for you and your family, starting with a free case assessment today.
Springer & Steinberg Brighton, CO Personal Injury Attorney Practice Areas
At Springer & Steinberg, our personal injury lawyers in Brighton provide the experience, integrity, and accessibility our clients need to pursue real results for their cases.
We represent personal injury clients throughout Brighton and surrounding cities in Colorado in cases involving injuries caused during:
With the distinction of an AV Preeminent® rating by Martindale-Hubbell®, SuperLawyers, our identification as a U.S. News Best Law Firm, and spots in the National Trial Lawyers: Top 100 and the ASLA Top 40 Lawyers Under 40, we genuinely care about each of our clients and are here to help to produce real results for real people using elite legal strategies that are designed for success.
If you have been injured or lost a loved one to negligence anywhere in Colorado, contact our skilled Brighton personal injury lawyers today to schedule a free consultation to discuss your unique recovery needs with a law firm that cares.
Partnering with Experienced Workplace Accident Attorneys in Brighton, CO
At Springer & Steinberg, our personal injury attorneys in Brighton know that workplace accidents can happen throughout Colorado without notice, changing our clients' lives in seconds.
In Brighton, dangerous working conditions can cause serious workplace injuries stemming from defective equipment and other third-party injuries that are not directly caused by your employer or a co-worker.
When these accidents occur, you may be eligible to pursue the property owner or operator, equipment manufacturer, transportation and vehicle operators, or another third party who is liable for your injuries for the financial compensation you need to get your life back on track.
Our Brighton personal injury lawyers will review your workplace accident and injuries during a free consultation, to help you recover the medical expenses, lost wages, and additional out-of-pocket costs workers' compensation may not cover.
What Types of Financial Compensation Can I Pursue After a Personal Injury Accident in Brighton, CO?
No two personal injuries or the circumstances that caused them are the same. Neither are each of our client's financial compensation needs.
At Springer & Steinberg, our skilled team of Brighton personal injury attorneys has recovered hundreds of millions of dollars in compensation for our clients, all starting with free consultations, and will use our experience and resources to pursue a positive result for your case too.
Depending on the extent of your injuries, your complete financial needs may be complex and include:
Current and future medical costs
Medical devices and prescription expenses
Therapy and rehabilitation appointments
Current and future lost wages
Diminished working capacity
Temporary or permanent disability
Pain, suffering, and psychological damages
Our experienced personal injury attorneys in Brighton ensure your damages are calculated and predicted accurately, so you are awarded fairly. Should our negotiations with the insurance company end in a less than just outcome, we will end our talks and take your case to trial where our skilled litigators have produced proven results.
Local Emergency Response and Healthcare Resources for Brighton, CO Residents
Brighton, Colorado is home to nearly 40,000 residents who deserve access to emergency response and healthcare resources to ensure their accident and injury needs are met swiftly and effectively.
Emergency Response Resources in Brighton, Colorado
Healthcare Resources in Brighton, Colorado
Contact Our Leading Brighton Personal Injury Lawyers Today to Schedule a Free Consultation
If you were injured by another person or party's negligence or lost a loved one to negligent circumstances in Colorado, contact our skilled Brighton, CO personal injury law firm located in the Denver metropolitan area at Springer & Steinberg by calling 303-861-2800 or online today to discuss the details of your case with a team of legal advocates who care about your future.
Our dedicated Brighton personal injury lawyers provide free consultations for all Colorado residents, and never charge any legal fees unless you make a recovery on your unique case.
---
We Also Serve The Following Areas:
Boulder |  Castle Rock | Centennial |  Colorado | Fort Collins | Denver | Grand Junction |  Golden
Image Credit: marekuliasz / Shutterstock