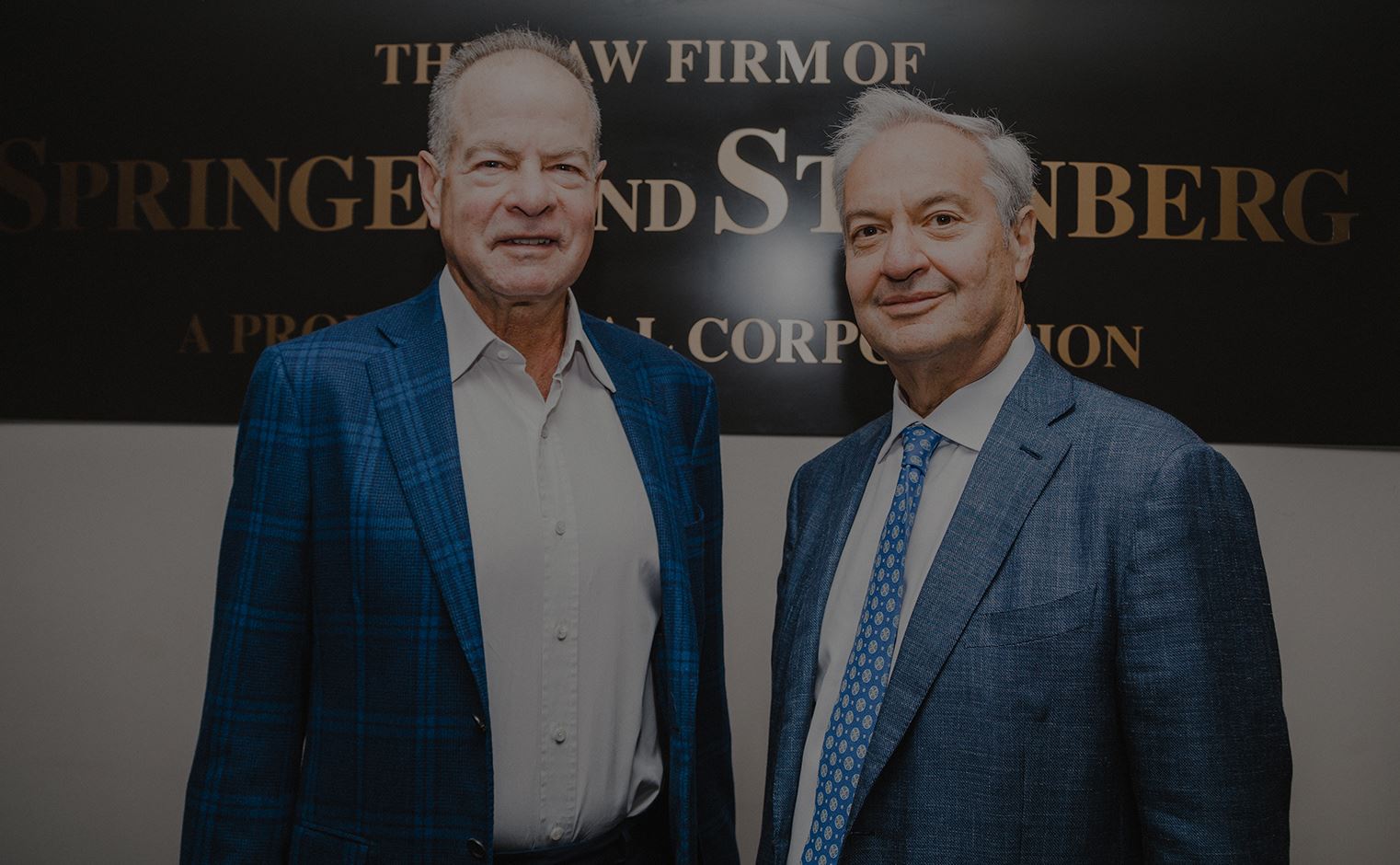 Grand Junction Personal Injury Lawyers
Dedicated Personal Injury Attorneys in Grand Junction, CO
At Springer & Steinberg, P.C., our skilled Grand Junction personal injury lawyers understand the physical, emotional, and financial impact negligence has on our Colorado clients' lives
That is why we are here.
For nearly 40 years, our dedicated team of Mesa County personal injury attorneys and support staff have provided our clients with direct access to nationally recognized and award-winning legal advocates who provide the expansive resources, connections, and knowledge they need to pursue success inside and outside the courtroom.
Our Grand Junction personal injury law firm has transformed the way our clients' cases are handled to ensure they are treated fairly and with respect throughout settlement negotiations or the litigation process.
Contact us at (303) 861-2800 today to learn how we producde real financial recovery results for real people.
---

Springer & Steinberg Grand Junction Personal Injury Attorney Practice Areas
With the distinction of an AV Preeminent® rating by Martindale-Hubbell®, SuperLawyers, our identification as a U.S. News Best Law Firm, and spots in the National Trial Lawyers: Top 100 and the ASLA Top 40 Lawyers Under 40, we genuinely care about each of our clients and are here to help to produce real results for real people using elite legal strategies that are designed for success.
Our experience, integrity, and accessibility set us apart from other law firms as we represent personal injury clients throughout Colorado in cases involving injuries caused during:
If you have been injured or lost a loved one to negligence anywhere in Colorado, contact our skilled personal injury attorneys today to schedule a free consultation to discuss your unique recovery needs with a law firm that cares.
Please do not hesitate to call (303) 861-2800 to talk to a Grand Junction injury lawyer at Springer & Steinberg, P.C., and discuss your legal rights.
What are the Most Common Causes of Semi-Truck Accidents in Grand Junction, CO?
Grand Junction is a major commercial and transportation hub within the large area between the Green River and the Continental Divide that provides semi-truck drivers with direct access to important highway systems including Interstate 70, U.S. Highway 50, and U.S. Highway 6.
Unfortunately, more commercial vehicle traffic often means increased truck accidents in Grand Junction and throughout Colorado.
According to the Federal Motor Carrier Safety Administration, nearly 117,000 people were injured in semi-truck collisions across the country last year.
The National Highway Traffic Safety Administration reported a 9% increase in semi-truck collision deaths nationwide from the previous year totaling more than 5,000 fatalities – 87 of which occurred in Colorado.
The reality is, most of the semi-truck accidents, injuries, and fatalities that occur across the country, in Colorado, and Grand Junction are caused by the truck driver, trucking company, or another third party's negligence.
Common truck driver negligence may include distracted, aggressive, or fatigued driving, speeding, or drug and alcohol use.
Common trucking company negligence may include forcing drivers to violate the Hours of Service Regulations, placing profits over safety, foregoing background checks or medical exams for drivers before hiring, and failing to properly train inexperienced drivers.
Common third-party negligence can include cargo companies or employees violating proper loading requirements or weight limits, and maintenance or manufacturing negligence that leads to brake, tire, and transmission failures.
If negligence was a factor in your collision with a semi-truck in Grand Junction, contact our skilled Colorado personal injury lawyers at Springer & Steinberg today to schedule a free consultation to discuss your case.
What Types of Financial Compensation Can I Pursue After a Personal Injury Accident in Grand Junction, CO?
At Spring & Steinberg, our skilled team of Grand Junction personal injury attorneys has recovered hundreds of millions of dollars in compensation for our clients, all starting with free consultations, and will use our experience and resources to pursue a positive result for your case too.
Depending on the extent of your injuries, your complete financial needs may be complex and include:
Current and future medical costs
Medical devices and prescription expenses
Therapy and rehabilitation appointments
Current and future lost wages
Diminished working capacity
Temporary or permanent disability
Pain, suffering, and psychological damages
Our experienced personal injury attorneys in Grand Junction ensure your damages are calculated and predicted accurately, so you are awarded fairly. Should our negotiations with the insurance company end in a less than just outcome, we will end our talks and take your case to trial where our skilled litigators have produced proven results.
Local Emergency Response and Healthcare Resources for Grand Junction Residents
Grand Junction, Colorado is home to just over 62,000 residents who deserve access to emergency response and healthcare resources to ensure their accident and injury needs are met swiftly and effectively.
Emergency Response Resources in Grand Junction, CO
Healthcare Resources in Grand Junction, CO
Contact Our Leading Grand Junction Personal Injury Lawyers at Springer & Steinberg Today For a Free Consultation
If you have been hurt or have tragically lost a loved one to negligent circumstances in Colorado, contact our skilled Grand Junction personal injury lawyers at Springer & Steinberg by calling 303-861-2800 or online today to discuss the details of your case with a team of legal advocates who care about your future.
Our dedicated Grand Junction personal injury lawyers provide free consultations for all Colorado residents, and never charge any legal fees unless you make a recovery on your unique case.
---
We Also Serve The Following Areas:
Aurora | Boulder | Brighton | Centennial | Castle Rock | Colorado | Fort Collins | Denver | Grand Junction | Golden
Image Credit: Paul Gana / Shutterstock