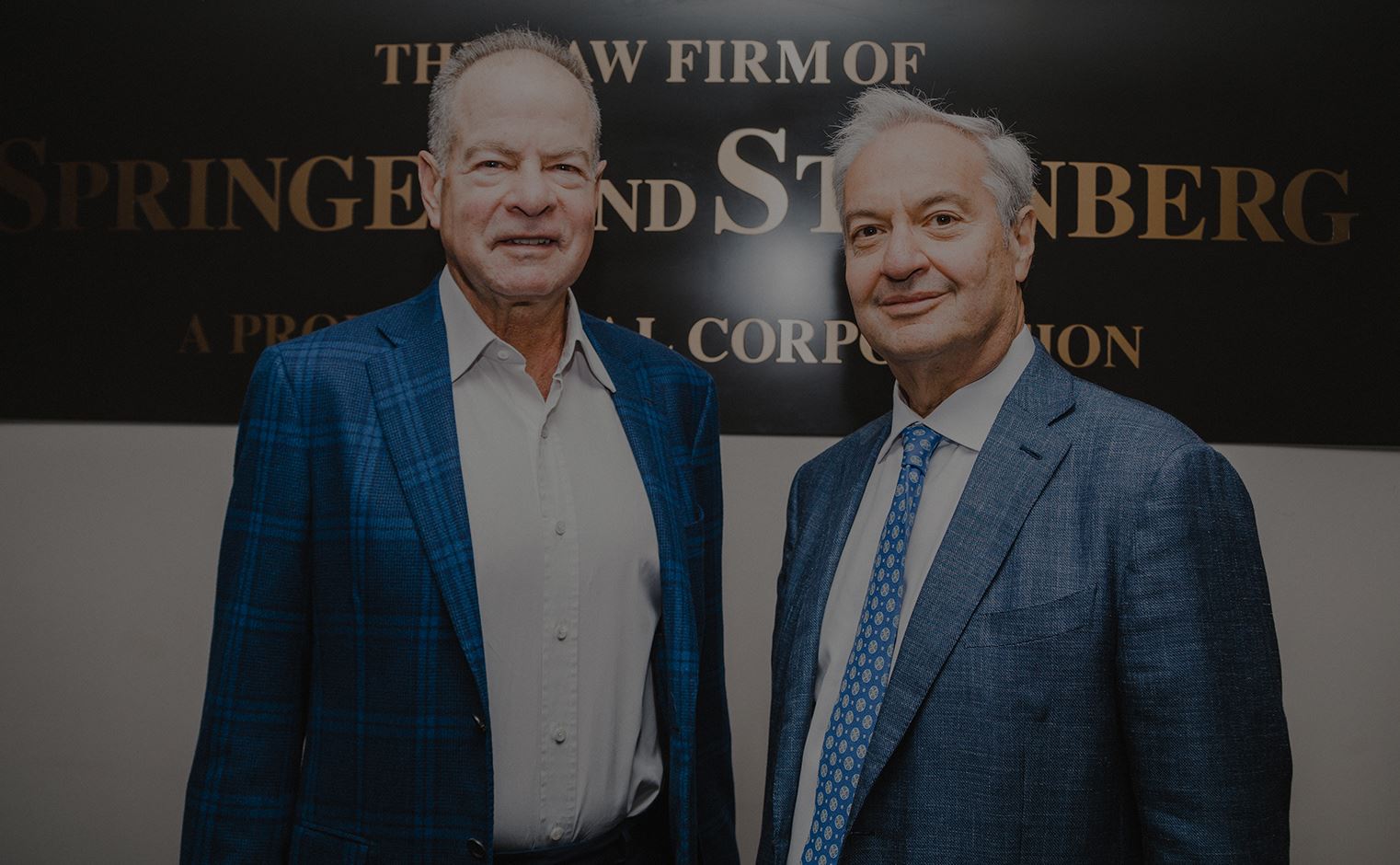 Denver Personal Injury Attorney
Your Trusted Distracted Driving Accident Lawyer in Denver, CO
According to the Colorado Department of Transportation (CDOT), more than 10,000 car accidents were attributed to distracted drivers in 2020 alone, causing dozens of deaths and thousands of injuries. And yet, more than 90% of CO drivers say they engage in distracted driving – putting everyone on the road at risk.
The repercussions could be severe if you or a loved one were injured in a distracted driving accident. Even a seemingly minor injury can impact many aspects of your life, affecting everything from your work to your emotional health. When you are hurt by another driver's decision to drive distracted, you should not have to carry the burden alone.
At Springer & Steinberg, P.C., our distracted driving accident lawyers in Denver can help you pursue a fair and just legal solution, including financial compensation for your injuries and losses. Our extensive experience and understanding of Colorado statutes and case law make us exceptionally well-equipped to present and argue your accident claim. Whether your situation involves negotiating a fair settlement or taking a case to trial, our personal injury attorneys are committed to fighting on your behalf.
For detailed information regarding how our legal team can support you, please call us at (303) 861-2800 or contact us online to request a free private consultation.
---
---
Definition of Distracted Driving
The NHTSA defines distracted driving as engaging in any activity that diverts attention from safe, attentive driving. Essentially, any non-driving activity is a distraction that can dramatically increase the risk of a car crash.
Many different factors can contribute to distracted driving, including:
Texting while driving
Talking on a cell phone while driving
Talking to other vehicle passengers while driving
Making adjustments to the vehicle's navigation, radio/entertainment, or temperature control systems
Eating or drinking while driving
Reaching for something on the vehicle's floor or between/behind seats
Personal grooming while driving (such as applying cosmetics)
Although the state of Colorado has not yet banned the use of hand-held devices while driving, it is illegal for any driver to text while operating a vehicle. Additionally, drivers under the age of 18 are prohibited from using cell phones (in any way) while driving.
Different Types of Distracted Driving
Distracted driving can generally be labeled as one (or more) of the three basic types of distractions:
Visual distraction involves anything that takes the driver's eyes/visual attention away from the road.
Manual distractions involve the driver using their hands for any activity other than driving.
Cognitive distraction involves mental and emotional factors negatively affecting the driver's ability to focus on driving.
Your Legal Options After Being Injured in a Distracted Driving Accident
If you are involved in an auto accident caused by a distracted driver, you can consider two primary legal recourses:
File an insurance claim against the driver at fault. You can hold the distracted driver and their insurance company responsible for the injuries and damages you incur as a result of the accident.
File a personal injury claim/lawsuit. You can also submit a personal injury claim in a CO civil court to asset the driver's liability and request fair compensation for damages.
There are rare cases in which the injured party may opt to file an accident claim with their own insurance company should the at-fault driver be found to have no insurance coverage. However, this is a relatively uncommon occurrence because insurance coverage is legally required for all drivers.
Should I File a Claim Against a Distracted Driver?
It is not unusual for accident victims to question whether or not it is "worth it" to take legal action against the at-fault driver. However, it is extremely important to hold distracted drivers accountable – both for your sake and the safety of others.
Not only are you entitled to maximum compensation for your injuries and losses (and you should not have to pay for an accident that was not your fault), but a claim can also be a critical step in preventing future accidents. If distracted drivers are required to face the consequences of their actions, it is far more likely that they will be more committed to driving safely in the future.
Recoverable Damages for Distracted Driving
As the victim of a distracted driving accident, you may qualify to receive financial compensation for the following:
Medical expenses associated with accident injuries
The cost of repairing or replacing your vehicle
Property damage or loss of property because of the accident
Loss of income due to the accident, including time spent seeking medical care (i.e., doctor's appointments)
Pain and suffering
Other expenses and financial losses directly related to the accident
How the Colorado Statute of Limitations for Personal Injury Claims May Affect Your Case
A statute of limitations is a law that establishes exactly how long after an event you are allowed to file a legal claim. The CO statute of limitations for personal injury claims in relation to motor vehicle accidents (which covers distracted driving accidents) states that you have three years after an accident to file a lawsuit.
This means that it is crucial that you consult a trusted distracted driving lawyer as soon as possible after an accident occurs. If you wait too long, you are at risk of running out of time and being unable to pursue damages or bring your case to court.
Why You Need a Lawyer If A Distracted Driver Hurt You
The ramifications of a distracted driving accident can change your life forever, resulting in catastrophic injuries, job loss, emotional distress, and more. And although there is no amount of money that can remedy the injustice of being hurt by another person's carelessness, financial compensation can make it possible for you to get the proper medical treatment, repair your car, and find a way to move forward.
Working with an experienced distracted driving accident attorney is the key to minimizing any potential stress involved in a personal injury claim. The legal team at Springer & Steinberg will manage every aspect of your case, so your time and energy can be devoted to your recovery.
Furthermore, our attorneys have the legal expertise to navigate the complex laws and case practices involved in personal injury claims, so we can help Denver distracted driving accident victims achieve the best possible outcome in each case.
Springer & Steinberg, P.C. is Here to Advocate for You After a Distracted Driving Accident
If you are in need of a Denver distracted driving accident lawyer, the personal injury law firm of Springer & Steinberg is here for you. For more information about how we can help your case, please call us at 303-861-2800 or contact us online to request a free legal consultation today.
To schedule a free consultation with a Denver distracted driving accident lawyer, call us today at 303-861-2800 or contact us online.
Image Credits: Jinga – Andrey_Popov / Shutterstock