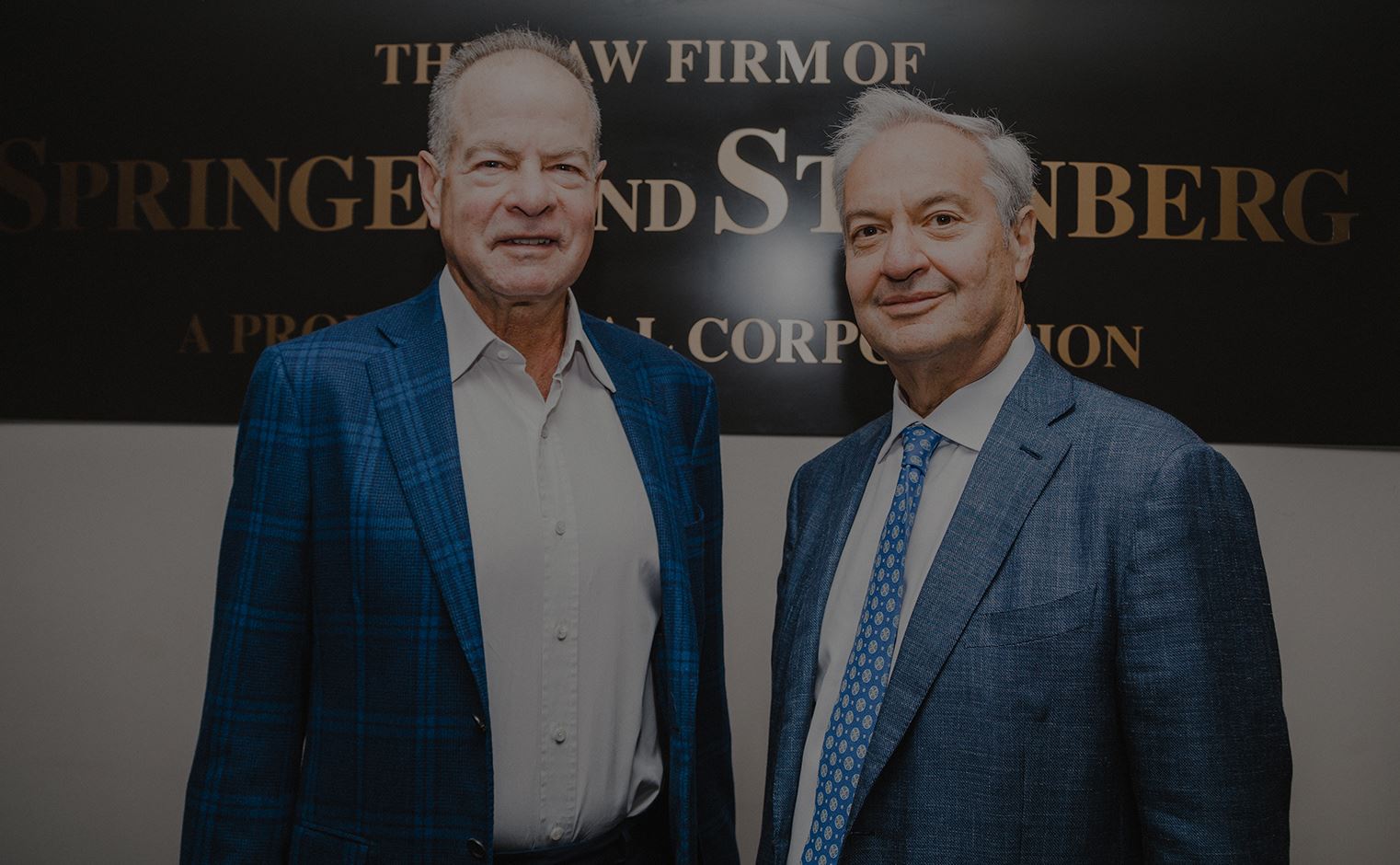 Denver Personal Injury Attorney
Pedestrian Accident Lawyers in Denver, CO
When it comes to traffic accidents, no one is as exposed or as prone to injury as a pedestrian. While crossing the street, walking on the sidewalk, or through a parking lot, you are not wearing a helmet. You are not protected by the seat belt, airbag, and metal frame like the driver of a car, so even a "minor" accident can leave you with broken bones, head trauma, or other debilitating injuries. Injured pedestrians can hold negligent drivers and other at-fault parties accountable for their injuries. With the help of experienced Denver pedestrian accident lawyers, you may be able to recover compensation for your medical bills, ongoing medical care, lost earnings, property damage, and even emotional trauma.
To start making sense of your injury claim, work with our Denver pedestrian accident lawyers from Springer & Steinberg, P.C. We bring more than 40 years of collective experience to each case we handle, as well as a teamwork approach that allows us to prepare to take a case to trial if that is what is best for our client.
Start with a free consultation. Give us a call at (303) 861-2800 or contact us online to learn more.
---
---
Understanding Pedestrian Accidents & Their Causes
As the pedestrian accident victim, it can often be complicated to pinpoint the exact cause – mainly because the accident is triggered by a sudden, unexpected event. However, in most cases, there is a clear catalyst for a pedestrian accident. When you have been injured as the result of another person or party's reckless or careless actions, you deserve to know.
Common Causes of Pedestrian Accidents in Denver, CO
One of Denver's most common pedestrian accident causes is motor vehicle accidents. A pedestrian can be seriously injured by a negligent motorist or even killed.
Our Denver pedestrian accident attorneys have experience with cases involving:
Distracted drivers (texting, talking on the phone, etc.)
Drivers under the influence of alcohol or drugs
Parking lot and parking structure accidents
Crosswalk and intersection accidents
Driveway accidents
Pedestrian accidents involving children
Failure to abide by traffic signals
Speeding
Sidewalk accidents
Reversing
One of the key parts of any Denver pedestrian accident case will be proving that the motorist was negligent and, therefore, responsible for what happened. Our experienced lawyers can use available evidence and conclusions drawn through comprehensive arguments in and out of court to show that you should not be held liable for your own injuries. As your legal representatives, our goal will be to minimize your liability for your pedestrian accident, which actually increases the amount of compensation you can recover from the driver that hit you.
Common Pedestrian Accident Injuries
No matter the vehicle's size, a pedestrian's injuries can be severe. Common pedestrian injuries include:
Broken bones
Fractures
Crushed bones
Severed limbs
Head injuries
Concussions
Paralysis
What to Do After a Pedestrian Accident in Denver, CO
If you are a pedestrian that is injured in an accident, you should:
Immediately contact the police to submit a report.
Accept medical assistance/care.
Contact a Denver pedestrian accident lawyer to help you effectively communicate with your insurance provider to ensure you do not inadvertently accept unfair liability for your injuries.
You want to have legal representation to protect you as soon as possible.
What Must You Prove to Recover Compensation in a Pedestrian Accident Claim?
In order to pursue fair compensation for injuries from a pedestrian accident, you must prove liability (fault). There are various aspects of a case that affect the amount of compensation that may be issued, including:
Extent of injuries
Impact of injuries on daily life and future earning capacity
Chances of making a full recovery from injuries
How the other party is clearly at fault
It is important to hire a pedestrian accident attorney who can collect all relevant evidence for your case so you are prepared to prove it.
Colorado Laws Regarding Pedestrian Right of Way
Pedestrians have specific rights and responsibilities under Colorado law. For example, Colorado Revised Statutes § 42-4-802 specifies that pedestrians have the right of way in crosswalks. If traffic control signals are absent or are not in working order, motorists must yield the right of way all the same. Laws like these examples are in place to protect pedestrians from reckless and negligent drivers.
Injuries & Compensation in Pedestrian Accident Claims
As mentioned, pedestrian accident victims who are struck by motorists – or even bicyclists – are prone to suffering severe injuries due to their lack of physical protection. A low-speed pedestrian accident can still result in catastrophic injuries that cause lifelong complications. Treating those injuries through hospitalization, surgeries, and rehabilitative therapies can get expensive and quickly, which is not even saying anything about the other financial devastation a pedestrian can suffer due to their injuries.
Damages you might have experienced in your pedestrian accident include:
Medical costs: The cost of medical care associated with treating a patient who has been hit by a vehicle can range into hundreds of thousands of dollars, depending on what treatments need to be done. You should not be held accountable for those medical bills if your pedestrian accident was not your fault.
Lost wages: Losing wages due to missing work while recuperating from serious injuries is devastating. Disability claims are difficult to win, and the benefits they provide are often minimal. To close the financial gap caused by your missing wages, filing an injury claim or lawsuit might be necessary.
Pain and suffering: Noneconomic damages can be awarded to pedestrian accident plaintiffs in Colorado. Your emotional pain and physical suffering experienced due to your injuries can be translated into a damage amount to demand through your claim.
Lowered life expectancy: Furthermore, if your injuries are severe enough to lower your life expectancy or lessen your overall enjoyment of life on a day-to-day basis, then those damages can be calculated into your claim, too.
Contact us today at (303) 861-2800. We're here to listen and help you.
Colorado Statute of Limitations
Colorado has a three-year statute of limitations for certain civil actions under Statute 13-80-101. The injured person must file lawsuit for personal damages within three years from the date of the accident or, in some cases, the date of when the injury was first noticed after the accident. For example, if an individual is injured due to a car accident, the statute of limitations would be three years from the date of the accident.
It is important to consult with an attorney as soon as possible so that you can discuss your case and remain within the statute of limitations.
Why Do You Need a Denver Pedestrian Accident Lawyer?
You do not want to navigate the legal process alone when you or a loved one is injured in a pedestrian accident. Insurance companies are for-profit entities that stand to benefit from offering the lowest possible settlement. It is extremely common for victims to settle for less than they deserve – simply because they don't have an attorney.
After an accident, a personal injury lawyer provides invaluable support to help you navigate the process of recovering rightful financial compensation. From communicating with your insurance company to managing vital paperwork, your attorney will remove much of the burden from your shoulders.
Free Consultation for Denver Pedestrian Accident Injury Cases
Denver victims can turn to the experienced and dedicated legal team at Springer & Steinberg, P.C. for those in need of a personal injury attorney. Our Denver pedestrian accident lawyers have the skill and expertise necessary to fight for your rights, whether that means pursuing a fair settlement or representing you in court.
For more information about what to do if you're injured in an accident, contact us online or call (303) 861-2800 to schedule a free consultation today.


Image Credit: Photographee.eu / Shutterstock