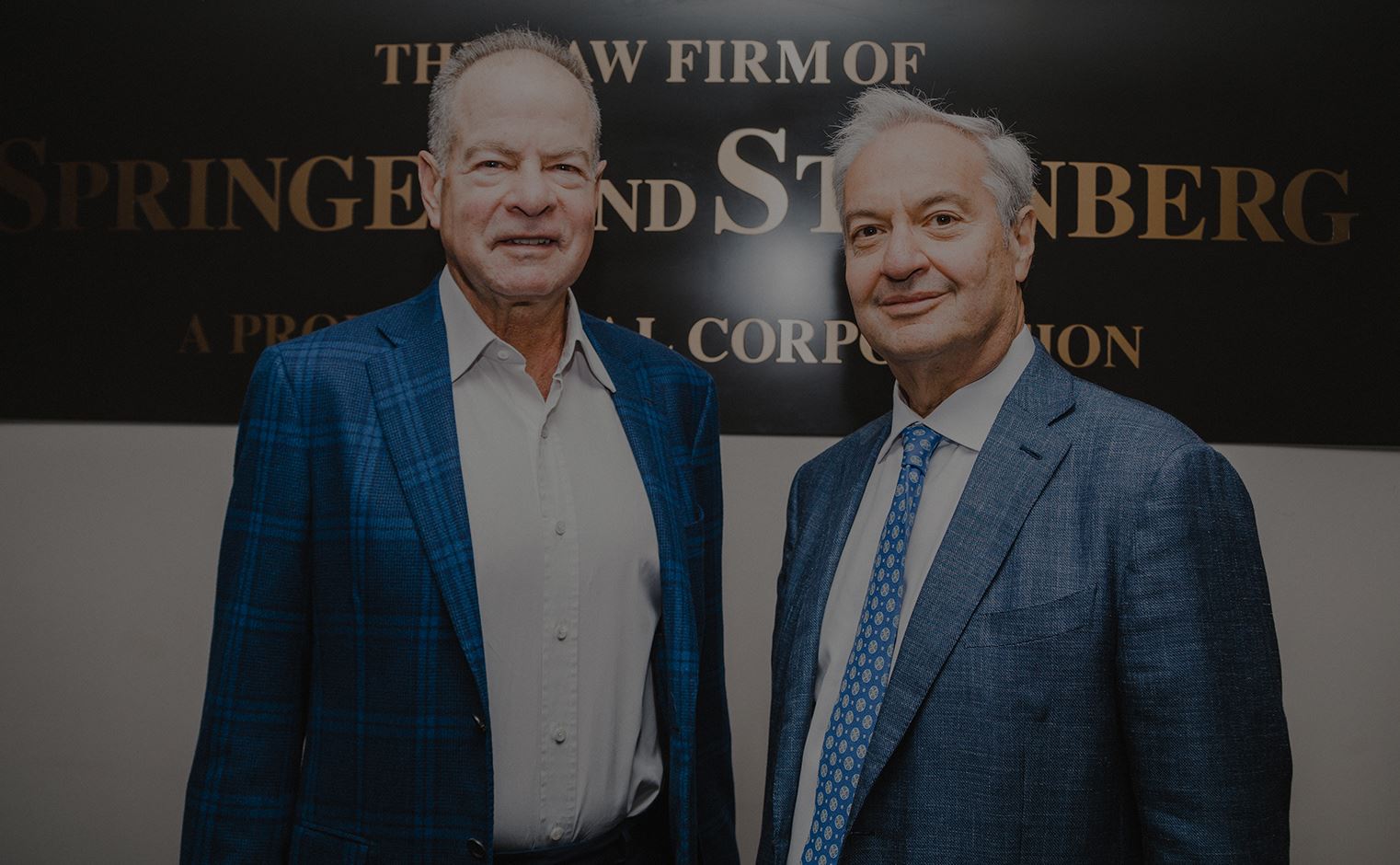 Denver Personal Injury Attorney
We've Recovered Hundreds Of Millions For Our Clients
Numerous medical mistakes are made annually across the United States, resulting in a staggering amount of unnecessary pain, suffering, and even death affecting patients and their families. Unfortunately, medical malpractice cases can be difficult, expensive, and hard-fought by both the physicians accused of wrongdoing and their insurance companies. If your family has been affected by this type of harm in any Colorado community, you should speak to experienced Denver medical malpractice attorneys about whether you have a claim and it would be worthwhile to file suit against a doctor, nurse, or hospital.
Springer & Steinberg, P.C. is here to assist you as you assert your legal right to seek compensation from the medical providers whose actions harmed you. We recommend moving quickly, as you have only two years from the date of your medical treatment injury, or of the time you realized it was caused by malpractice or should have reasonably discovered it was linked to malpractice, to file a personal injury claim (Colorado Revised Statutes § 13-80-102.5). Our Denver medical malpractice attorneys are standing by to see how we can help you.
Call 303-861-2800 or contact us online today for a free, confidential review of your case.
Elements Of A Medical Malpractice Case
Medical malpractice lawsuits are a particular subcategory of a larger area of the law known as negligence. All injury lawsuits have the same four elements:
Duty to act reasonably
Failure to act the way a reasonable person should act
Causation
Damages
Additionally, there are special requirements that must be met when filing a malpractice lawsuit.
Most states, including Colorado, have statutes in place to detail the steps that a claimant must take in order to establish a cause of action against a doctor or other medical worker. One step is that an injured person must consult with a doctor who will certify that the actions of the defendant doctor were below the standard of care that a reasonable doctor would provide. At trial, expert testimony by a doctor or nurse is almost always required in order to establish both the standard of care and any breach of the standard by the defendant.
To put our medical malpractice law firm record and reputation to work on your case, call 303-861-2800 or contact us online and ask for a free case evaluation
What is Medical Negligence?
Medical negligence is any form of healthcare that fails to meet minimum standards. It can occur in any medical field, anytime a patient does not receive the care they are entitled to (and when that care falls below the standard expected of a reasonable healthcare provider).
It's important to understand that medical negligence does not have to be intentional. In many cases, medical negligence does not involve purposeful contact. Rather, medical negligence may occur due to an error or after a medical professional fails to take proper action under certain circumstances.
There are many different types of medical malpractice and negligence, including:
Wrong diagnosis
Failure to diagnose
Medical error
Failing to inform (regarding risks, possible outcomes, side effects, and more)
Chart mix-ups
Surgical injury
Failing to identify or respond to complications
Birth injury
Emergency room negligence
Inattention
Lack of training
If you or someone you love was injured due to a lack of medical care or adequate skill, you might be entitled to compensation for your damages and undue suffering. Our team of Denver medical malpractice attorneys are here to help.
How to Prove Medical Negligence or Malpractice
Exactly how do you prove medical negligence? There are two key questions you must be able to answer effectively:
In a situation such as this, what is the minimum standard of adequate medical care?
How did the care provided to the patient fall short of the minimum standards of care?
Medical expert malpractice or negligence is care that follows below the expected standard of adequacy. The provided care does not need to be 100% perfect; however, it must be adequate.
It is important to understand that a healthcare provider is unable to (and is not expected to) guarantee good results from medical treatment. However, they are held responsible for providing a level of care that meets basic adequacy expectations. These expectations are based on the provider's medical training, the typical level of treatment in that specific situation, and the healthcare professional standard.
To prove medical malpractice or negligence, as your medical malpractice attorney, we must illustrate both the facts of your case and the professional standard expected in a case like yours. Then, we must demonstrate the care provided to you did not meet that standard and how.
Essentially, there are four basic components of a case that your attorney should be prepared to prove:
There was a doctor-patient relationship clearly established between you and the healthcare provider. In simplest terms, this means that you requested treatment and that the provider agreed to treat you. You do not have to prove a longstanding relationship. Even visiting an emergency room involves a doctor-patient relationship because it is understood that the emergency room practitioners are agreeing to treat the individuals that come in.
The provider was negligent. Being unhappy with the results of your treatment, or even having complications resulting from your treatment, isn't necessarily enough to prove negligence. Treatment may be unsuccessful, but that does not automatically equate to medical malpractice. Therefore, you must prove that the provider was negligent (whether intentionally or not).
The negligence resulted in an injury. This can be one of the most challenging points to prove, primarily because when an individual sees a doctor, they are often already sick or injured to a certain degree. So, you must be able to show that there was an issue that resulted from the negligence, one that was not related to a preexisting condition.
The injury resulted in certain damages or losses. Damages or losses are necessary if you are seeking compensation. Without damages, there is no case.
Who Can Be Held Liable for Medical Malpractice in Denver?
Oftentimes, people assume that only doctors can be held liable for medical malpractice. However, many healthcare professionals are often involved with a patient's care and treatment, and each one is responsible for meeting a minimum standard of care.
Some of the providers that can be held liable for medical malpractice include:
Doctors
Nurses
Pharmacists
Hospitals
Clinics
Urgent care centers
Radiologists
Anesthesiologists
Surgeons
Dentists
Chiropractors
In fact, certain cases may name more than one liable party.
Common Instances Of Medical Malpractice In Denver
Oftentimes, a medical malpractice suit arises because a doctor failed to do something that a reasonable provider would have done under the same or similar circumstances, but other cases can arise because the physician did something that a prudent doctor would not have done.
The following are examples of medical errors and malpractice:
Misdiagnosis of, delayed diagnosis of, or failure to diagnose an illness or injury
Delayed treatment of a medical condition
Mismanagement of childbirth complications
Medication errors (improper dose, wrong medication)
Operating on the wrong body part
Leaving an object behind after surgery
Lack of informed consent prior to a medical procedure
Anesthesia errors (dosage mistakes, failure to monitor a patient during anesthesia)
Delayed C-section, or failure to recommend C-section in high-risk delivery
Negligent preoperative, perioperative, or postoperative care
Emergency room errors and negligence
Nursing malpractice
Compensation For Medical Malpractice Claims in Denver, CO
Once a patient has established that his or her medical provider's error was negligent, the question becomes how much money it will take to compensate the patient for his or her injuries. These may include pain and suffering, disfigurement, past medical expenses, the costs of future treatment, lost wages, loss of future earning capacity, loss of consortium, and, in particularly egregious cases, punitive damages, including pain and suffering (Colorado Revised Statutes § 13-21-102). If the act of malpractice leads to the wrongful death of a patient, the decedent's family may also seek financial compensation for the loss of their family member, lost wages of the decedent, funeral costs, and other final expenses.
Since there is no set formula for establishing damages, the fair compensation that patients receive for similar injuries can vary significantly. This is why it is crucial that a patient is represented by a medical malpractice attorney in Denver that will aggressively pursue each and every element of damages to which the patient and possibly the patient's family may be entitled.
Common Damages Recovered in a Medical Malpractice Case
In Colorado, medical malpractice cases can involve two types of compensatory damages:
Economic damages, which have a specific dollar value, such as:
Medical expenses
Lost wages
Medication costs
Future medical expenses/care needs
Loss of earning capacity
Non-economic damages, which don't have an exact monetary value, such as:
Emotional distress
Pain and suffering
Disfigurement or Impairment
Loss of quality of life
Loss of consortium (the benefits of parenting or married life)
Our Denver medical negligence attorneys can help you quantify the value of the damages you have suffered as a result of malpractice, so you can receive the full compensation you deserve.
When Should You File a Medical Malpractice Lawsuit
Under Colorado law, there are strict time deadlines for filing a medical malpractice lawsuit. It is important to start your case on or before the last day of the deadline, as outlined by the Colorado statute of limitations for medical malpractice claims.
Keep in mind that it can take a considerable amount of time to gather evidence and file the necessary legal documents, so acting quickly to hire an attorney may be your best course of action. If you need a Denver attorney for a medical malpractice claim, don't let your time run out. Contact Springer & Steinberg, P.C. now.
Medical Malpractice Statute Of Limitations Colorado
In Colorado, the statute of limitations for medical malpractice claims is two years from the date the alleged malpractice occurred. This filing deadline is strictly enforced in medical malpractice actions. If you fail to file a claim within this timeline, your suit will be dismissed except in very limited circumstances.
While this deadline sounds simple on the surface, there are several circumstances that can affect the application of this statute of limitations. For example, in situations where a person is unaware that they were harmed by an act of malpractice or what the source of their injury is, this two-year clock may be delayed until the date the harm is actually discovered or should have reasonably been discovered. This is known as the "discovery rule."
Exceptions that may sometimes extend this statute of limitations include:
The malpractice was not immediately apparent and was not discovered until some time after the negligent act
The defendant left the state after committing the malpractice
The victim was legally incapacitated at the time of the malpractice
The victim was under the age of six at the time of the malpractice
The defendant knowingly concealed the alleged malpractice
The malpractice act involves the leaving of a foreign object inside the body, such as a surgical sponge, needle, or other instrument
A plaintiff must also determine which health care providers or hospitals should be named as defendants in cases in which a patient saw multiple providers or in which several doctors were involved in surgery or birth. A personal injury attorney knowledgeable in medical malpractice law can help a patient navigate these potential pitfalls.
Choose Denver Medical Malpractice Attorneys at Springer & Steinberg, P.C.
When searching for a Denver medical malpractice attorney, you need an experienced legal professional you can trust to protect your rights.
For clients needing a medical malpractice attorney, Denver is home to one of Colorado's leading law firms: Springer & Steinberg, P.C. Our skilled and dedicated attorneys are highly experienced, managing each and every case with integrity and a refusal to back down. For nearly 40 years, our Denver law firm has been the one that countless clients turn to when they need a professional to advocate on their behalf.
We urge you to contact Springer & Steinberg, P.C. immediately if you need a Denver medical malpractice lawyer.
Free Consultation for Denver Medical Malpractice Cases
If you have been injured, contact our firm today to schedule a free consultation or call 303-861-2800.