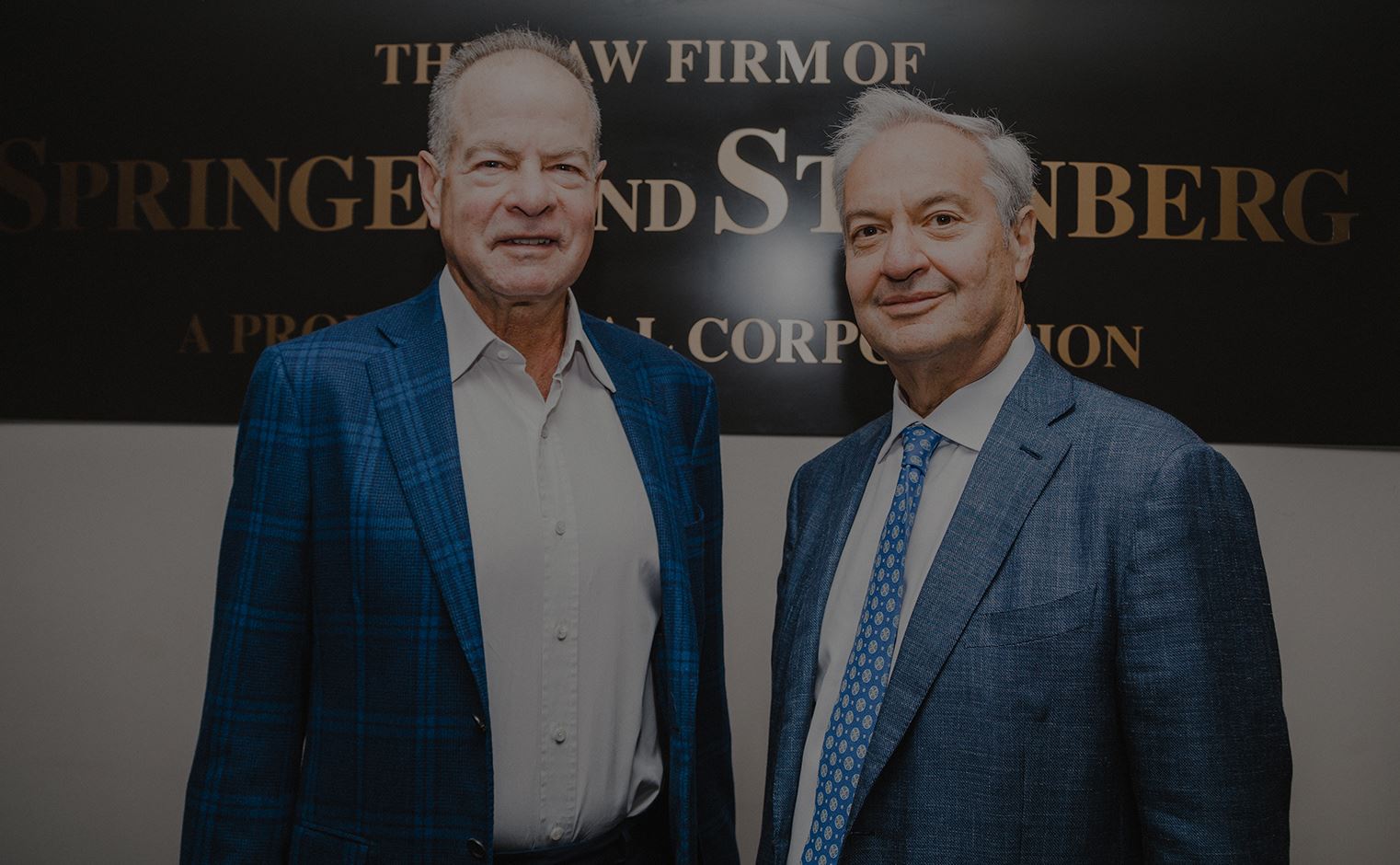 Denver Personal Injury Attorney
Driving without proper auto insurance coverage isn't simply an irresponsible decision; it's also a violation of Colorado law. Unfortunately, not all drivers abide by state insurance requirements. Research shows one in eight drivers in the United States are uninsured, a number that is even higher on Colorado roads.
If you have been injured in an accident involving an uninsured (or underinsured) driver, you have the right to pursue fair compensation for your medical care, property damage, and other expenses. At Springer & Steinberg, our team of Denver uninsured motorist lawyers can assist you in negotiating uninsured motorist claim cases, as well as serve as your trusted advocate if your case needs to be taken to court.
Our legal team has the skill, experience, and determination to seek maximum compensation for your injuries caused by an underinsured or uninsured car accident.
For detailed information regarding how our Denver uninsured motorist lawyers can support you, please call us at (303) 861-2800 or contact us online to request a free private consultation.
---
---
Understanding Colorado Auto Insurance Requirements
For any individual considering driving without insurance, Colorado law clearly states that coverage is mandatory – and failure to carry the minimum required insurance policy is a violation of state laws.
Vehicle owners in Colorado are required to have liability insurance. In the event that the insured individual is found to be at fault for an accident, liability insurance will cover:
Bodily injury to another person
Property damage to another person's vehicle and/or property
At a minimum, Colorado drivers must carry the following minimum coverages:
$25,000 for bodily injury or death to any one person involved in an accident;
$50,000 for bodily injury or death to all persons involved in any one accident; and
$15,000 for property damage occurring as the result of any one accident.
In certain situations, an individual with more than 25 vehicles registered to their name may be eligible to be considered a "self-insurer." The state must approve this, and the individual must be able to prove that they can personally pay the minimum coverage amounts required by CO law.
What is Uninsured Motorist Coverage?
Uninsured motorist (UM) insurance protects you if you are involved in an accident where an uninsured driver is at fault. This coverage usually also extends to hit-and-run accidents, whether you were a pedestrian or driver.
Do I Need Uninsured Motorist Coverage in Colorado?
Under Colorado insurance laws, an insurance company is required to offer uninsured driver accident protection as a part of all policies they sell. Unless you refused the UI motorist coverage (in writing) when you purchased your auto insurance policy, you most likely have this protection.
What is Underinsured Motorist Coverage?
It is very common for drivers to carry only the minimum auto liability coverage amounts required by CO law. However, these coverage limits may fall short if you are the victim of a serious accident. Even if your accident involves a legally insured at-fault driver, their insurance amounts may not be enough to completely cover the costs of your medical expenses and/or property damage.
This is where underinsured motorist (UIM) insurance comes in. UIM insurance is additional coverage that protects victims who are injured by a driver that does not possess the adequate insurance coverage to provide complete financial compensation. Essentially, UIM insurance will cover the difference between the at-fault driver's liability insurance limits and your policy limits.
Is Underinsured Motorist Insurance Coverage Required?
UIM coverage is optional but highly recommended. It can be the key to paying for the treatment and care you may need in the event of a serious auto accident, protecting you from incurring the burden of high medical bills.
Persons Included in Uninsured Motorist Coverage
UI insurance coverage provisions may vary, depending on the state.
Generally, the persons covered by uninsured motorist policies include:
The insurance company policyholder.
Family members living in the same home as the policyholder.
Passengers at the time of the accident.
Pedestrians injured by the accident.
The driver of the vehicle itself.
In some areas, coverage exclusions may deem family members ineligible for coverage if they have their own insurance policy. However, in these cases, the insurance company is required to include family members in certain circumstances.
State laws can also play a vital role in determining whether employees are covered under the UI/UIM policies held by their employers. In certain states, employees are covered if they are hurt in an accident while "on the job," while other states disqualify employees who are using their own vehicles at the time of an accident.
A knowledgeable uninsured/underinsured motorist lawyer can help eliminate the guesswork involved in understanding coverage limits. Particularly if you are experiencing pushback from an insurance company, partnering with an accident attorney is of the utmost importance.
Making an Uninsured Motorist Claim in Denver, CO
When an accident occurs, and the driver at-fault lacks proper insurance, the accident victims have two options for seeking the compensation they are owed:
The first option is to sue the driver that caused the accident, filing a lawsuit that names him/her as the defendant. This route requires the assistance of an experienced uninsured/underinsured driver attorney and can pose certain challenges. Even though you may be able to win the case, actually collecting the money can be virtually impossible, especially if the defendant does not have the money or assets to pay you.
The second option is to submit an uninsured motorist claim to your own insurance provider. In this case, you may be able to claim the amount of compensation allowed by the uninsured or underinsured motorist coverage included in your policy.
Making an uninsured driver claim is often the most suitable action to take.
Figuring out how to make an uninsured motorist claim can be a daunting prospect, especially when dealing with an accident's repercussions. Contacting a Denver uninsured driver accident personal injury lawyer can be the best decision you make, minimizing your stress and ensuring an optimal outcome for your case.
Contact Our Denver Uninsured Motorist Lawyers at Springer & Steinberg, P.C. Today
If you have been involved in an accident caused by an underinsured or uninsured driver, Springer & Steinberg will ensure that you receive the compensation you deserve. When you enlist a no-insurance car accident lawyer from Springer & Steinberg, you can be confident that you have committed and tenacious legal representation by your side. From filing an initial insurance claim to negotiating a fair settlement – or fighting for you in court – our Denver uninsured motorist lawyers will go above and beyond on your behalf.
Get more information about why you need an uninsured driver lawyer when you contact us today.
To schedule a free consultation with a Denver accident attorney, call us today at 303-861-2800 or contact us online.
Image Credits: tommaso79 – JC_STOCKER – Dmitry Kalinovsky – mojo cp / Shutterstock