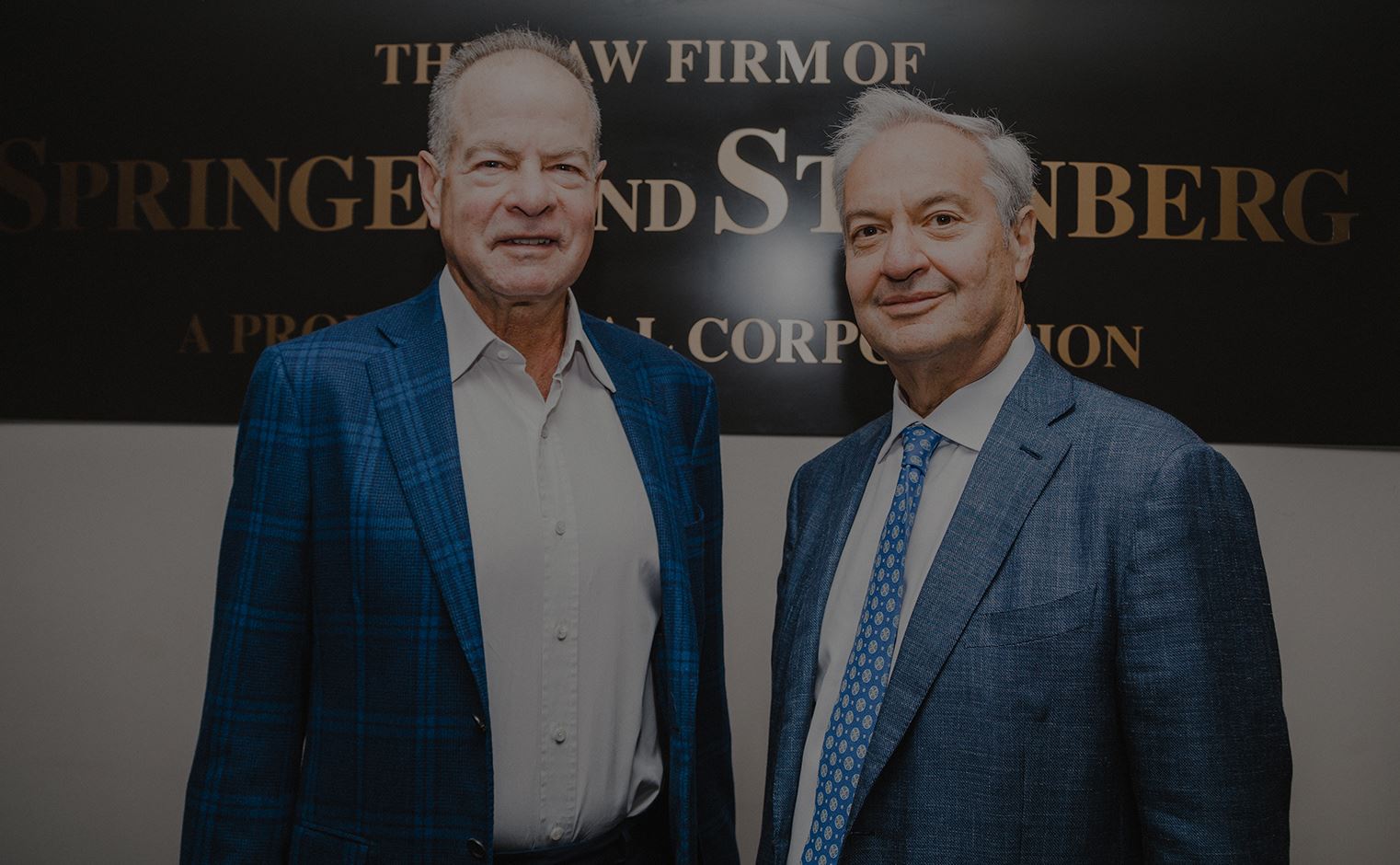 Denver Personal Injury Attorney
Denver Hit and Run Accident Attorneys with Experience
There is no question that being the victim of any accident is a traumatic experience. When you are involved in a Denver hit-and-run accident, it can be particularly devastating. Not only does the at-fault driver fail to stop and show any concern for the victims' wellbeing, but the repercussions of their irresponsible actions continue to impact you well after the accident.
Seeking fair compensation for a hit-and-run accident can be challenging, mainly because the at-fault party is absent – but you aren't alone. Springer & Steinberg assists the victims of hit-and-run auto accidents in moving forward, working on your behalf to pursue legal justice. If you or a loved one has been the victim of a hit-and-run accident, an experienced Denver hit-and-run lawyer at Springer & Steinberg can help.
Contact Springer & Steinberg, P.C. at 303-861-2800 for more information about how we can help you.
---
---
Definition of a Hit and Run Accident in Colorado
Under Colorado state law, a driver involved in a motor vehicle accident is legally required to remain at the accident scene if one or more vehicles are damaged. Furthermore, Colorado law makes it mandatory for drivers to provide their driver's licenses and registration information to all individuals involved in the crash.
The crash is labeled a hit-and-run accident if a driver does not remain at the accident scene to provide the required information. The driver can be charged with a crime in a Colorado court of law. The specific laws governing Colorado hit-and-run accidents are C.R.S. § 42-4-1601 and C.R.S. § 42-4-1603.
A 2017 Colorado law also states that law enforcement may seize the driver's license of a suspected hit-and-run accident driver. Additionally, the driver is subject to various other criminal penalties.
Denver hit-and-run accidents are not limited to those exclusively involving motor vehicles. Pedestrians and bicyclists can also be the victims of a hit-and-run; in fact, nearly 65% of victims in fatal hit-and-run accidents are pedestrians or bicyclists.
What to Do After a Hit and Run Accident in Denver
Taking the proper action after being involved in a hit-and-run accident is imperative to protect your safety and legal rights. Although it can be extremely shocking to realize that the driver has left the accident scene, remaining calm and following the appropriate steps is essential.
1. First, call 911 to alert medical emergency personnel and law enforcement.
If you can observe any identifying characteristics of the vehicle involved in the hit-and-run (license plate, make and model, color, and other important details), be sure to communicate this information. Filing a police report is critical because it provides an official record of the accident – which you will need for any insurance claims and legal proceedings. Even if the case seems relatively minor, contacting the authorities is necessary.
2. Document the accident scene if possible.
If you can, try to get a photo or video of the vehicle of the at-fault driver before or as they flee the scene.
Also, use photos and video to collect as much visual documentation as possible, including:
Damage to your car
Injuries to you or anyone else involved
The area around the accident scene
Any traffic signs in the accident area
Surveillance cameras that may have been able to record the accident
3. Ask witnesses for their contact information.
If there were individuals that witnessed the accident, their testimonies could be very valuable for your case. Ask if they are willing to share their name, phone number, mailing address, and email address with you.
4. Contact a hit-and-run attorney.
As soon as possible, get in contact with a skilled lawyer who is equipped to help with your hit-and-run case. Your attorney will help you navigate the complex communication process with insurance companies, law enforcement, and other parties. They can also advise you regarding the next steps.
Injuries Frequently Suffered in Denver Hit-and-Run Accidents
Because the circumstances of a hit-and-run accident can vary dramatically, so can the injuries sustained. A pedestrian involved in a high-speed hit-and-run accident will suffer far more severe injuries than the driver of a large S.U.V. hit by a vehicle traveling at a low speed.
Common injuries associated with hit-and-run accidents include:
Lacerations, abrasions, and contusions
Burns
Whiplash
Nerve damage
Fractures and broken bones
Death
Regardless of the injuries suffered, every hit-and-run victim deserves a just outcome in their case. Even a seemingly minor bodily injury can impact your quality of life, affecting you financially, physically, and emotionally. Therefore, working with a skilled Denver hit-and-run accident attorney is paramount.
Common Causes of Denver Hit and Run Accidents
Unfortunately, there are many reasons a driver may decide to flee the scene of an accident. In most cases, the driver responsible is fearful that they will be held accountable for their actions, leaving the crash scene out of fear of criminal charges and consequences.
Common causes of hit-and-run accidents include:
The driver was impaired by drugs or alcohol
The driver was tired
The driver was distracted
The driver is uninsured or underinsured
The driver does not have a valid driver's license
The driver was operating a stolen vehicle
The driver is a suspect (or charged with) another crime
Can I Get Compensation for a Hit and Run Accident?
Many factors play a part in recovering compensation after a hit-and-run accident, including whether or not you are able to locate the at-fault driver. Pursuing damages is a relatively straightforward process if the suspected hit-and-run driver is found. If they are not, you may still be able to receive some level of compensation through your own insurance company.
Contact Springer & Steinberg, Hit and Run Accident Lawyers in Denver
At Springer & Steinberg, our Denver hit-and-run lawyers have the experience and dedication needed to achieve the best possible results in your case. We are committed to fighting for the rights of accident victims and will pursue maximum compensation on your behalf. Counted among the leading personal injury attorneys in Denver, CO, the Springer & Steinberg legal team is the professional you want on your side.
For more information about how to receive fair compensation in your hit-and-run accident case, please get in touch with us online or call us at 303-861-2800 to schedule a meeting today.