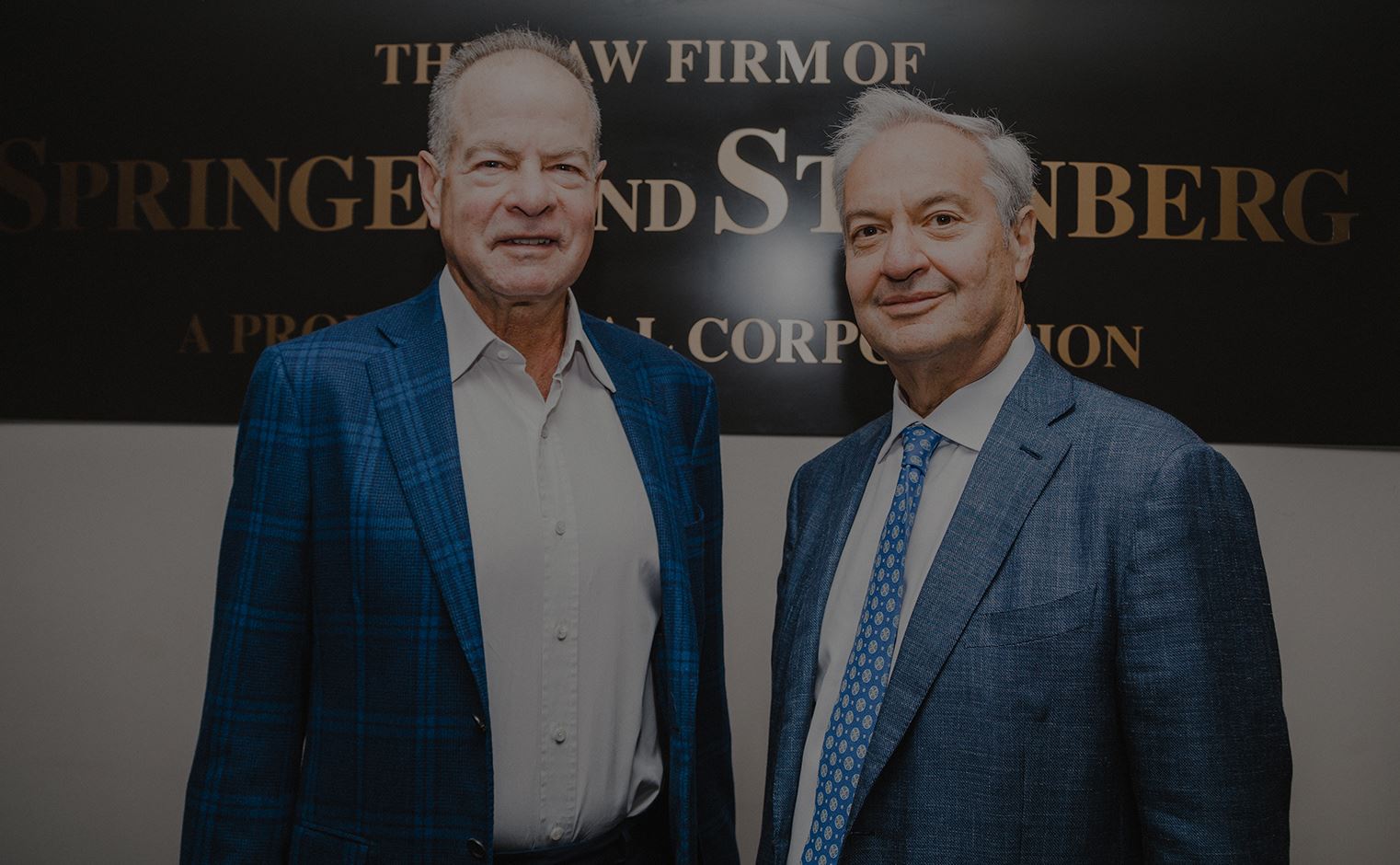 Golden Personal Injury Lawyers
Prominent Personal Injury Attorneys in Golden, CO
At Springer & Steinberg, P.C., our skilled Golden personal injury lawyers represent clients throughout Colorado after negligence has disrupted their quality of life.
Whether you were injured or lost a loved one in a traffic collision while seeking medical care, or at work, negligence creates significant physical, emotional, and financial challenges for our clients and their families.
Our Golden personal injury attorneys in Jefferson County work tirelessly to ensure they have the legal tools and resources they need to hold the liable party accountable for their complete recovery.
We are more than attorneys, but legal advocates who partner with our clients to pursue the best outcome for each of their case's unique needs. And while we hope you never need us, our committed team of experienced and diverse personal injury lawyers and support staff ensure each of our clients is treated fairly and with respect throughout our settlement negotiations or the litigation process.
We can do the same for you, starting with a free consultation. Call us today at 303-861-2800.
Springer & Steinberg, P.C. Golden Personal Injury Attorney Practice Areas
The nationally recognized and award-winning Golden personal injury lawyers at Springer & Steinberg have dedicated the last four decades to providing our clients with the expansive resources, connections, and knowledge they need to pursue success inside and outside the courtroom.
Our experience, integrity, and accessibility set us apart from other law firms as we represent personal injury clients in Golden and throughout Colorado in cases involving injuries caused during:
With the distinction of an AV Preeminent® rating by Martindale-Hubbell®, SuperLawyers, our identification as a U.S. News Best Law Firm, and spots in the National Trial Lawyers: Top 100 and the ASLA Top 40 Lawyers Under 40, we genuinely care about each of our clients and are here to help to produce real results for real people using elite legal strategies that are designed for success.
If you have been injured or lost a loved one to negligence in Colorado, contact our skilled personal injury attorneys in Golden today to schedule a free consultation to discuss your unique recovery needs with a law firm that cares.
Please do not hesitate to call (303) 861-2800 to talk to a Golden injury lawyer at Springer & Steinberg, P.C., and discuss your legal rights.
Truck Accidents Are Becoming Increasingly Common in Golden, CO
Golden is at the crossroads of major Colorado thoroughfares, including Interstate 70, which runs through the southern part of the city, and the historic U.S. 40, which turns westward up Mt. Vernon Canyon and parallels I-70.
With premier facilities for world-class rock climbing, skiing, and mountaineering, and a thriving beer culture that supports several microbreweries, public tours through the Coors Beer facilities, festivals, and growing tourism opportunities each year, Golden relies heavily on commercial vehicle traffic to transport goods to and from the city each day.
With large trucks operating on Golden's historic street grid system, commercial vehicle accidents are increasing on our roadways.
When Semi-Truck and other commercial vehicles cause serious collisions, the at-fault party could be a combination of the truck's driver, trucking company, or another third-party that is responsible for the truck's safe transport.
Holding each of these parties liable for their role in our truck accident cases is important to our client's ability to recover from the crash, which makes it increasingly important to our law firm that we produce tangible results for their unique needs.
If you have been injured in a traffic accident with a commercial vehicle, contact our skilled personal injury attorneys in Golden, Colorado today to discuss your case during a free consultation.
What Are My Financial Recovery Options After a Personal Injury Accident in Golden, CO?
At Springer & Steinberg, P.C., examine the details of each of our client's cases to ensure we are building a compelling case that will allow us to aggressively pursue the financial outcome that fits their precise recovery needs.
Depending on the extent of your injuries, your complete financial needs may be complex and include:
Current and future medical costs
Medical devices and prescription expenses
Therapy and rehabilitation appointments
Current and future lost wages
Diminished working capacity
Temporary or permanent disability
Pain, suffering, and psychological damages
Our experienced personal injury attorneys in Golden, Colorado ensure your damages are calculated and predicted accurately, so you are awarded fairly. Should our negotiations with the insurance company end in a less than just outcome, we will end our talks and take your case to trial where our skilled litigators have produced proven results.
Local Emergency Response and Healthcare Resources for Golden, Colorado Residents
Golden, Colorado is home to over 20,000 residents who deserve access to emergency response and healthcare resources to ensure their accident and injury needs are met swiftly and effectively.
Emergency Response Resources in Golden, Colorado
Healthcare Resources in Golden, Colorado
Contact Our Leading Golden Personal Injury Lawyers at Springer & Steinberg. P.C. Today to Schedule a Free Consultation
If you have been hurt by another person or party's negligence or have tragically lost a loved one to negligent circumstances in Colorado, contact our skilled Golden personal injury attorneys at Springer & Steinberg, P.C. by calling 303-861-2800 or online today to discuss the details of your case with a team of legal advocates who care about your future.
Our dedicated Golden personal injury lawyers provide free consultations for all Colorado residents, and never charge any legal fees unless you make a recovery on your unique case.
---
We Also Serve The Following Areas:
Boulder | Brighton | Centennial | Castle Rock | Colorado | Fort Collins | Denver | Grand Junction