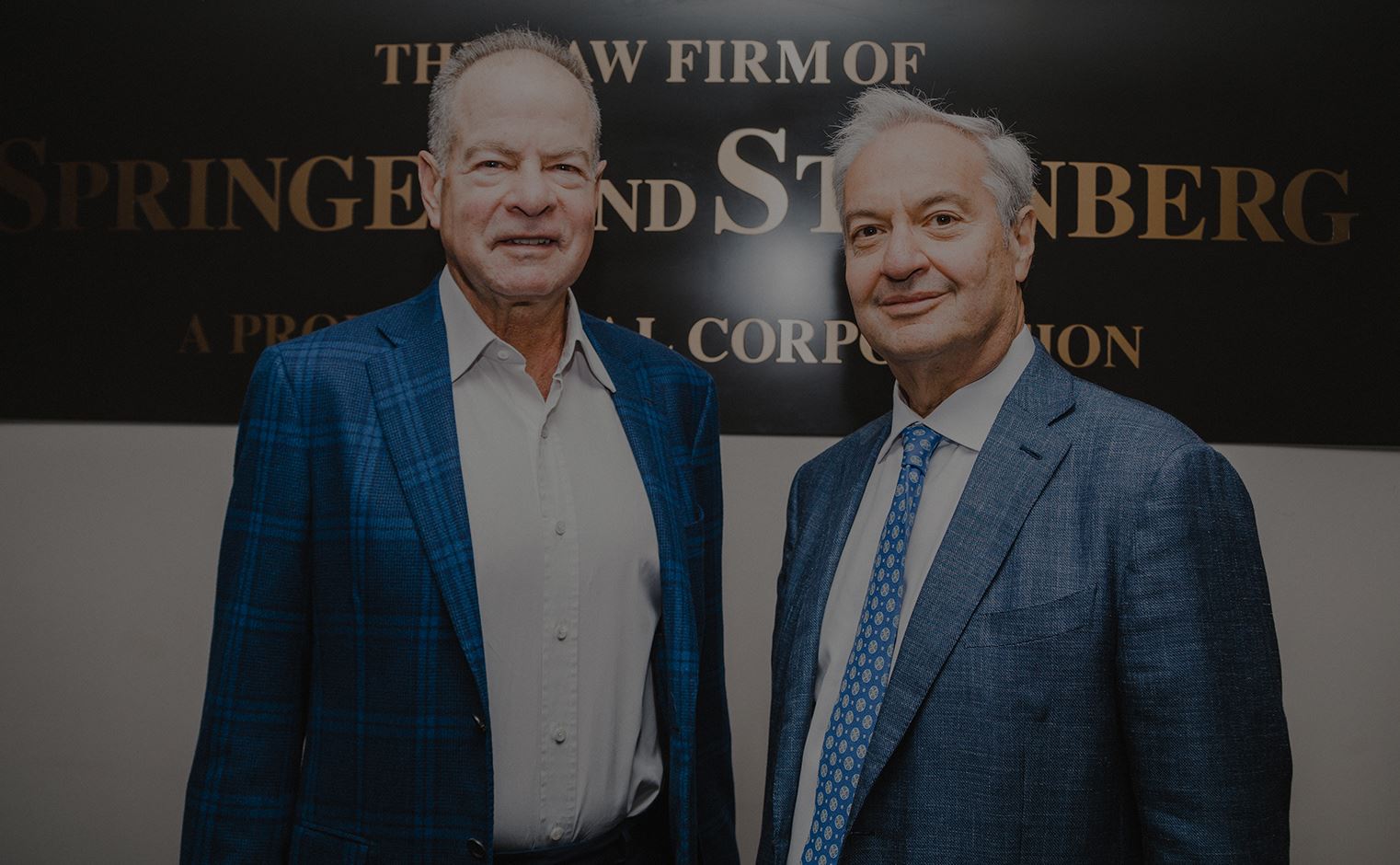 Denver Personal Injury Attorney
Filing Claims for Work Injuries & Occupational Illnesses
When you consider the amount of time that the average working American spends on the job, it is easy to see why workplace injuries occur. Even in fields that require little to no manual labor, occupational injuries and illnesses are a real possibility. The risk of harm is far greater in high-risk fields like construction, transportation, and manufacturing, but the greatest risk occurs in workplaces where supervisors, employers, and managers allow safety regulations to go ignored.
At Springer & Steinberg, P.C., our team of Denver workplace injury lawyers is committed to helping the hardworking people across Colorado who have found themselves injured in workplace accidents or diagnosed with occupational diseases. We take pride in doing the best work to get the best results for every client in need.
From our offices in Denver, we represent workers and families across Colorado in cases involving:
Falls from heights or scaffolding
Assaults or violence at the workplace
Construction site accidents
Electrocution
Exposure to hazardous substances
Hearing and eyesight loss
Heavy machinery malfunction
To find out how we can help you after a work-related accident, call (303) 861-2800.
Colorado Workers' Compensation & Personal Injury Laws
A workplace accident may be compensable under product liability, workers' compensation, wrongful death, or general negligence laws in Colorado. While workers' compensation provides automatic benefits for wage loss and medical care for work-related injuries regardless of fault, this only covers a portion of lost wages. Additional compensation for emotional trauma, ongoing care, or other expenses is usually not covered at all, meaning you could have a large hole burned in your pocketbook even if you get workers' compensation.
Filing a Denver personal injury lawsuit may be the correct answer to recover full compensation after a workplace accident if a third party, not counting your employer or a co-worker, was at fault. Under Colorado Revised Statutes §§ 13-21-401 through 13-21-406, a product liability claim may be brought against the manufacturer of a defective product that is the cause of a workplace accident or injury.
Sections 13-21-201 through 13-21-204 cover damages for death by negligence and may apply to fatal on-the-job accidents. Or general negligence claims for work injuries may be covered by various parts of §§ 13-21-101 through 13-21-124. Our Denver workplace accident lawyers understand exactly how Colorado statutes apply to different types and causes of on-the-job injuries and illnesses. We use this knowledge to file the right type of case and pursue the maximum level of compensation owed to you. It is our goal to secure a prominent victory that allowed you to rebuild and move on with your life.
What Types of Accidents are Covered by Workers' Comp?
As mentioned, most any sort of accident in the workplace should be covered by your workers' compensation coverage. The purpose of workers' compensation is to guarantee that you get medical care after an on-the-job accident. Even if you are entirely to blame for the accident, you can collect workers' compensation benefits, assuming you did not intentionally cause your accident or injury.
The key to understanding workers' comp is in what is defined as an "on-the-job" accident. If you are performing any task as part of your employment, whether it is something you do each day or were asked to do only once, then you are "on-the-job" according to workers' comp rules. You do not need to be actually in your regular place of employment to be performing an "on-the-job" task. For example, food couriers are usually working outside of their employer's restaurant but are still on-the-job when they are driving food orders to customers.
When Does Workers' Comp Not Apply?
There are cases when workers' compensation coverage will not apply to a workplace injury, though. It is during these cases that our Denver workplace injury attorneys step in, take over, and fight for our clients.
Why would you need to file a lawsuit, not a workers' compensation claim?
Independent contractor: Colorado does not require employers to give workers' compensation benefits to independent contractors. If you are hurt due to someone else's mistakes while on-the-job as a contractor, then filing a personal injury claim might be your only option.
Egregious or intentional negligence: If your injury was caused by an unforgivable act of negligence or maliciousness, then a court may approve of an injury claim separate from your workers' compensation claim. In this separate claim, you would likely pursue noneconomic damages, such as punitive damages to punish the defendant for wrongdoing.
Claim was wrongfully denied: The insurance company responding to your workers' compensation claim may wrongfully deny your claim to try to save their finances. Responding with a separate lawsuit may work.
What to Do If You're Injured at Work
The first thing you should do if you get injured at work is to seek medical attention immediately if necessary. If possible, notify another coworker about your accident and instruct them to get the attention of a supervisor, assuming you cannot contact a supervisor yourself. The sooner you report your accident, the better. Waiting too long to tell your employer about your workplace accident could raise suspicions about the validity of your claim.
Your supervisor should be able to tell you if are covered by workers' compensation and where you can go for medical assistance if you are. Once again, do not wait to get medical attention if your injuries are severe. Call 911 instead. Take care of yourself and protect your health first and foremost.
After you receive medical care, you should call 303-861-2800 to connect with our law firm. Tell our Denver workplace accident attorneys what happened during an initial consultation, and we can tell you if you should consider filing a workplace injury lawsuit instead of or to supplement your workers' compensation claim.
For more information, please contact Springer & Steinberg, P.C. today or 303-861-2800. We offer free consultations.