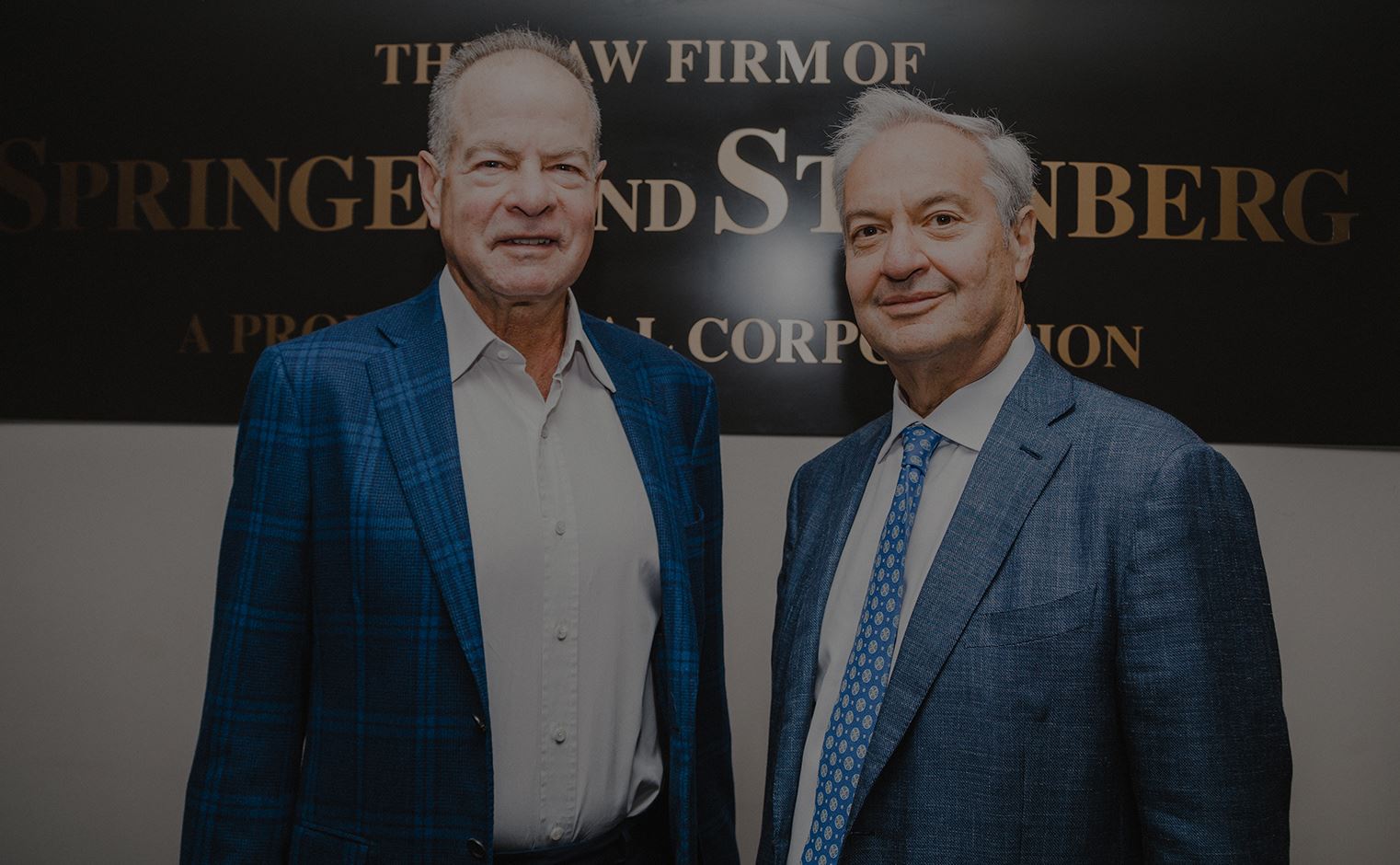 Denver Personal Injury Attorney
Head-on collisions account for nearly 30% of car accident fatalities, in addition to causing countless life-altering injuries, emotional distress, and major property damage.
Also referred to as frontal crashes, head-on accidents usually occur without warning and at excessively high rates of speed. When the front ends of two vehicles directly strike each other (hitting "head-on"), the collision compounds the speed of both vehicles, bringing the point of impact extremely close to where the drivers are sitting. As a result, the repercussions can be devastating.
If you have been injured in a head-on collision or have lost a loved one, a head-on collision accident attorney at Springer & Steinberg in Denver, CO is here to help. Although no amount of financial compensation can erase the consequences of a serious accident, a fair settlement can help reduce the burden of medical expenses, repair bills, and more.
For detailed information regarding how our Denver head-on collision accident attorneys can support you, please call us at (303) 861-2800 or contact us online to request a free private consultation.
---
---
Causes of Head-On Collisions
Head-on car crashes in Colorado and throughout the U.S. can be linked to several contributing factors, most of which are related to one driver's careless actions.
The causes of head-on car accidents include:
Driving under the influence of alcohol or drugs
Distracted driving, such as texting while driving
Unsafe passing and/or lane changing
Sleep-deprived driving
Reckless driving (including speeding, aggressive maneuvers, high-speed turns, etc.)
Road rage
In situations where a driver's behavior caused a collision, the at-fault party should be held responsible for their actions. A Denver head-on collision accident attorney at Springer & Steinberg will ensure that the right people are held liable and implements an effective strategy to pursue financial damages for you and your family.
Liability for Head-On Collisions
Determining liability in a head-on collision generally means pinpointing which party is at fault for the car accident. However, the outcome of this process largely depends on the laws in your state, specifically whether you live in a fault-based or no-fault state.
Fault vs. no-fault states differ in how financial compensation is provided after a collision:
 Most states use a fault-based approach, which states that all parties involved in an accident can seek compensation from the insurance provider of the individual that caused the crash. In fault-based states, you must provide proof of fault or negligence to collect financial benefits.
In a no-fault state, all parties involved in an accident will file claims with their own insurance companies, regardless of who was responsible for the crash.
So, who pays for a car accident in Colorado? Colorado is a fault-based state, meaning the individual that is liable for the accident can be held financially responsible. Even though Colorado has a comparative negligence law, which states that more than one individual can hold liability in an accident, the party that is most at fault cannot seek financial compensation.
If you were involved in a head-on collision in Colorado, car accident attorneys from Springer & Steinberg could assist you in gathering evidence to build a strong case to prove liability.
How is Fault Assigned After a Head-On Crash?
After a head-on car crash, conducting an in-depth investigation is imperative in determining who or what caused the accident.
Investigators, including police officers, insurance representatives, or a law firm's private investigators, will generally arrive on the scene before the vehicles and other evidence are cleared away. The investigation process focuses on locating signs and/or evidence of negligence so that liability for the accident can be determined.
Evidence used to determine accident liability can include:
Vehicle debris and damage
Tire markings on the road
Damage to other property on the scene
Witness accounts
Photos
Video footage
Police reports
Medical documentation of injuries and possible causes of injuries
The fault will be assigned based on which driver is found to be most responsible for causing the collision. Usually, the at-fault party will be the one who broke a traffic law or road rule immediately before the auto accident. For example, if one driver was illegally texting while driving or crossed into the opposite traffic lane, they can be held liable.
Every accident is unique, which is why it is crucial that the investigation process be thorough and properly completed. This is the vital work that a head-on collision lawyer is responsible for and a key reason why victims should partner with an experienced personal injury attorney as soon as possible after an accident.
Common Head-On Collision Injuries
Common injuries from a head-on collision are often very severe, both for the driver(s) involved and passengers. In this type of accident, vehicles can be crushed, flipped, or pushed into oncoming traffic, which poses extreme danger to a vehicle's occupants. It is not uncommon for individuals to be trapped or pinned in their vehicle, requiring emergency intervention; it is also possible for individuals to be thrown from their vehicles.
A broad range of severe injuries can occur in a head-on collision, including:
Lacerations
Burns
Traumatic brain injuries
Spinal cord injuries
Neck injuries
Broken bones and fractures
Loss of limb(s)
Internal injuries
Death
The results of head-on collision injuries can significantly impact a victim's quality of life, affecting their ability to work, provide for their family, enjoy their hobbies, and even maintain positive relationships.
What Should You Do After a Head-On Collision?
After any car accident, particularly a head-on collision, the first step is to contact emergency authorities. It is critical that police, firefighters, and paramedics arrive on the scene as quickly as possible, so they can mitigate the situation and provide potentially life-saving care.
If you or one of your passengers can, you can also collect basic information, such as the other driver's details, witness contact information, and some photos/videos of the accident scene. However, if you are injured, your top priority should be receiving medical care.
Finally, you should contact a trusted car accident attorney as soon as possible. Ideally, you will have an attorney by your side before speaking to any insurance representatives to protect your best interests.
Contact a Head-on Collision Accident Attorney at Springer & Steinberg, P.C. today
If you have been involved in a car accident, let a dedicated Denver head-on collision accident attorney at Springer & Steinberg fight for you. We will manage all aspects of your case so that you can focus on your recovery.
Don't hesitate to contact online us today or call us at 303-861-2800 for more information about our head-on accident lawyers in Denver or request a no-obligation legal consultation.
Image Credits: Nau Nau – Burdun Iliya / Shutterstock