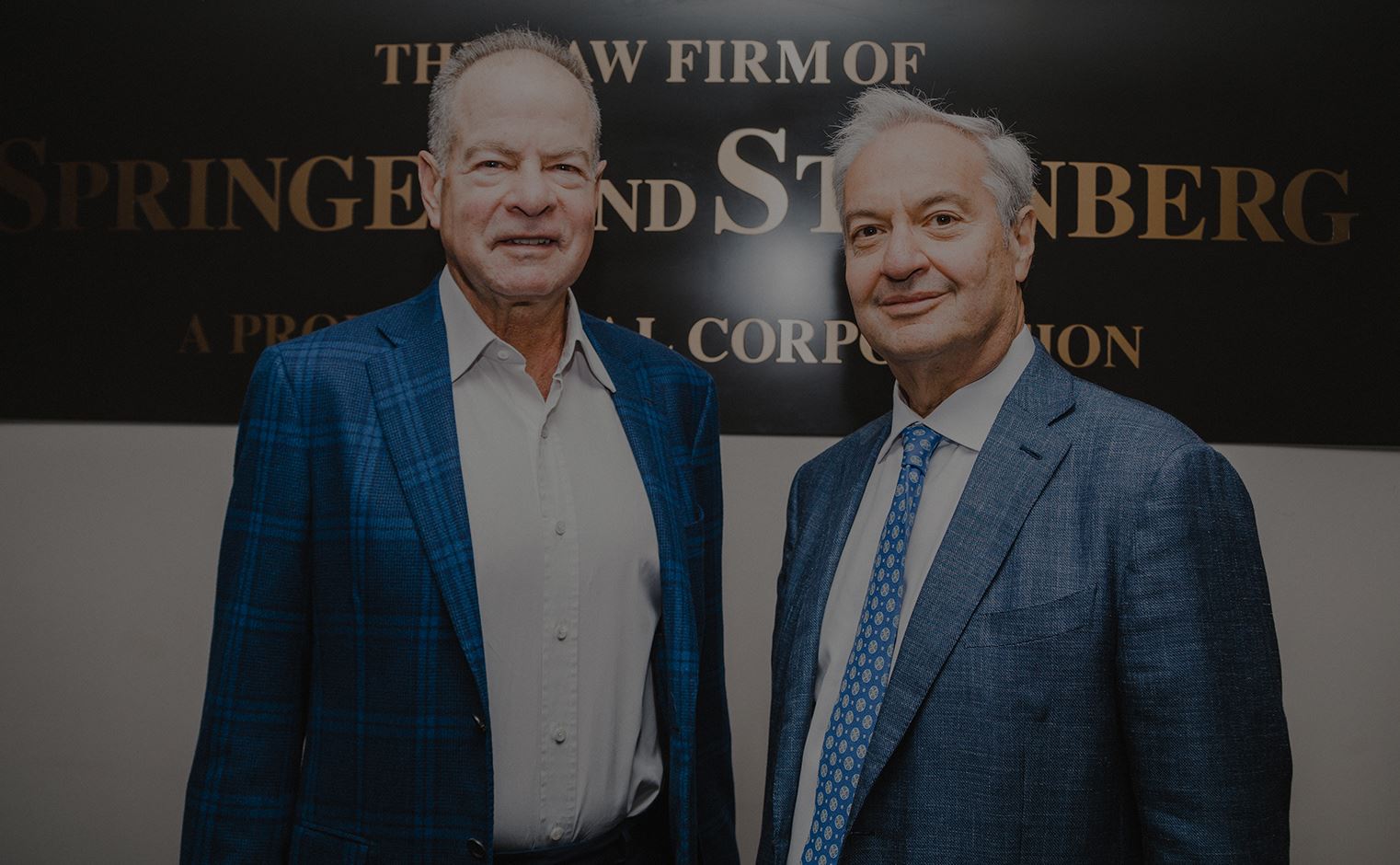 Denver Personal Injury Attorney
Injuries Caused By Defective & Dangerous Products
Most of the things we buy work as expected, and we often assume they are safe to use or we know the risks. A defective product, however, can cause serious harm or even death. In fact, thousands of people a year are the victim of products that were defectively designed, manufactured, or marketed. They may find themselves facing considerable medical expenses and financial difficulties caused by missed work, not to mention lasting psychological trauma or the need for ongoing treatment or care.
If you or a family member has been the victim of a recalled, mislabeled, or dangerous device, you have legal options you may want to consider. The Denver product liability lawyers at Springer & Steinberg, P.C. are here to help you explore the possibility of filing a lawsuit against the manufacturer or seller of the flawed product. We will be glad to speak with you about what happened and conduct an investigation of your case. We can pursue the full and fair financial compensation you need to start putting your life back together.
Our Denver product liability law firm can offer assistance with cases involving:
Children's toys
Home appliances
Electronics
Safety equipment
Tools, equipment, and machinery
Elevators, escalators, and automatic doors
Medical devices
Prescription and over-the-counter drugs
Motor vehicles, including cars, trucks, SUVs, and motorcycles
Auto parts, such as seat belts, airbags, tires, and brakes
Contact our offices online or at 303-861-2800 to schedule your free consultation.
---
---
Finding the Liable Party in a Product Liability Case
Because most products switch hands multiple times before reaching consumers, many different parties may be liable for defects. It can be difficult to pinpoint precisely who is responsible for the issue.
In fact, it is not unusual for victims to be denied proper compensation because their claim has been filed against the wrong party – which is why we make it our business to determine which party is responsible.
The most common liable parties in product liability cases include:
The product manufacturer
The product design team
The product marketing team
Shipping/transportation companies
The store/retailer in charge of product sales
Before you move forward with any aspect of the claim process, make sure you contact us. The skilled Denver product liability lawyers at Springer & Steinberg will conduct an in-depth investigation to assign responsibility in your case effectively. If you have already begun the process, it may not be too late – reach out to our Denver legal team now.
Holding a Manufacturer or Distributor Liable for a Defective Product
Product recalls are often in the news but do little, if anything, to help injured consumers recoup costs and losses. Consequently, the most effective tool by which an injured person can seek recovery is usually a product liability lawsuit. Indeed, a lawsuit can alert the public to dangerous products and result in changes that make the public at large safer.
A product liability lawsuit can be brought against a manufacturer, supplier, or seller of any product, including electronics, mechanical devices, medical devices, and prescription or over-the-counter drugs. Cases may allege one or more of several types of defects. For example, there may be a claim that the product in question had a design defect that rendered not only the particular item that caused the injury unsafe but all of the items made using the same design. Another possible scenario involves a claim that a manufacturing defect caused one, rather than every, product to be unreasonably dangerous. The third type of claim might be that there should have been a warning to the consumer concerning the product and that, had such a warning been in place, the injury would not have happened.
All civil lawsuits have a deadline for taking action, after which the injured person's rights are generally barred. This period is called the "statute of limitations." Under Colorado Revised Statutes § 13-80-102, the general deadline for a personal injury claim is 2 years. Colorado also imposes a rebuttable presumption that a product is not defective under certain circumstances (§ 13-21-403). Only an attorney can advise you as to whether your claims are timely or if your case falls into an exception to the rule.
The Three Types of Product Defects
Unfortunately, the number of ways in which products can be defective is virtually limitless. But in general, product defects fall into one of three categories.
Design Defects
Before a product is ever produced, it must be designed. During the design process, crucial precautions must be taken, including safety and functionality tests. If the design team fails to conduct the proper testing (or ignores the results), it can easily lead to a faulty product.
Design defects can result in class-action lawsuits because all products from the design in question will be defective or become defective over time.
Manufacturing Defects
Once a product has been designed and approved, it is time for manufacturing to begin. However, reaching this stage does not mean that the company has completed all necessary testing. Throughout the manufacturing process, ongoing quality checks should be implemented to ensure safety, consistency, and accuracy. In the event that these checks are skipped or overlooked, dangerously defective products can slip by unnoticed.
Often, manufacturing defects affect just a small percentage of products made and sold (unlike design defects).
Marketing Defects
Even if a product has been adequately designed and manufactured, the company can still be held liable if they have failed to market it responsibly. Marketers are expected to inform consumers properly in regards to the safe and correct use of the product. They also have a duty to provide proper safety warnings to protect their customers. When a marketing team fails to fulfill these responsibilities, unaware consumers may become harmed due to accidental improper product use.
Much like design defects, marketing defects can evolve into a class-action lawsuit.
Product Liability Cases We Handle in Denver, CO
Springer & Steinberg works with clients impacted by dangerous or defective products, serving Denver and the surrounding area. We take pride in working tirelessly to achieve results on behalf of our clients, including in product liability cases related to:
Children's products
Defective auto products
Defective drugs or medical devices
Faulty appliances
Construction Equipment
Food products
Ski/tramway accidents
Electronics
Motor vehicles
Our top priority is keeping consumers safe from the dangers of defective products. In pursuing your claim, we are able to not only secure rightful compensation for you and your loved ones but also to protect other consumers from harm.
Dangers of Defective Products
Often, we assume that defective products are merely a frustration or an inconvenient waste of money. However, serious injuries can occur as a result of product defects.
In our experience as Denver product liability lawyers, we have seen a variety of tragic injuries associated with defective products, including:
Broken bones
Vision loss
Severe lacerations
Chemical or thermal burns
Internal bleeding
Organ damage
Loss of limb
Illness (such as cancer)
We rely on product manufacturers to prioritize consumer safety. When they choose to cut corners, the consumers end up paying a hefty price. In some situations, companies knowingly sell defective products – because they believe that risking a few lawsuits is well worth their profits. Other times, carelessness is to blame. Regardless of the circumstances behind a defective product, consumers deserve to be fairly compensated and justice to be served.
Contact Our Expert Denver Product Liability Lawyers
When you purchase a product, you have every right to assume that it has been designed, manufactured, and marketed with integrity. Defective and dangerous products can cause serious harm – or even death – and our legal team is committed to assisting you in pursuing justice. Using our comprehensive knowledge and extensive experience, our product liability attorneys are well-prepared to navigate the unique circumstance of each case.
At Springer & Steinberg, our personal injury attorneys are dedicated to helping individuals who have been hurt by defective products. And beyond ensuring that you receive your rightful compensation, we also want to ensure that the proper party is held responsible so that the product in question doesn't hurt anyone else.
If you suspect that a defective product in Denver has harmed you or a loved one, you should seek legal advice concerning your situation. Call our offices at 303-861-2800 to get started.
Image Credit: Jack_the_sparow / Shutterstock