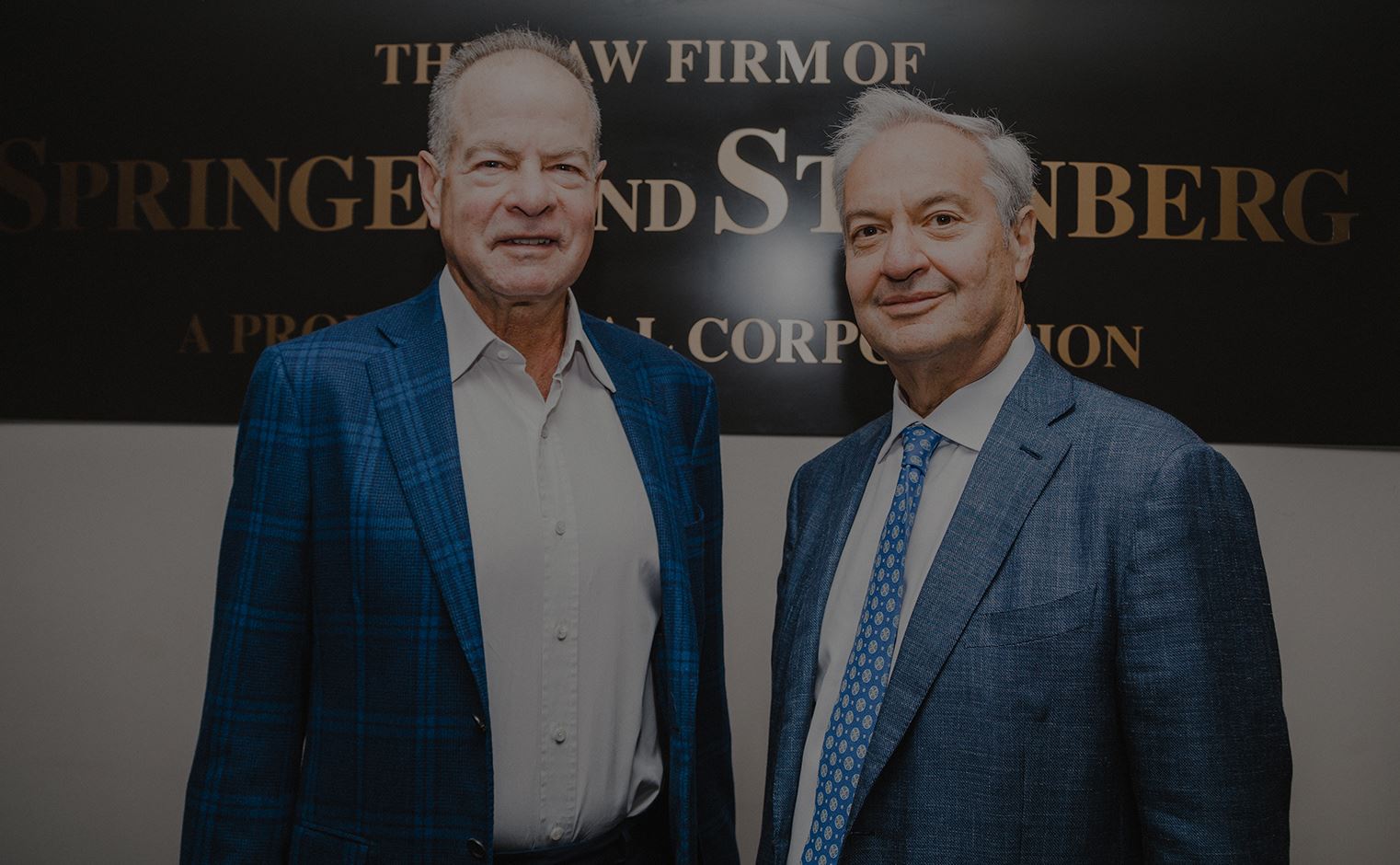 Denver Personal Injury Attorney
Our Denver Catastrophic Injury Lawyers Have Recovered Hundreds Of Millions For Our Clients
Some injuries are so severe that they alter the entire course of one's life. Severe burns, traumatic brain injuries, spine injuries, and other types of significant physical trauma can lead to disfigurement, disability, and the inability to work or participate in activities once enjoyed. These catastrophic injuries require extensive, expensive treatment and often ongoing therapy. Assistive devices and in-home care may be a requirement. The recovery of full and fair compensation after a catastrophic injury is absolutely crucial to the victim's ability to lead a more stable and fulfilling life. If you have suffered a life-altering injury, contact an experienced Denver catastrophic injury attorney at Springer & Steinberg, P.C. for help today.
For a free, confidential consultation, call  (303) 861-2800 to find out how our Denver catastrophic injury attorneys can help you.
---
---
Types of Catastrophic Injuries in Denver, CO
A catastrophic injury is a sudden event that results in long-term consequences for the injured person. There are many different types of catastrophic injury, including:
Birth injury
Neurological damage
Amputation
Loss of sight or hearing
Facial injury
Eye injury
Nerve damage
Crush injury
Injury to internal organs
Disfigurement
Partial or total paralysis
In many cases, the injuries suffered significantly impact the accident victim's quality of life. Even if an individual survives a catastrophic injury, their injuries are often permanent. Lifelong incapacitation, costly medical bills, and a loss of employment are among the many reasons it is imperative to seek the counsel of a Denver catastrophic injury attorney at a personal injury firm.
Classification of Catastrophic Injuries
A permanent, catastrophic injury is classified as one that involves lasting physical injuries or mental damage, which forever restricts major life activities and employment. Examples of major life activities include walking, taking care of oneself, working, and other key abilities that allow a person to live a full, productive life.
Common Causes of Catastrophic Injuries in Denver
Sadly, the causes of catastrophic injuries are virtually limitless. And all too often, the cause is something completely unexpected to the victim. In any case, the victim of a catastrophic injury is just that – a victim.
Our personal injury attorneys have experience with claims involving:
Property owner negligence
Boating or aviation accidents
Sports injuries
Dog attacks
How to Prove Liability in a Colorado Personal Injury Case
In order to hold an individual or entity legally responsible for injuries, the victim must be able to prove liability. Depending on the situation, this is often a difficult and complex legal process.
In Colorado, the negligence standard regulates catastrophic injury claims (with a few exceptions). If you can establish that an injury was caused directly by the defendant's careless or reckless actions/inactions, you can hold them liable.
According to the CO Judicial Department, establishing liability requires the victim to show that the defendant failed to act in a manner that a "reasonably careful person" would have in "similar circumstances." This legal standard is relatively vague, making it highly challenging for victims to argue their case. Proving negligence requires a clear understanding of the facts and evidence.
Ultimately, the actions/inactions that qualify as negligent largely depend on the circumstances of a specific case and the defendant's relationship with the victim.
For a free, confidential consultation, call our offices at 303-861-2800. We look forward to seeing how we can help you.
Denver Catastrophic Injury Claims Require a Comprehensive Investigation
There are many cases in which negligence is abundantly clear. For example, if a victim was injured after a drunk driver ran a red light, there is little to no question regarding the establishment of negligence.
However, if a slip and fall accident that occurred at a business results in a serious head injury, providing negligence can be more difficult. The business may attempt to avoid liability by blaming the victim or stating that it was an "unforeseeable" accident that they could not reasonably prevent.
No matter the case, working with legal counsel is incredibly important. Your Denver personal injury lawyer will assess all relevant details of your case, perhaps even uncovering certain aspects you would otherwise be unaware of. At Springer & Steinberg, our legal team will work tirelessly to obtain all necessary evidence and identify every defendant that may be liable.
Life-Changing Injuries Require Full & Fair Compensation
In the aftermath of a catastrophic injury, many victims are understandably overwhelmed by the emotional and physical trauma that has taken place. For a number of victims, taking legal action is one of the last things on their minds. But no matter the nature of the accident, you deserve financial compensation for the life-altering injuries. In fact, without compensation, the financial and medical burden may become too heavy for you to bear successfully.
Unfortunately, recovering fair compensation can be challenging even if a defendant does not dispute that they are liable for an injury. In many cases, injury victims find themselves against large insurance companies or big businesses determined to pay as little as possible in damages. It is not unusual for a victim to receive an unfairly low offer for a settlement, as the for-profit companies simply focus on making the case "go away."
But with a committed attorney on your side, you may be able to be compensated for:
Physical therapy
Ambulance fees
Permanent disabilities
Emergency room bills
Current and future medical treatment
Lost wages
Diminished earning capacity
Mental distress
Loss of life enjoyment
Pain and suffering
Wrongful death
No matter the circumstances surrounding your case, you can count on the experience and hard work that our Denver catastrophic injury lawyers bring to the negotiating table and to the courtroom. Pursuant to Colorado Revised Statutes, Title 13, Article 21: Damages, you have recourse against all types of negligence or wrongdoing that cause you, or a loved one serious harm. We know the law and how it applies to every situation. We will use our knowledge, resources, and skill to help you seek justice.
Damages
As with other cases, damage caps apply to certain aspects of a catastrophic injury claim. For example, damages for pain and suffering in most personal injury cases are capped at figures between $468,010.00 and $642,180.00. In wrongful death cases, pain and suffering damages are capped between $436,070.00 and $598,350.00. Even claims against medical professionals for malpractice and claims against the government are subject to caps in Colorado. Therefore, regardless of how bad your catastrophic injury claim may be, your recovery could be limited by Colorado's statutory caps on damages.
It is important to consult with a knowledgeable Denver catastrophic injury attorney as soon as possible to discuss possible damages limitations and find ways to maximize your recovery. We can explain and evaluate the applicability of these damage caps to your claim.
To schedule a free consultation with an experienced Denver catastrophic injury lawyer, call us at  (303) 861-2800 or contact us online.
Special Considerations in Catastrophic Injury Claims
In a catastrophic injury case, there are many special considerations to keep in mind. It is vital that you work with an attorney that is prepared to address these considerations, as they can make a dramatic difference in the outcome of your case – and your future.
For victims that suffer a traumatic brain injury, spinal cord damage, or another form of severe injury, the effects can range from long-term to permanent. Many individuals may require years of ongoing rehabilitative care and medical support. A permanent disability can make it impossible for the individual to work, leaving them unable to support their family.
In addition to the immense pain and suffering that occurs after a catastrophic injury, the unexpected financial challenges can have a ripple effect that alters the life of the victim and their loved ones forever.
If you or a loved one has experienced a catastrophic injury, you must seek an attorney well-equipped to account for all of these damages. The full extent of both economic and non-economic challenges must be addressed and included in a personal injury settlement or court verdict.
Determining Liability in Catastrophic Injury Cases
"Determining liability" means pinpointing exactly which parties are responsible for the injuries that impact the victim – and in so many cases, it requires a masterful legal expert.
The catalyst for a catastrophic injury is a sudden event that the victim could not have predicted, and the shockwaves can continue long after the incident. After the initial shock, the victim may find that they will be facing lifelong medical care and treatment. And in the future, medical expenses could only continue to increase as the victim's earning capacity is permanently diminished.
For this reason and so many others, holding the appropriate parties accountable for their involvement in the injury is crucial. It is not simply an attempt to assign blame but a necessary step towards obtaining the compensation needed for proper care.
How a Denver Catastrophic Injury Attorney at Springer & Steinberg, P.C. Can Help
At Springer & Steinberg, P.C., we deliver the level of powerful legal representation needed in cases involving serious, life-changing personal injuries. Our firm has represented clients throughout Colorado and across the U.S. for nearly 40 years and has a reputation for doing the best work to get the best results – for every client. Most catastrophic injuries can be traced back to some type of negligence or wrongdoing, and we know how to identify at-fault parties and hold them accountable. We are here to help you put your life back together.
Delivering Hard-Hitting Representation Throughout the United States. Contact us or call 303-861-2800 today to find out how our Denver catastrophic injury attorneys can assist you.
Free Consultation for Denver Catastrophic Injury Cases
In a single moment, your life – or the life of a loved one – can be forever altered. But when you experience a tragic incident, you don't have to navigate the aftereffects alone. With an experienced and knowledgeable Denver catastrophic injury attorney from Springer & Steinberg, you'll have the trusted advocate you want and need.
The Denver law firm of Springer & Steinberg understands how to navigate catastrophic injury cases, using a thorough and skilled approach that helps our clients achieve the best possible legal outcomes. We are dedicated to ensuring that each client receives their rightfully owed compensation. Our mission is to relieve some part of the financial and emotional burden you are bearing unfairly.
Get more information about how to file a catastrophic injury claim in Denver, CO when you contact us and schedule a free consultation today.
Image Credit: Gorodenkoff / Shutterstock