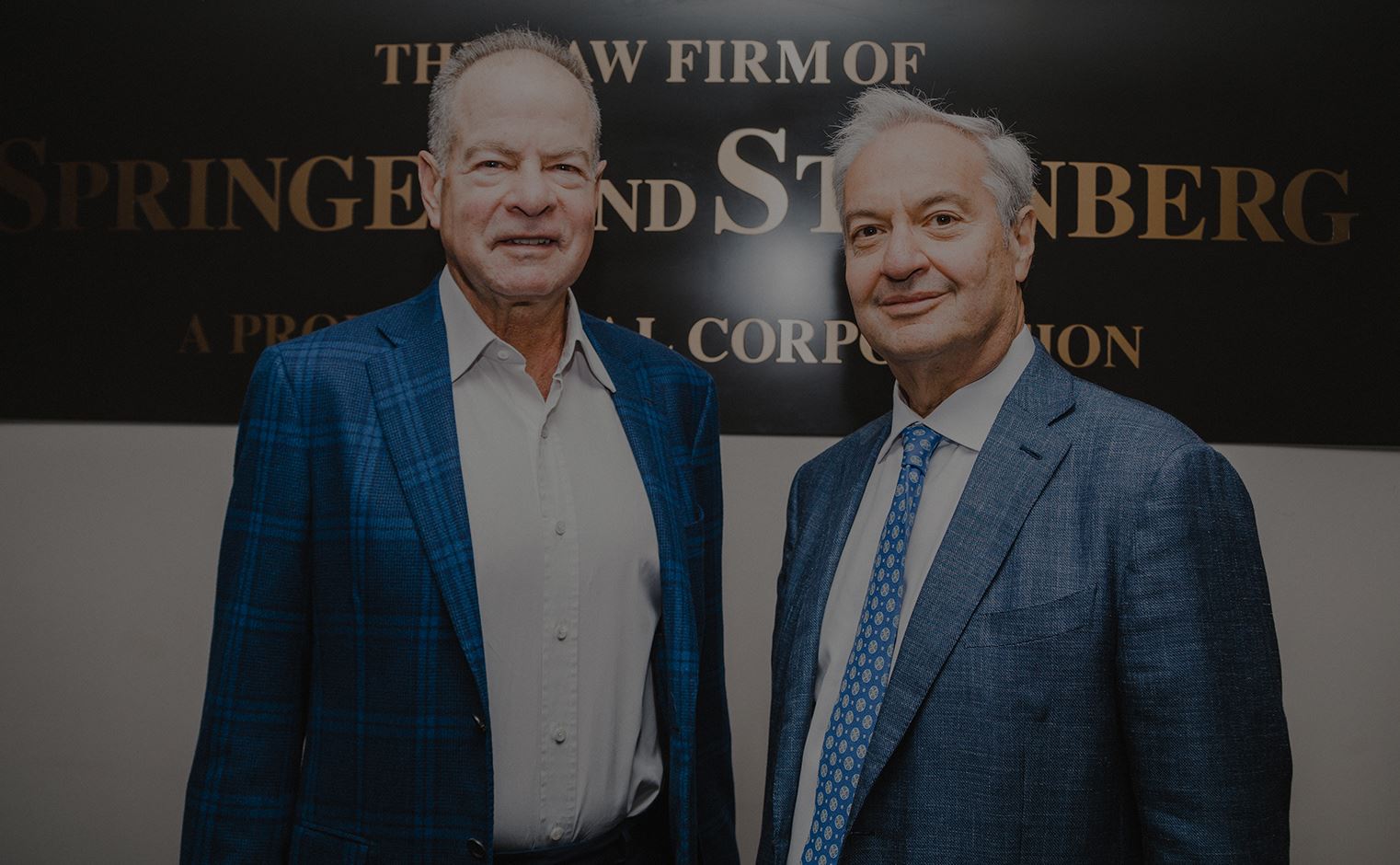 Denver Personal Injury Attorney
Our Denver Bicycle Accident Lawyers Put Decades Of Experience In Your Corner
A bicycle accident has the potential to cause life-threatening injuries and lasting physical and emotional trauma. And yet, when you attempt to pursue a fair settlement from the insurance company, you may find that you are given the runaround. You may be offered an unfairly low settlement that barely covers your medical expenses and costs. If you want to ensure the full protection of your legal rights and a fair settlement take your case to trial and fight for a jury award, you need a skilled Denver bicycle accident attorney to help you navigate these proceedings.
From our offices in Denver, Springer & Steinberg, P.C. represents victims of bicycle accidents across Colorado. We also help families who have lost loved ones in these tragic incidents. Our Denver bicycle accident lawyers understand precisely how to implement our understanding of Colorado statutes and case law to most effectively present and argue our clients' cases. Whether we negotiate a settlement or fight for a jury award, we seek the highest financial compensation possible.
To find out how our legal team can help you, call (303) 861-2800 or contact us online for a free, private consultation.
---
---
What Causes Bicycle Accidents in Denver?
Even though motor vehicle drivers are expected to share the roads with Denver bicycle riders safely, a negligent driver can easily lead to an accident and serious injuries.
Some of the most common causes of bike accidents involving cars include:
The automobile driver failed to yield the right of way to the bicyclist
Significant amounts of traffic
Reckless driving
The driver was driving at a speed above the posted speed limit
The driver was distracted
The driver opened their vehicle's doors while in a parked position
The driver was using their cell phone while driving
The driver was under the influence of drugs or alcohol
The driver hit the bicyclist while turning
The driver failed to adhere to a traffic signal or stop sign
Determining the cause of your bicycle accident will be a key part of handling your claim. We have experience handling cases involving such causes as:
Drivers who are speeding or violating other traffic laws
Defective bicycle parts or bicycle helmets
Defective auto parts
Unsafe road conditions and intersections
Who Else Might Be Liable?
There are rare cases in which the at-fault party may be neither a vehicle driver nor a bicyclist. This can make it exponentially more difficult for the injured party to pursue rightful compensation. Our Denver bike accident attorneys are well-equipped to handle complex cases like these. They can help you navigate the process of launching investigations against governments, corporations, and other potentially liable parties.
Springer & Steinberg, P.C. is here for you if you need a Denver bicycle accident attorney to help bring a lawsuit against:
A bikemaker or parts manufacturer that sold a faulty part or bicycle
An automaker or parts manufacturer that sold a faulty part or vehicle
An agency responsible for designing/regulating roads if the accident was caused by reduced visibility due to road design
Private homeowners or corporations: if the accident was caused by reduced visibility due to protrusions or obstructions in the roadway or bike path
Although these scenarios are rare, their impact is significant. Not only can you receive justice and rightful compensation, but you can play a part in making your community safer for everyone.
Colorado Revised Statutes § 13-21-111: Contributory Negligence
In accordance with Colorado Revised Statutes § 13-21-111, your compensation as a bicycle accident victim may be reduced if you are found to be partially at fault for the collision. For example, if you are deemed 20% to blame, your settlement or award would be reduced by that percentage. However, if you are deemed to be more than 50% to blame, you are ineligible for an award. This is another reason it is so important to work with an experienced Denver bicycle accident attorney who can properly present your case and place blame on the shoulders of the truly responsible party.
Bicycle Accident Injuries in Denver, CO
When a bicyclist is involved in an accident with a motor vehicle, it goes without saying that they have a high risk for serious injury.
According to the IIHS, bicyclist fatalities have nearly quadrupled since 1975, with a 9% increase between 2019 and 2020 alone. Many of these dangerous accidents occur in urban areas, like Denver, but they can also occur in rural communities.
Some of the most common types of injuries from bicycle accidents include:
Concussions
Head trauma
Broken bones, fractures, or crushed bones
Back injuries
Severed limb(s)
Neck injuries
Paraplegia
Quadriplegia
Regardless of the severity of your bike accident injuries, you deserve fair compensation to help pay for your medical care and treatment.
Bicycle Injury Claims in Denver, Colorado
There's no question that bicycle accidents – particularly those involving motor vehicles – can result in serious injuries or death. And in so many cases, it is the vehicle driver that is at fault.
Typically, the insurance company for the at-fault driver will manage the payment of your bike injury claim. However, it is not unusual for insurance companies to dispute the claim (or the extent of your injuries), refuse to pay for damages in full, or even deny the claim outright. Also, an at-fault driver might be uninsured or does not have sufficient insurance coverage to pay for damages, including your medical bills and costs. In these cases, the insurance company is only required to cover costs up to the driver's policy limits. but your own car insurance may be forced to help pay for your damages.
What does this all mean for you? Unfortunately, you may find yourself in a situation requiring you to file a lawsuit to receive rightful compensation for your personal injury claim.
Our bicycle accident attorneys in Denver are prepared to help you file a lawsuit to receive adequate financial compensation.
What to Do After a Bike Crash
After you are involved in a bicycle crash, you should:
Call 911 and request a police crash report.
Seek medical attention immediately.
Document the scene, your injuries, and your bike with photos and videos.
Collect the insurance information from the driver.
Get contact information from all witnesses if possible.
Request the business card of the investigating police officer.
Do not dispose of your bike, helmet, or gear.
Do not share information about the incident on social media.
Contact Springer & Steinberg, P.C. to speak with an experienced bike accident lawyer.
Why You Should Choose Springer & Steinberg, P.C.
Springer & Steinberg, P.C. has been among Colorado's leading law firms for nearly four decades. Our Denver bicycle accident attorneys are dedicated to serving clients in need and have extensive experience in personal injury and a broad range of practice areas. We are an award-winning Denver law firm that has successfully recovered hundreds of millions of dollars for our clients, working tirelessly to achieve successful outcomes in even complex cases.
Free Consultation for Denver, CO Bicycle Accident Cases
Contact Springer & Steinberg, P.C. today at (303) 861-2800 to get immediate insight and guidance. We offer free consultations.