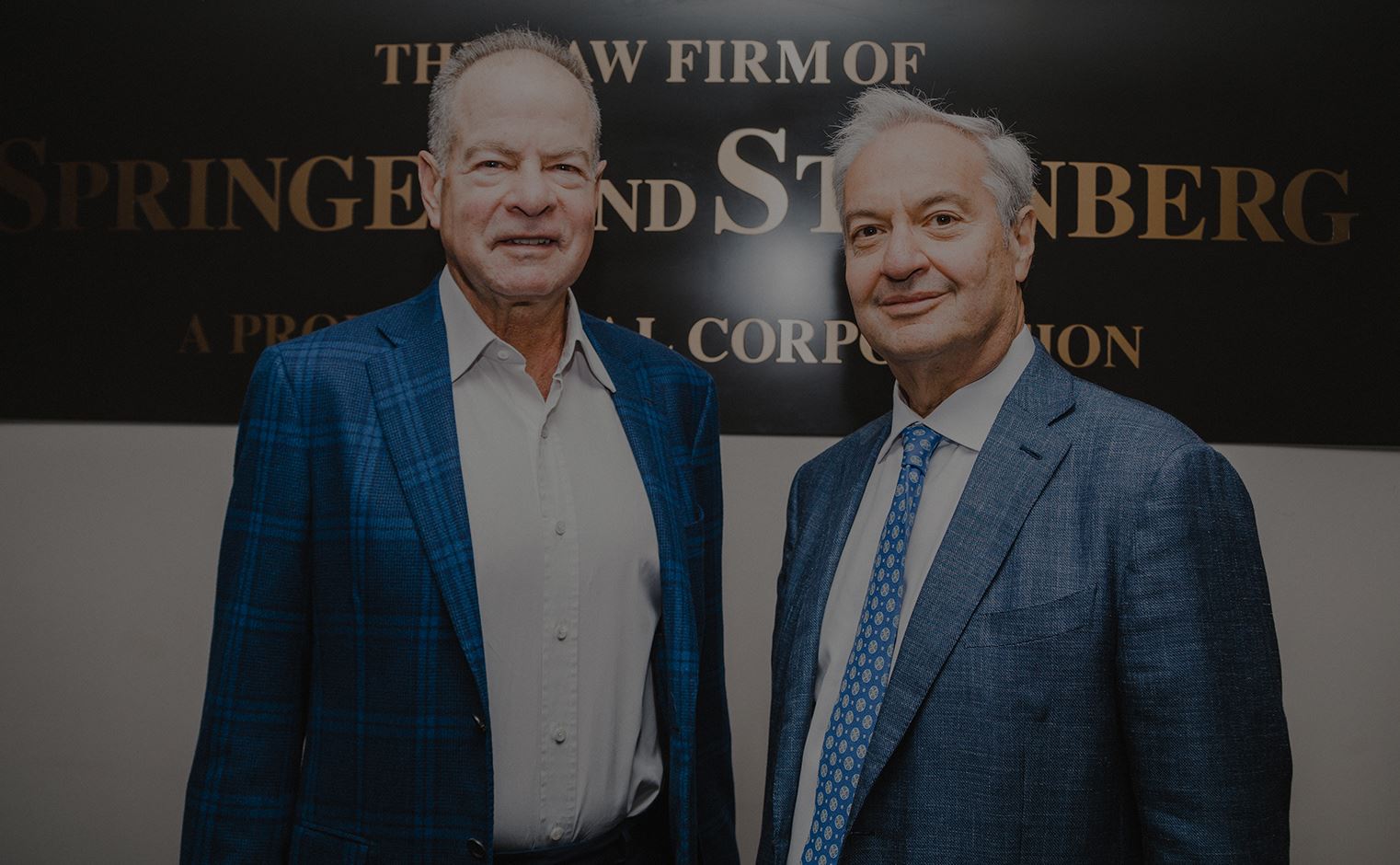 Denver Personal Injury Attorney
Advocating For Brain Injury Accident Victims in Denver, CO
According to doctors at Colorado University Medical Center, among the leading causes of traumatic brain injury (TBI) are auto accidents, falls, and sports injuries. When TBI, brain trauma, or other closed head injuries are caused by the negligent acts of an individual, business, or governmental entity, you may need an aggressive attorney to help you pursue compensation from the responsible party. The experienced Denver brain injury attorneys at Springer & Steinberg are here to help individuals and families get back on their feet physically, financially, and emotionally after a devastating accident.
For a free, confidential review of your case, give us a call at (303) 861-2800 or contact us online.
---
---
National Brain Injury Statistics
Every year, approximately 1.7 million Americans experience a traumatic brain injury. Although brain injuries are most common in adolescents and the elderly, they can happen to anyone.
More than 175 people die from traumatic brain injuries every day in the U.S., highlighting the seriousness of the issue (CDC). There are several causes related to brain injuries, the most common of which include:
Falls
Firearm-related injury
Assault
Depending on the severity of the injury, a TBI can lead to lifelong health problems and disabilities. Even a minor brain injury requires medical attention and can have effects that last a few weeks or months.
Colorado Brain Injury Statistics
In the state of Colorado, brain injuries have led to nearly 1,000 deaths and 5,000 hospitalizations every year. Colorado ranks 9th for traumatic brain injury fatalities and thirteenth for hospitalizations related to TBI.
The Brain Injury Alliance of Colorado states that about 2,200 individuals with a TBI remain disabled one year after their injury, showing just how severe this type of injury can be.
What Are the Symptoms of a Brain Injury?
Brain injuries can cause a broad range of common symptoms. Some individuals may not even realize they have been injured. It is a common misconception that the individual did not suffer an injury if there was no loss of consciousness.
Even a seemingly minor bump to the head can result in an injury, making it incredibly important to familiarize yourself with TBI symptoms, such as:
Headaches
Confusion
Dizziness
Fatigue
Anxiety
Blurry Vision
Changes in sleep patterns
Memory problems
Shortened attention span
Depression
Changes in emotional patterns
Reduced concentration ability
Difficulties with multitasking
It is not unusual for symptoms to appear anywhere from 24 to 72 hours after the injury. Often, a person is far more seriously injured than they may initially appear.
All Head Injuries Require Immediate Medical Attention
It is essential to seek medical treatment and attention for a head injury, regardless of how minor it seems. A qualified healthcare professional can conduct a comprehensive medical evaluation to pinpoint potential evidence of a brain injury and provide the proper medical care. Early intervention is crucial to a successful recovery, so erring on the side of caution is always the right decision.
We Have Extensive Experience with Traumatic Brain Injury Claims
Brain injury cases can be challenging for a number of reasons, including the possibility that the victim either may not recall the accident or may not have adequate functioning to assist in preparing the case for trial. Also, the effects of a brain injury – such as loss of cognitive ability, diminished consciousness, or emotional disturbances – can be relatively subtle and more difficult for a jury to see than more obvious injuries, such as fractures and lacerations.
These evidentiary-based difficulties may make the assistance of a knowledgeable, experienced attorney particularly vital. With our long history of representing Colorado's injured, we at Springer & Steinberg have the understanding of legislation and case law that is necessary to handle complex brain injury claims effectively. Our goal is to pursue maximum compensation under Colorado law.
We have experience with brain injury cases involving:
Falls from heights
Workplace accidents
Medical malpractice
Inadequate security
Swimming and boating accidents
Defective products
Establishing Liability in Brain Injury Claims
When you come to Springer & Steinberg searching for a Denver brain injury attorney, one of our primary goals will be to establish clear liability for the injury.
Colorado is a "comparative negligence" state, meaning it is a plaintiff's responsibility to prove that the defendant was at fault for the accident in question. However, it can be challenging to establish fault (liability), so it is imperative that you choose only the very best Denver brain injury attorneys at Springer & Steinberg.
Our expertise, determination, and skill make us exceptionally well-equipped to navigate even the most complex of brain injury cases so that we can effectively fight for your rights in court. Our legal team will conduct an in-depth investigation to gather all pertinent information, establishing a solid foundation of evidence. We are deeply committed to holding the appropriate parties legally accountable for the physical, emotional, and financial implications of a traumatic brain injury.
Bringing a Claim for Compensation
Regardless of the exact cause of a brain injury, the case will most likely proceed under the law of negligence. That means the injured person must prove that:
The defendant owed the injured person a duty to act responsibly;
The defendant failed to uphold the duty that was owed;
There is a direct causal link between the defendant's breach of duty and the injured person's harm; and
The brain injury victim sustained actual damages that can be quantified.
In some types of cases, such as medical malpractice or product liability, there may be other inquiries in addition to the basic outline of a negligence lawsuit. On certain occasions, an expert's opinion may be necessary in order to lay the foundation for proving the particular duty that was owed by the defendant and whether the duty was, in fact, breached.
An experienced Denver brain injury lawyer from the law firm of Springer & Steinberg can fully investigate the circumstances of the accident that gave rise to the victim's harm. This may include carefully reviewing factual information such as police or accident reports, witness interviews, and photographs.
Obtaining Fair Compensation for the Effects of Brain Injuries
Establishing the losses caused by the long-term effects of a brain injury can be difficult. Experts may be required to prove economic damages, such as past and future medical expenses, lost wages, and lost earning capacity.
An injured person may also be entitled to pursue non-economic damages, such as pain and suffering. Compensation for head trauma and executive functioning symptoms like headaches, loss of concentration, and memory loss may need to be taken into account.
Pursuant to Colorado Revised Statutes, Title 13, Article 21: Damages, a victim of a traumatic brain injury may be entitled to compensation for:
In-home treatment or care
Loss of future earnings/earning potential
Medical expenses, including medical bills and ongoing treatment
Medical supplies, assistive devices, and medication
Physical, occupational, and vocational therapy
Loss of earnings, wages, benefits, and bonuses
Non-Economic losses and emotional trauma (this may be limited under § 13-21-102.5)
Mental anguish
Decreased quality of life
Psychological counseling
Pain and suffering
Permanent disability/impairment
Wrongful death
Exemplary damages may even be awarded, under § 13-21-102, if the at-fault party acted with willful and wanton conduct, fraud, or malice.
Brain injury cases are highly complex, particularly because the aftereffects of a TBI are often debilitating for a victim and their family. Beyond the immediate medical implications, the emotional trauma, need for ongoing care, and reduced quality of life can completely transform a victim's present and future.
Financial compensation cannot erase the devastating effects of a traumatic brain injury, but it can help to equip a family with the means to pursue essential healthcare. You or your loved one deserve not only to make a maximum recovery but also to be able to move forward in whatever way possible.
If you are in need of an experienced Denver brain injury lawyer, Springer & Steinberg is here for you. We will fight tirelessly to secure fair compensation on your behalf, standing firm against potential resistance from insurance companies, corporations, and the like. Don't let the at-fault party offer you less than you deserve; your rights will be protected with an experienced Denver brain injury attorneys on your side.
Why Choose a Denver Brain Injury Attorney at Springer & Steinberg, P.C.?
There is no question that brain injury cases are highly complicated for a myriad of reasons. You should be able to focus on the recovery process and not be constantly worried about your case. Let the Springer & Steinberg brain injury legal team shoulder that burden for you, giving you the peace of mind of knowing that you have experts advocating for your needs.
Our Denver brain injury attorneys have extensive experience, giving us unique insight into the nuances of brain injury cases. Additionally, we are committed to collaborating with the relevant experts to better support the outcome of your case, including healthcare professionals, psychologists, and others.
You are more than simply another case. At the law firm of Springer & Steinberg, our connection to our clients extends beyond paperwork and legal jargon; we are here to provide the compassionate support and care you deserve.
Free Consultation for Brain Injury Cases in Denver, CO
Suffering a traumatic brain injury impacts a victim's life in every way imaginable. The last thing you should be forced to do is go through the experience alone. Springer & Steinberg is here to help you understand Colorado brain injury laws, how to seek financial compensation, and what to expect during the legal process. Above all, our mission is to serve as a passionate and skilled advocate for victims' rights.
Get started on your case today by contacting our firm or 303-861-2800. Our skilled attorneys offer a free initial consultation for brain injury claims in Denver, CO.
Image Credit: Monkey Business Images / Shutterstock