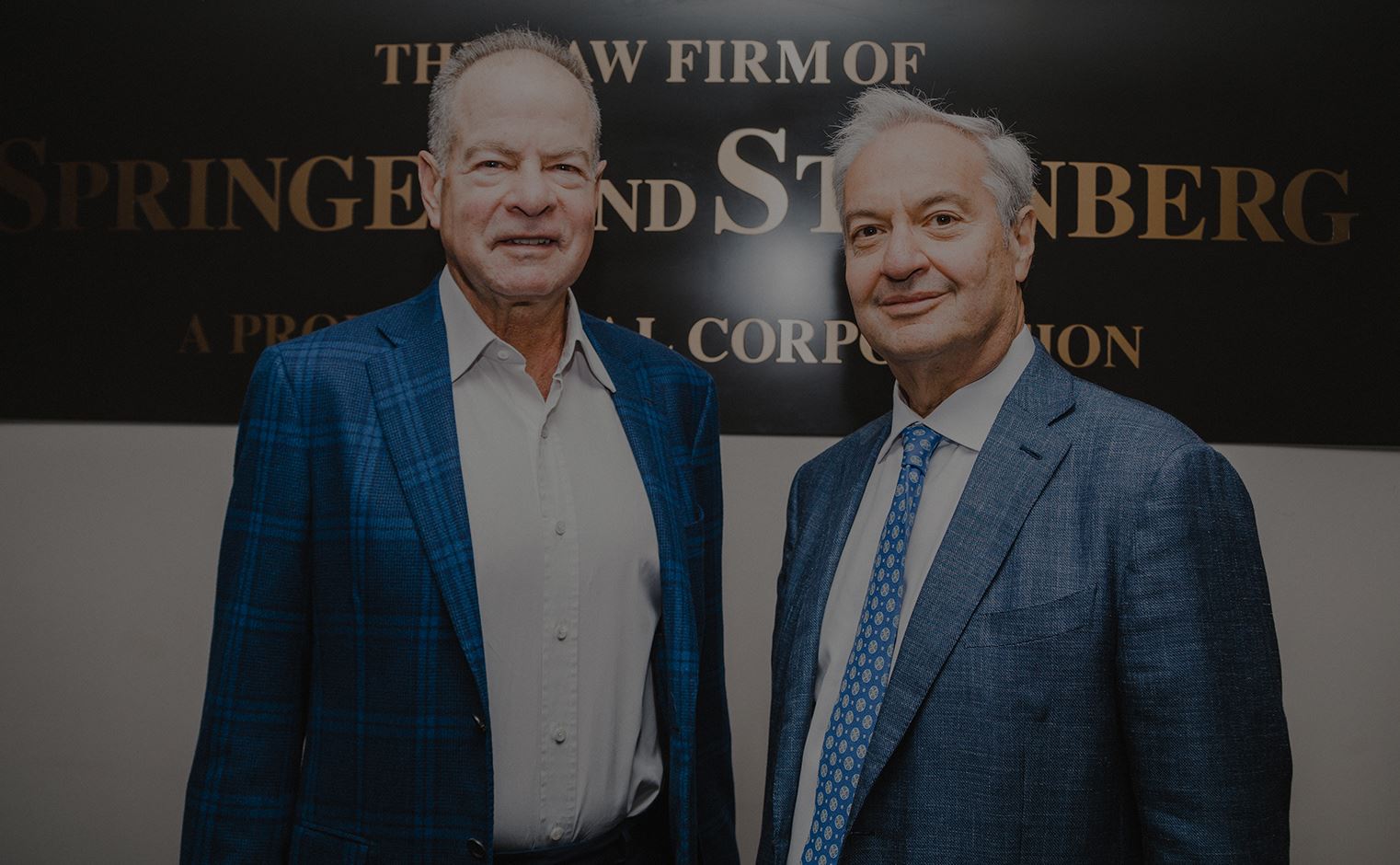 Aurora Personal Injury Lawyer
Nobody wants to find themselves dealing with a situation that requires a personal injury lawyer, but knowing where to turn can make a world of difference. If you are in need of an Aurora personal injury lawyer, Springer & Steinberg can help. Our highly experienced and talented team is prepared to support you at every stage of your case so that you can have the peace of mind of knowing that you have experts on your side.
Across Arapahoe County, Douglas County, and Adams County, as well as neighboring communities throughout the Denver area, our award-winning Aurora attorneys provide dedicated and personalized legal representation in a diverse range of personal injury cases. You do not need to face the insurance companies alone; a personal injury lawyer in Aurora, CO from Springer & Steinberg will advocate for you and your loved ones.
Find out how our Aurora injury lawyers can help you by calling  (303) 861-2800. Your consultation is free and strictly confidential.
---
---

Springer & Steinberg Personal Injury Practice Areas in Aurora, CO
The nationally recognized and award-winning Aurora personal injury lawyers at Springer & Steinberg have dedicated the last four decades to providing our clients with the expansive resources, connections, and knowledge they need to pursue success inside and outside the courtroom.
Our experience, integrity, and accessibility set us apart from other law firms. We represent personal injury clients throughout Colorado in cases involving injuries caused during:
With the distinction of an AV Preeminent® rating by Martindale-Hubbell®, SuperLawyers, our identification as a U.S. News Best Law Firm, and spots in the National Trial Lawyers: Top 100 and the ASLA Top 40 Lawyers Under 40. At Springer & Steinberg, we genuinely care about each of our clients. We are here to help to produce real results for real people using elite legal strategies that are designed for success.
If you've been injured or lost a loved one to negligence in Colorado, contact a skilled Aurora personal injury lawyer. Schedule a free consultation today to discuss your unique recovery needs with a law firm that cares.
What is a Personal Injury Case?
Personal injury law is a broad legal field focused on legal cases involving victims that have been injured as a result of the negligence or malice of another party.
This area of the law serves a vital purpose by allowing individuals to take legal action against others that have hurt them. Through a personal injury case, you can pursue the financial compensation you deserve so that you are able to obtain proper medical care and move forward with your life.
Although no amount of money can make up for the long-term implications of a serious incident, the goal of a personal injury settlement is to cover expenses such as:
Medical bills, both in the short and long term
Time off work while recovering
Loss of future earnings
Pain and suffering
Types of Personal Injury Claims in Aurora, CO
Because personal injury is an especially broad facet of the legal system, many different types of claims fall within this category.
Types of personal injury cases we handle in Aurora, CO include:
Auto Accidents
Motor vehicle accidents involving car accidents, truck accidents, motorcycle accidents, and/or pedestrian accidents are the most common type of personal injury case by far.
Personal injury auto accident cases are centered on an incident caused by a negligent driver/party, such as a driver who was:
Speeding
Driving under the influence of alcohol/drugs
Driving while distracted
Failing to follow traffic signals, road signs, and rules of the road
Engaging in road rage
Premises Liability
Public spaces are expected to adhere to certain standards for safety – if they fail to meet these standards (whether knowingly or not), they neglect their responsibilities and can thus be held responsible for injuries that happen as a result.
Premises liability cases can include:
Slip and fall accidents
Inadequate security
Uncontrolled animals
Product Liability
Manufacturers of products such as home appliances, electronics, medications, medical devices, safety equipment, tools, and motor vehicles are also considered legally liable for injuries that occur as a result of defects. Product liability cases are notoriously complex but are key in bringing about the changes necessary to prevent future injuries.
Medical Malpractice
Medical mistakes and negligence result in a shocking number of injuries and deaths. Although proving medical malpractice can be challenging, an experienced attorney can help you take action against the medical professionals that let you and your family down.
Workplace Accidents
Workplace accidents are another common type of personal injury case, primarily because the average American spends the majority of their day at work. Occupational health and safety law covers scenarios like exposure to toxins, accidents at construction sites, equipment failure, and violence in the workplace–situations that workers' compensation may not.
Wrongful Death
Regardless of the situation, the tragic loss of a loved one is excruciating. The emotional impact can be even more severe when the death results from another party's negligence. Wrongful death lawsuits allow a deceased victim's family to pursue justice on their behalf, fighting to hold the responsible parties accountable.
Contact Springer & Steinberg, P.C. at  (303) 861-2800 today for a free consultation.
Before You File a Personal Injury Lawsuit in Aurora
Are you considering how to file a personal injury lawsuit in CO? Before anything, make sure you are represented by one of the experienced attorneys from Springer & Steinberg.
Why Do I Need a Personal Injury Attorney?
Think of a personal injury attorney as a highly skilled legal expert that is 100% on your side – and completely committed to fighting for your rights. No matter how simple your case may seem, it is sadly common for individuals to become overwhelmed by the technicalities of legal proceedings. This often translates to unfair settlements, missed deadlines, and other issues.
Working with an attorney is essential to obtain fair compensation covering your accident expenses in full so you can move forward with your life.
What to Expect From Your Aurora Personal Injury Lawyer
Understandably, most people are unsure what to expect from a personal injury lawyer. This can lead to many unfortunate situations in which individuals receive subpar legal representation.
An excellent Aurora personal injury attorney will:
Listen to your story to understand the details of your case, asking questions to learn as much as possible about the circumstances.
Clearly communicate with you at every stage, providing full transparency so that you know exactly what is happening "behind the scenes" of your case.
Provide you with detailed information about your case, answering any questions and ensuring that you feel confident and well informed.
Have a proven track record for achieving outstanding outcomes in personal injury cases like yours.
Be willing to provide references upon request.
In terms of practical tasks, your personal injury lawyer will handle all types of details associated with your case, including:
Communicating with insurance companies
Collecting evidence to prove liability
Filing required paperwork
Meeting all deadlines associated with your case
Representing you in all negotiations and/or court proceedings
Contact an Expert Aurora Personal Injury Lawyer Today
Led by Jeffrey A. Springer and Harvey A. Steinberg, our Colorado legal experts are equipped with the expertise, dedication, and skill needed to achieve the best possible outcome in your case. Born and raised in Aurora, Jeffrey Springer is deeply connected to the community, with a passion for helping individuals in need of a committed legal advocate.
If you need help with your personal injury case in Aurora, you are welcome to directly contact Jeffrey Springer by texting or calling his personal cell phone number: (309) 907-6070. Or, contact our office to set up a consultation to discuss the next steps for your case.
---
We Also Serve The Following Areas:
Aurora | Boulder | Brighton | Centennial | Castle Rock | Colorado | Fort Collins | Denver | Grand Junction | Golden
Image Credit: Jacob Boomsma / Shutterstock