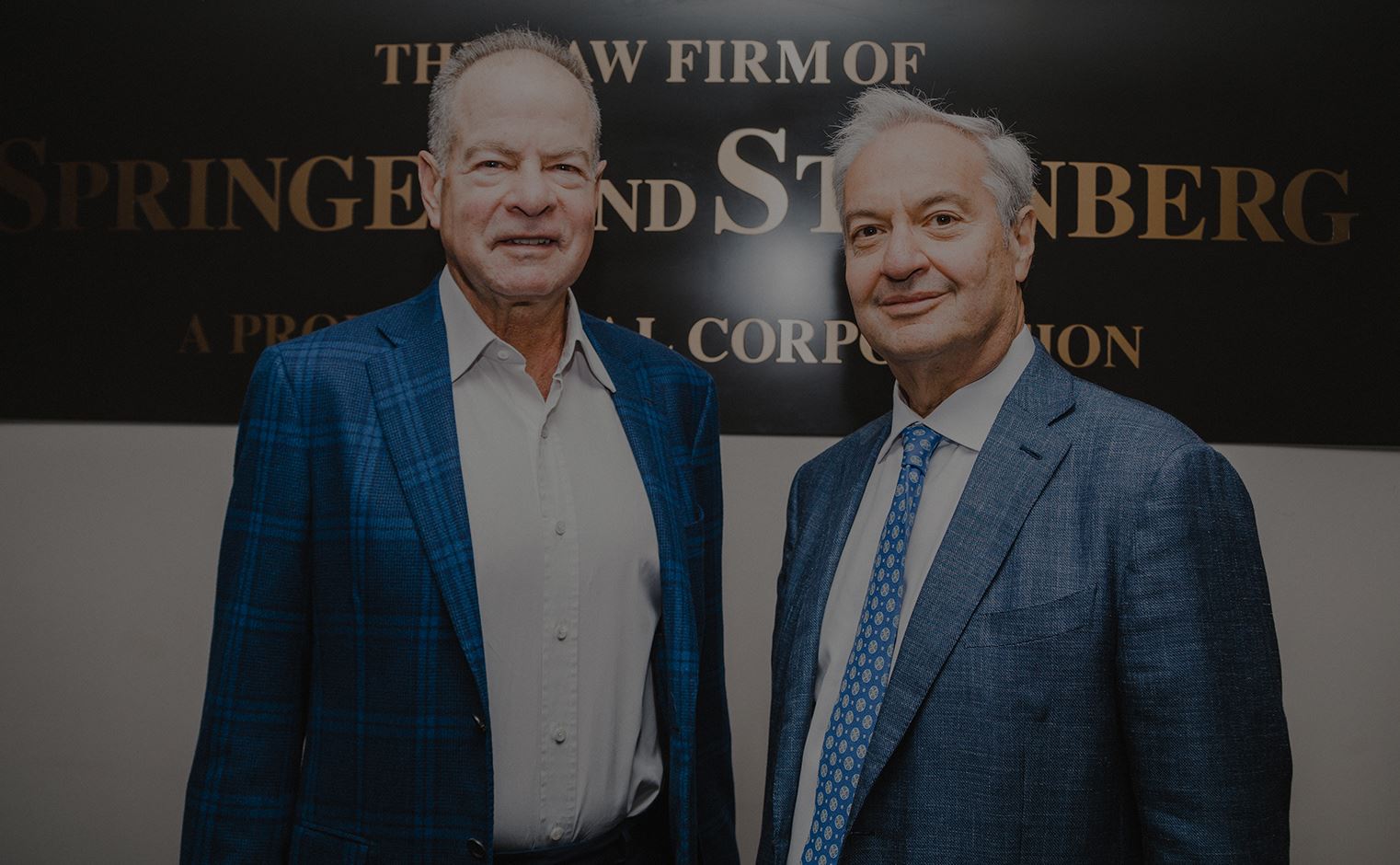 Aurora Personal Injury Lawyer
If you have experienced serious injuries or the loss of a loved one due to a car accident, you may be eligible to receive compensation from the at-fault party. Although it may seem overwhelming to pursue legal action while you are still recovering or grieving, it is important to seek legal advice from an Aurora car accident lawyer as soon as possible. It is your right to receive justice if someone else's negligence caused harm to you or your family.
You can reach out to the experienced team at Springer & Steinberg to explore the legal options available and speak with an Aurora car accident lawyer. We will guide you through the legal process and provide support. Contact our office at (303) 861-2800 to learn more about your rights after an accident.
Contact our office at  (303) 861-2800 learn more about your rights after an accident.
---
---
Types of Car Accidents in Aurora
Most commonly, car accidents involve two or more personal vehicles. However, some incidents can involve commercial vehicles, such as a semi-truck, resulting in dangerous events where pedestrians, motorcyclists, or bicyclists are injured or even killed.
There are many different types of auto accident claims, many of which accident victims are unaware of. When you choose an Aurora car accident attorney from Springer & Steinberg, you're gaining a knowledgeable partner with extensive expertise in automobile accident claims that include:
High-speed car crashes
Low-speed car crashes
Side impact crashes
Passenger injury accidents
Reckless driving accidents
Negligence
Parking lot accidents
Dram shop liability car accidents
The circumstances of every accident are unique, making it crucial that you consult with a skilled attorney who is well-equipped to help you navigate the legal process. Even seemingly simple, straightforward incidents can quickly become complicated, and having a knowledgeable legal advocate on your side will make a significant difference.
Other Common Causes of Aurora Car Accidents
While it is true that factors such as vehicle defects or weather can contribute to accidents, the vast majority – a staggering 94 percent – can be linked to driver-related causes.
Driving under the influence, excessive speed, distracted driving, and fatigued driving can all lead to serious accidents. In Aurora, CO, accidents can often be traced back to preventable causes such as:
Driving under the influence of alcohol or drugs (including prescription medications)
Speeding and reckless driving
Using a phone while driving, including texting or using apps
Eating or drinking while driving
Adjusting the stereo, climate control, and other distractions
Being excessively tired while driving (particularly an issue for long-haul truck drivers)
If you or a loved one have been the victim of someone else's negligence in a motor vehicle accident, you can seek legal recourse by hiring a car accident lawyer.
While you may believe your case is straightforward, it can be challenging to legally prove the other party's negligence. Your lawyer can assist you in gathering the necessary evidence, such as photographs, technical data, and witness statements, in building a strong case and establishing negligence.
Common Car Accident Injuries in Aurora
Car accidents pose a significant risk of injury to any part of the body. The forces involved in a car crash can result in injuries ranging from minor cuts and bruises to severe and life-changing injuries.
At Springer & Steinberg, our car accident lawyers in Aurora are equipped to handle all types of car accident injuries, regardless of their severity. Some of the most commonly seen injuries include:
Bone fractures
Soft-tissue injuries
Dislocations
Pulled muscles
Whiplash
Lacerations
Burn injuries
Head and brain injuries
Back and spinal cord injuries
Paralysis
Organ damage
Loss of limb
Permanent injuries
Scarring
Disfigurement
If you have been diagnosed with any injury following an automobile accident, we can help. Our car accident lawyers in Aurora can connect you with the best doctors in the area and provide legal guidance to answer your questions. We understand the impact of car accident injuries on victims and are committed to helping clients achieve their desired results.
First Steps After a Car Accident
If you have been in a car accident, your first priority should be to ensure your safety and that of your passengers. If possible, check on other drivers involved in the accident, and call 911 to report the accident.
Then, gather as much evidence from the scene as possible, including taking photos of the accident and preserving the accident scene. Before moving forward with an insurance claim, contact an Aurora car accident lawyer to ensure that you have a professional safeguarding your legal rights.
Proving Fault for an Aurora Car Accident
Proving fault in a car accident can be complex, requiring expert assistance to collect, review, and organize evidence to build a strong case.
Colorado is an at-fault state, meaning that the party determined to be at fault for an accident is legally and financially responsible. However, before an accident victim can pursue financial compensation, they must successfully prove fault.
In situations where both parties are responsible for the auto accident, the court will refer to Colorado's modified comparative negligence law. This law states that, so long as your percentage of fault is less than that of the defendant(s), you are still eligible for financial compensation.
The auto accident attorneys at Springer & Steinberg have extensive experience determining and proving fault, so you can move forward confidently and receive maximum compensation.
Call (303) 861-2800 to talk to a Denver car accident lawyer at Springer & Steinberg, P.C., and discuss your legal rights.
Damages and Compensation in Aurora Car Accident Claims
If you or someone you know has been injured in an Aurora car accident caused by another driver's negligence, you may be entitled to compensation for a variety of damages.
Our Aurora car accident lawyers at Springer & Steinberg, P.C. can help you recover fair compensation for such expenses and damages as:
Medical bills and future medical expenses
Loss of income and future earning potential
Repair or replacement of your vehicle and other property damage
Medical transportation costs
Car rental expenses
Cost of home help
Physical and emotional pain and suffering
Scarring and disfigurement
Disability
It is important to remember that each car accident case is unique and settlement amounts can vary greatly depending on the specific circumstances of the accident, the extent and permanence of the injuries, and other factors. Consulting with an experienced car accident lawyer can help you understand your legal options and pursue the compensation you deserve.
Why Choose the Law Firm of Springer & Steinberg?
Our Aurora personal injury attorneys possess the skill, experience, and determination needed to achieve the best possible results in your case. We will work with you to evaluate your damages, assemble evidence, and build a case that will secure the compensation you deserve – and you will gain the freedom to focus on your recovery.
Call an Experienced Aurora Car Accident Lawyer Today
Our skilled and dedicated attorneys in Aurora, CO are here to help you after a collision, regardless of the circumstances of your accident. If you or a loved one has experienced injuries – including emotional or physical trauma – after a collision, our legal team can help you achieve a fair outcome. We proudly serve clients in Aurora and surrounding areas, including communities throughout the state.
For more information about how to get financial compensation after a car accident in Aurora, CO, contact Springer & Steinberg today.
---
We Also Serve The Following Areas:
Aurora | Boulder | Brighton | Centennial | Castle Rock | Colorado | Fort Collins | Denver | Grand Junction | Golden
Image Credits: JoeLogan – Jacob Boomsma / Shutterstock