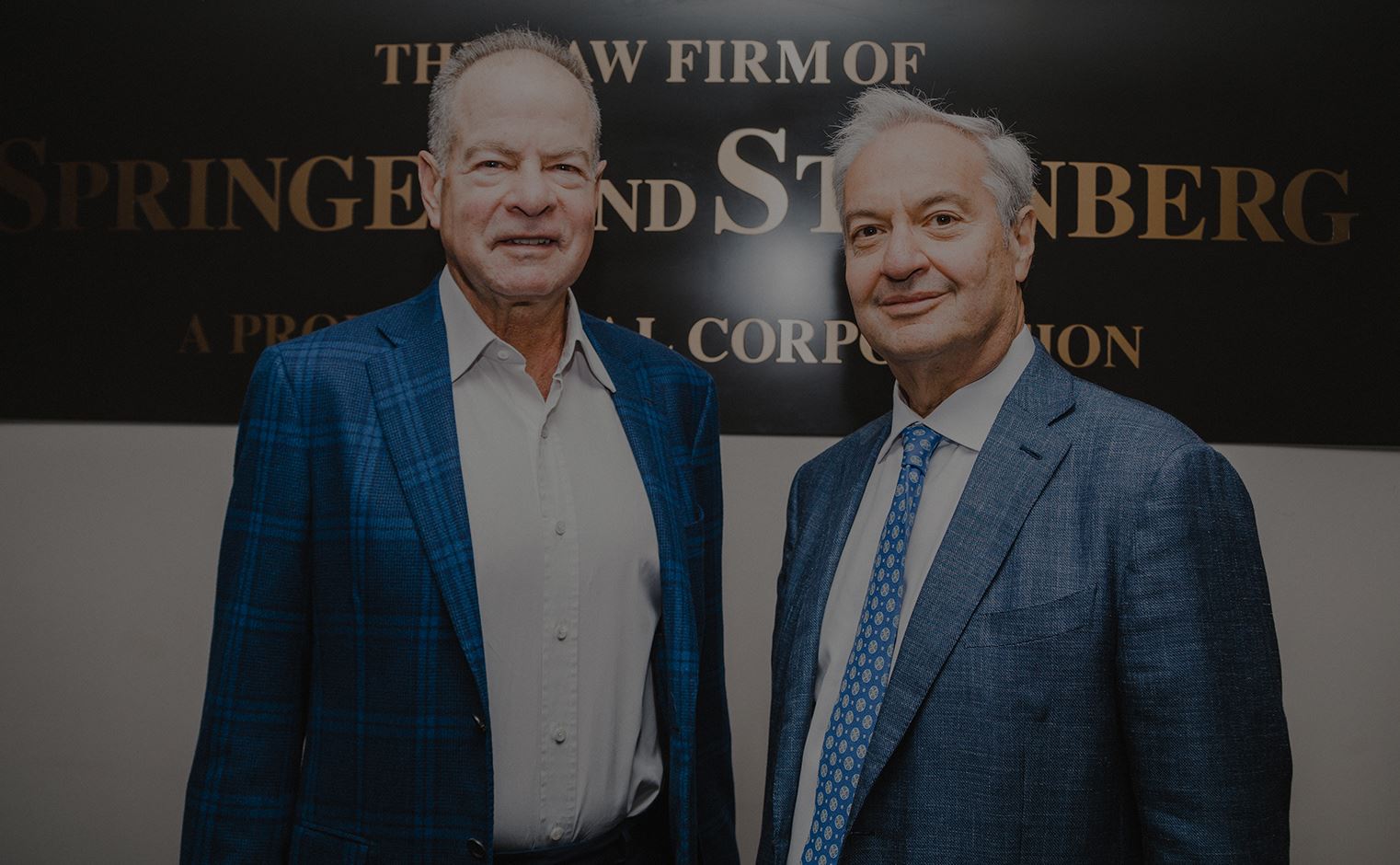 Denver Motorcycle Accident Attorneys
Representing Injured Denver Riders for Nearly 40 Years
In Denver and surrounding areas, we see an exceptionally high number of motorcycles on our roadways. Almost 75% of all Denver motorcycle accidents occur during a collision with a passenger automobile. In most cases, it happens to be the automobile that cuts off the motorcyclist, forcing them to make a sudden stop. In Colorado, a slide-out-and-fall due to excessive braking is quite common. Violating a motorcyclist's right of way can be deadly.
If you were injured or lost a loved one in a motorcycle accident anywhere in Colorado, now is the time to involve a competent attorney at Springer & Steinberg, P.C. We have been serving injured riders and their families for nearly four decades and are standing by to put our experience to work for you.
Our Denver motorcycle accident attorneys have experience with claims involving:
Distracted drivers
Following a motorcyclist too closely
Turning right into a motorcyclist's path
Dangerous and poorly maintained roadways
Pursue justice after your injury or loss with a Denver motorcycle accident lawyer from our firm in your corner. Contact our firm today at 303-861-2800.
Colorado Is an Attractive Place to Ride
Colorado is famous for its scenic and historic roadways, and Denver is no exception. Denver, CO, and the surrounding areas attract many riders every year for this very reason. Lookout Mountain Road, Deer Creek Canyon, and Rist Canyon Road are just a few miles out of town, so there's no excuse not to take your bike out for a ride. Denver is also home to the Colorado Motorcycle Expo, an annual gathering of 25,000 motorcyclists.
People dream of riding a motorcycle in and around the Denver area. Additionally, there has been a rise in scooter use in the Denver area. Similar to motorcycles, being on a scooter leaves you vulnerable and exposed to the threat of an automobile. As registrations are on the rise in Colorado, so is the likelihood of an accident occurring. Be sure and always protect yourself with proper body padding and a helmet when cruising around Colorado's gorgeous roads.
Motorcycle Accidents are Different from Car Accidents
The magnitude of the injuries sustained by the rider set motorcycle accidents apart. Motorcyclists are far more likely to sustain brain injuries that can take years to overcome. Even when wearing a helmet and protective gear, a collision with an automobile can be deadly. In car-to-car accidents what we would call a "narrowly-avoided collision" does not exist for a motorcyclist. A motorcyclist's chances of "avoiding" an accident are much lower.
Recover the financial compensation you deserve after a motorcycle accident by calling Springer & Steinberg today at 303-861-2800!
What to Do After a Motorcycle Accident
As with other accidents, there are some crucial steps you should take to help build your case:
When the police arrive at the scene, give them your basic information, as well as facts pertaining to the accident.
Do not take blame or admit fault for what has happened.
If you feel that you have suffered an injury, be sure and obtain immediate medical attention.
If there are any witnesses, be sure to obtain their information. Also, gather the information of the other driver, including their insurance carrier and telephone number.
Taking pictures of the damages and injuries is also very important.
All of this is crucial in determining the success of your case.
Factors That Could Impact Liability in a Denver Motorcycle Accident
Unfortunately, motorcyclists are more likely to suffer death and injury than better-protected car and truck occupants. A skilled motorcycle injury attorney can guide you through the various liability issues surrounding motorcycle accidents in order to help you get the compensation you deserve.
Broken Laws
The most outstanding factor when assessing liability for any type of case is the question of whether laws were broken. For example, if anyone involved in the accident was under the influence of drugs or alcohol illegally, this would be a huge factor when determining liable parties.
Violating traffic laws can also show liability. For instance, running a red light or going significantly over the speed limit would be considered negligent and that driver could be held liable for the accident. This is one of the reasons why it's essential to call the police after an accident. You can give a statement saying what happened and if you witnessed any laws being broken.
Admission of Fault
Any admission of fault by any party at the scene of the accident could be taken as evidence. This is why it's wise to avoid any statements at the scene of an accident, even if you believe you aren't responsible for what happened. Simply saying "I'm sorry" could be perceived as you admitting guilt.
Evidence
If there were any photos or videos taken of the accident, they may be crucial to helping a motorcycle accident attorney prove liability. Any witnesses may also be vital. Although taking photographs and witnesses' contact information is understandably not anyone's priority after a motorcycle accident, it is definitely something to consider doing.
Above all, remember to always seek immediate medical attention in the aftermath of a crash. Your personal safety and that of any other riders and drivers is obviously paramount. The medical records you receive can also be vital in helping your attorney prove liability in your case.
In any event, you should speak to an attorney as soon as possible after a crash. Your attorney will be able to help you reconstruct a coherent account of the incident using the available evidence.
Contact Denver Motorcycle Accident Attorneys Today
If you or a loved one was injured in a motorcycle accident, don't hesitate to contact Springer & Steinberg. We will work to determine liable parties and help you pursue compensation for your injuries.
Call us to schedule a free appointment or 303-861-2800 to discuss your case. We advise individuals throughout Douglas, Arapahoe, and Jefferson Counties, as well as other areas of Colorado.