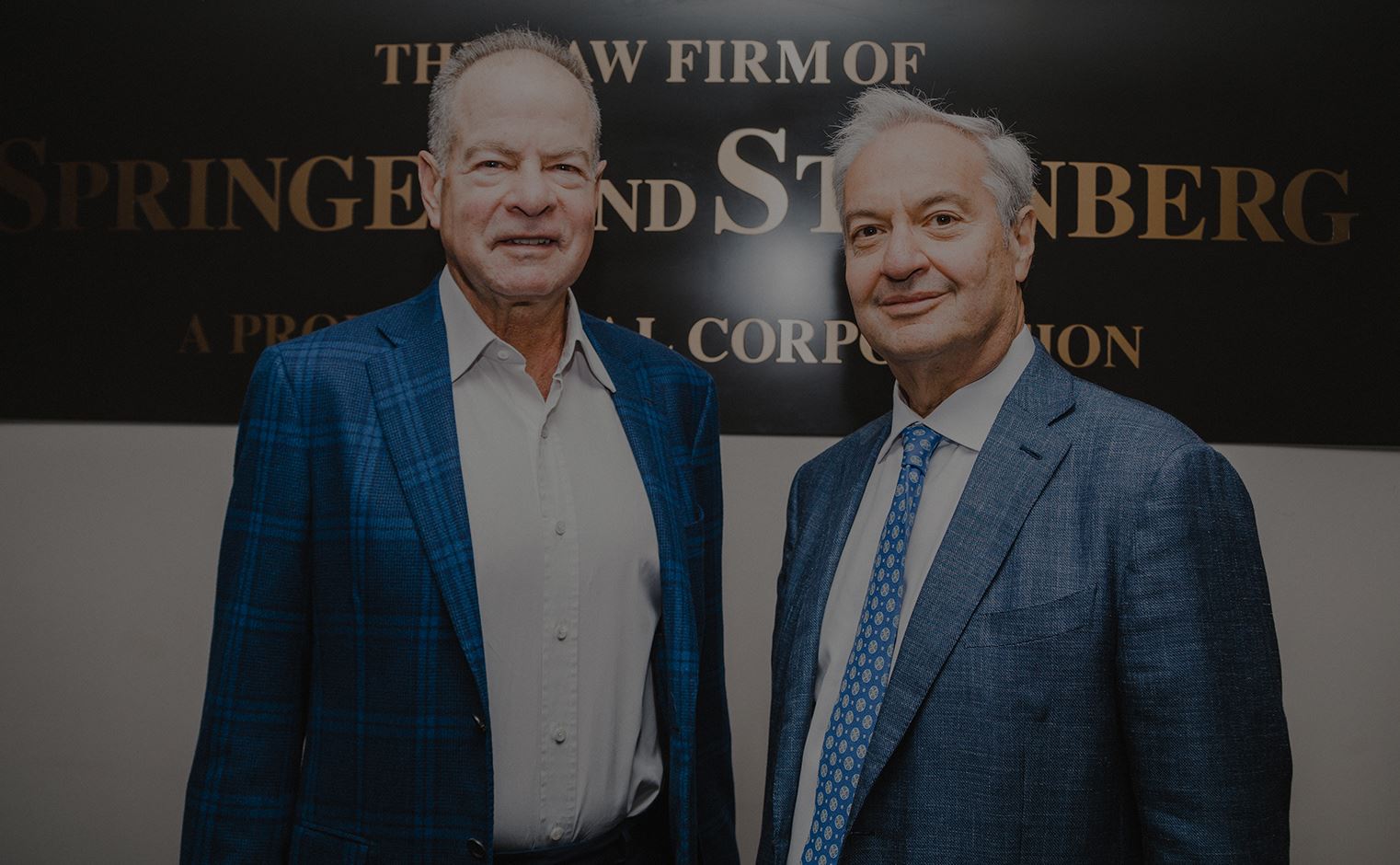 Denver Personal Injury Attorney
Representing Injured Denver Riders for Nearly 40 Years
In Denver and surrounding areas, we see an exceptionally high number of motorcycles on our roadways. Almost 75% of all Denver motorcycle accidents occur during a collision with a passenger automobile. In most cases, it happens to be the automobile that cuts off the motorcyclist, forcing them to make a sudden stop. In Colorado, a slide-out-and-fall due to excessive braking is quite common. Violating a motorcyclist's right of way can be deadly. If you were injured or lost a loved one in a motorcycle accident anywhere in Colorado, now is the time to involve a competent Denver motorcycle accident lawyer at Springer & Steinberg, P.C. We have been serving injured riders and their families for nearly four decades and are standing by to put our experience to work for you.
Our Denver motorcycle accident lawyers have experience with claims involving:
Following a motorcyclist too closely
Turning right into a motorcyclist's path
Dangerous and poorly maintained roadways
Pursue justice after your injury or loss with a Denver motorcycle accident lawyer from our firm in your corner. Contact our firm today at 303-861-2800.
---
---
Denver, CO is a Beautiful Place to Ride
Colorado is famous for its scenic and historic roadways, and Denver is no exception. Denver, CO, and the surrounding areas attract many riders every year for this very reason. Lookout Mountain Road, Deer Creek Canyon, and Rist Canyon Road are just a few miles out of town, so there's no excuse not to take your bike out for a ride. Denver is also home to the Colorado Motorcycle Expo, an annual gathering of 25,000 motorcyclists.
People dream of riding a motorcycle in and around the Denver area. Additionally, there has been a rise in scooter use in the Denver area. Similar to motorcycles, being on a scooter leaves you vulnerable and exposed to the threat of an automobile. As registrations are on the rise in Colorado, so is the likelihood of an accident occurring. Be sure and always protect yourself with proper body padding and a helmet when cruising around Colorado's gorgeous roads.
Motorcycle Accidents are Different from Car Accidents
The magnitude of the injuries sustained by the rider set motorcycle accidents apart. Motorcyclists are far more likely to sustain brain injuries that can take years to overcome. Even when wearing a helmet and protective gear, a collision with an automobile can be deadly. In car-to-car accidents what we would call a "narrowly-avoided collision" does not exist for a motorcyclist. A motorcyclist's chances of "avoiding" an accident are much lower.
Recover the financial compensation you deserve after a motorcycle accident by calling Springer & Steinberg today at 303-861-2800!
Colorado Motorcycle Laws
If you are riding a motorcycle, it is incredibly important that you are well-informed about all motorcycle laws in Colorado. In the state of CO, motorcycle riders are expected to adhere to the same traffic laws that apply to all other motor vehicles. Motorcycle laws are in place to ensure you can ride safely.
Minimum safety requirements for motorcycles in CO include:
CO motorcycle licenses

In order to drive a motorcycle, you must add a motorcycle endorsement to your license. This requires an existing valid CO driver's license.
Drivers under 18 must have a motorcycle instruction permit for a minimum of 12 months before they can add the endorsement to their license.
There are two types of motorcycle endorsements. You must possess the proper type to operate your selected motorcycle.

Motorcycle laws for protective gear

Riders over the age of 18 are not required to wear helmets. However, consider that helmets are proven to be a life-saving protective measure.
If any motorcycle passenger or operator is under the age of 18, they are legally required to wear a DOT-approved motorcycle helmet.
Some form of eye protection is required for all drivers and passengers. Eye protection can include a helmet's visor, goggles, or glasses made with plastic or safety glass.

Motorcycle laws for passengers

Passengers must utilize a footrest.
Passengers are required to ride either behind the driver or to their side (i.e., a motorcycle sidecar). No passenger may ride in front of the driver.

Motorcycle traffic laws

It is illegal to pass or overtake a vehicle in the same lane.
No lane sharing or splitting is permitted, with the exception of sharing a lane ("co-riding") with one other motorcycle.
A motorcycle may not be attached to another vehicle, including a motorcycle ("clinging" or towing).
Motorcycle Helmet Laws
Are you required to wear a motorcycle helmet in Colorado? The answer is no unless you are a rider under the age of 18. Although helmets are encouraged for safety reasons, they are not required under CO law.
If you were not wearing a helmet and were involved in a motorcycle accident, our Denver motorcycle accident lawyers can help you better understand if or how that may affect your case.
Common Causes of Motorcycle Accidents in Denver, CO
There are various factors that can contribute to a motorcycle accident, many of which are no fault of the rider. In many accident cases, causes can include:
Distracted drivers
Defective motorcycle parts
Improper turns
Poor road conditions
Driving under the influence
What To Do After A Motorcycle Accident
As with other accidents, there are some crucial steps you should take to help build your case:
When the police arrive at the scene, give them your basic information, as well as facts pertaining to the accident.
Do not take blame or admit fault for what has happened.
If you feel that you have suffered an injury, be sure and obtain immediate medical attention.
If there are any witnesses, be sure to obtain their information. Also, gather the information of the other driver, including their insurance carrier and telephone number.
Taking pictures of the damages and injuries is also very important.
All of this is crucial in determining the success of your case.
What to Do if You Suffered Injuries in a Colorado Motorcycle Crash
Regardless of the severity of the incident, a motorcycle accident is a terrifying and traumatizing experience. But if you were injured in the crash, the after-effects can be long-lasting – or even permanent.
Acting quickly is essential if you were injured in a motorcycle accident in CO. In regards to injuries sustained, there are several steps you should be aware of:
Immediately file a police report
Seek medical care
Document all injuries, as well as, all provided care
Contact a Denver motorcycle crash attorney as soon as possible
Factors That Could Impact Liability In A Denver Motorcycle Accident
Unfortunately, motorcyclists are more likely to suffer death and injury than better-protected car and truck occupants. A skilled motorcycle injury attorney can guide you through the various liability issues surrounding motorcycle accidents in order to help you get the compensation you deserve.
Broken Laws
The most outstanding factor when assessing liability for any type of case is the question of whether laws were broken. For example, if anyone involved in the accident was under the influence of drugs or alcohol illegally, this would be a huge factor when determining liable parties.
Violating traffic laws can also show liability. For instance, running a red light or going significantly over the speed limit would be considered negligent and that driver could be held liable for the accident. This is one of the reasons why it's essential to call the police after an accident. You can give a statement saying what happened and if you witnessed any laws being broken.
Admission of Fault
Any admission of fault by any party at the scene of the accident could be taken as evidence. This is why it's wise to avoid any statements at the scene of an accident, even if you believe you aren't responsible for what happened. Simply saying "I'm sorry" could be perceived as you admitting guilt.
Evidence
If there were any photos or videos taken of the accident, they may be crucial to helping a motorcycle accident attorney prove liability. Any witnesses may also be vital. Although taking photographs and witnesses' contact information is understandably not anyone's priority after a motorcycle accident, it is definitely something to consider doing.
Above all, remember to always seek immediate medical attention in the aftermath of a crash. Your personal safety and that of any other riders and drivers is obviously paramount. The medical records you receive can also be vital in helping your attorney prove liability in your case.
In any event, you should speak to an attorney as soon as possible after a crash. Your attorney will be able to help you reconstruct a coherent account of the incident using the available evidence.
What Can I Recover if I've Been Injured in a Motorcycle Accident?
Unfortunately, motorcycle riders are at a significantly higher risk of injury in an accident when compared to automobile drivers. There is a higher likelihood that a crash will result in serious injuries, including broken bones, spinal cord damage, or even a traumatic brain injury.
Depending on your injuries, the medical expense costs can add up quickly. During your recovery, the last thing you need is the added stress of paying for rapidly-rising medical bills – which is why accident victims can pursue fair compensation.
In the state of CO, there are two types of compensation available for motorcycle accident victims:
Economic compensation
Non-economic compensation
Economic Compensation
Economic damages are those that can be assigned a specific dollar amount, as they are easy to quantify. These damages can include both current and future costs and can also cover the money you have already had to spend as a result of your accident. Additionally, economic compensation can include money that will not be able to earn in the future.
For example, economic damages may include:
Medical expenses
Long-term care expenses
Future medical expenses
Damage to your motorcycle
Lost wages
Loss of future earning potential
Non-Economic Compensation
Non-economic compensation is intended to cover damages that do not necessarily have a monetary value but are nevertheless extremely impactful on the life of a victim.
For example, non-economic damages may include:
Pain and suffering
Emotional distress
Loss of quality of life
Disfigurement or Impariment
Treatment and long-term therapy for related conditions, such as PTSD, anxiety, or depression
Can I Still Get Compensation If I Was Partially to Blame?
In the state of Colorado, comparative negligence is used to determine who qualifies for compensation in an accident case.
The concept of comparative negligence states that the court can reduce your damages based on the percentage of blame they assign to you. It is crucial to understand that you can still be eligible for compensation even if you were partially to blame.
However, comparative negligence may render you ineligible for damages if you were more than 50% to blame (you were the primary at-fault party). If you are unsure how to prove that you were not at fault for an accident – or that you were only partially at fault – our Denver motorcycle accident attorneys can help.
How Can a Denver Motorcycle Accident Lawyer Help You?
Working with an experienced motorcycle accident attorney can make a world of difference for your case and significantly impact your future.
It can be extremely challenging to navigate the process of dealing with insurance companies, presenting a strong court case, and pursuing your rightful compensation. You need a trusted advocate who will provide support and advice during this difficult time.
A Denver motorcycle accident lawyer can help by:
Offering objective advice on various legal matters
Completing all paperwork
Ensuring that the proper paperwork is obtained
Negotiating successfully with insurance companies
Evaluating your case to determine the ideal approach
Representing you in Colorado court
Providing invaluable emotional support
At Springer & Steinberg, P.C., we truly care about each and every one of our clients. Our motorcycle crash lawyers are passionate about their work, and you can be confident that your case will be handled with the utmost respect and integrity.
Choose Springer & Steinberg, P.C. for Motorcycle Accidents in Denver, CO
Are you searching for the best motorcycle accident lawyer Denver can offer? At Springer & Steinberg, P.C., our award-winning Denver law firm is proud to have a team of attorneys that is highly skilled, experienced, and dedicated. We specialize in a broad range of practice areas, including personal injury and motorcycle-related accidents.
For nearly 40 years, we have helped countless clients recover millions of dollars in damages – and now, we can help you. Speak to one of our Denver motorcycle accident lawyers when you contact us for a free consultation today.
Contact a Denver Motorcycle Accident Lawyer Today For a Free Consultation
If you or a loved one was injured in a motorcycle accident, don't hesitate to contact Springer & Steinberg. We will work to determine liable parties and help you pursue maximum compensation for injuries.
Call us to schedule a free appointment or 303-861-2800 to discuss your case. We advise individuals throughout Douglas, Arapahoe, and Jefferson Counties, as well as other areas of Colorado.
Motorcycle Accident Claim FAQs
How can I prove my Denver motorcycle accident was not my fault?
There are many different forms of proof that can show that a motorcycle accident was not your fault, such as:
Photos and videos from the accident scene
Damage incurred
Witness statements
Information and evidence collected in the police report
When you partner with a Denver personal injury attorney, you can ensure that you are able to obtain all of the necessary evidence to prove your case.
How long will it take for my Denver motorcycle accident case to get resolved?
The amount of time needed to resolve a motorcycle crash case depends on various factors, including injuries sustained and how long it takes to negotiate with the involved insurance companies.
In many situations, cases are effectively resolved during negotiations with the insurance company. However, there are some cases that end up going to trial. In these cases, the resolution does take longer.
How much time do I have to file a claim after a motorcycle accident?
In CO, you have three years from the date of the accident to file a personal injury claim. It is important to be aware that it is a process that can take time, so taking action as soon as possible is key.
What if I was injured in a motorcycle accident and am not a Colorado resident?
Even if you are not a CO resident, if the accident occurred in Colorado, then it will generally be handled according to our state laws and insurance regulations. You will need an experienced motorcycle accident lawyer licensed to practice law in the state of Colorado in order to pursue a case.