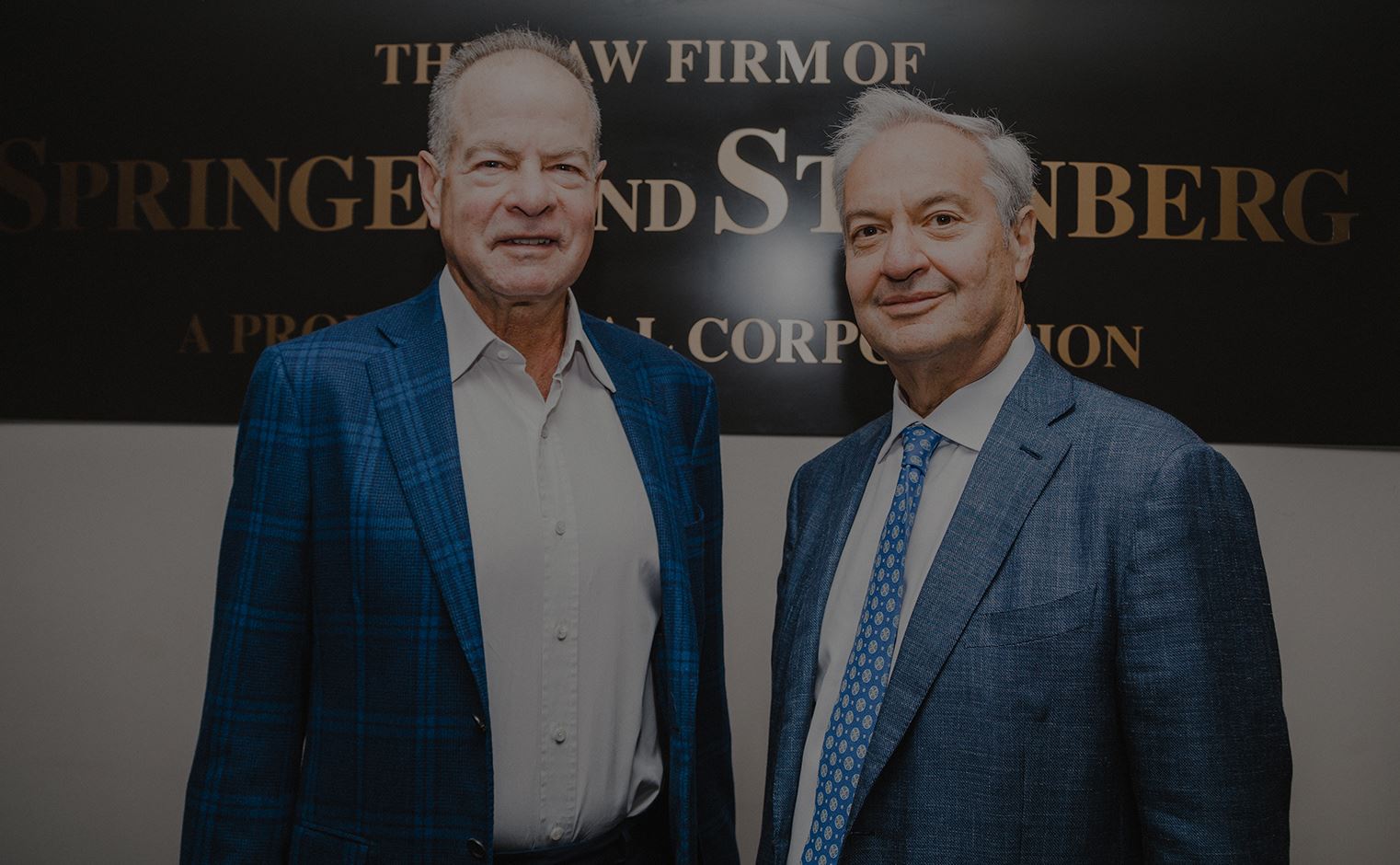 Denver Wrongful Death Lawyers
Our Denver Wrongful Death Lawyers Are Backed By 40+ Years of Experience
Everyone knows what happens if they are injured in a car accident – the negligent driver's insurance (or the victim's insurance) should pay for the driver's failure to act as a prudent person. But what happens when a person is killed as a result of another's negligence or wrongful act? Colorado's wrongful death laws can assist a family in their pursuit of justice for the tragic loss of a loved one. If you have lost a family member in Denver or the surrounding cities, our experienced Denver wrongful death lawyers at Springer & Steinberg, P.C. can help explore your options.
Our understanding of case law and legislation pertaining to wrongful death actions in unparalleled, with our nearly 40 years of experience representing Colorado's injured and wronged. We are ready to put our resources and know-how to work for you as you seek justice in your loved one's name.
Call 303-861-2800 to learn how our Denver wrongful death lawyers can help you hold the at-fault party or parties responsible for your loss.
Colorado Wrongful Death Statute
Colorado Revised Statutes §§ 13-21-201 through 13-21-204, Colorado's wrongful death act, applies in all cases in which someone dies as the result of another's negligence. This act gives the decedent's family the ability to pursue legal action against the responsible party in the same manner as if the decedent had lived.
Wrongful Death Statute of Limitations
Like most other personal injury actions, wrongful death lawsuits in Colorado are subject to a statute of limitations which sets a strict deadline on how long plaintiffs have to file a civil claim. All wrongful death lawsuits must be filed within two years of the date of death.
If you attempt to file a wrongful death lawsuit after this time period has expired, the court will almost certainly dismiss your claim and you will be unable to pursue further legal action. Since compliance with the statute of limitations can ultimately make or break your claim, it is important you retain skilled legal representation as soon as possible to guard your family's rights.
Proving Negligence in a Wrongful Death Claim
If the reason a person dies is due to the negligent act of another person, the claimant must show, by a preponderance of the evidence, four basic elements:
Duty
Breach of duty
Causation
Damages
The case is the same as if they survived and so are any defenses that would have been available to the defendant. For example, if the decedent was partially at fault in an accident that led to his or her death, the defendant may ask for a proportionate reduction of damages under the doctrine of modified comparative fault. (Unfortunately, this doctrine may bar recovery if the decedent is found to be 51% or more responsible for the accident.) Comparative negligence is covered in Colorado Revised Statutes § 13-21-111.
Who is Eligible to File a Wrongful Death Claim?
The State of Colorado has codified the law of wrongful death, found in §§ 13-21-201 through 13-21-204. Generally, only the surviving spouse, if there is one, may pursue litigation during the first year following the decedent's death. In some cases, a spouse can choose to include the decedent's heirs in the suit.
In cases in which the surviving spouse brings the action, he or she does so both in an individual capacity and on behalf of any and all children of the deceased. During the second year after the decedent's passing, the spouse, the heirs, or the designated beneficiary may bring a wrongful death claim. They may bring their claims separately, or they may join them together.
Did you lose a loved one to recklessness or negligence? Contact the law offices of Springer & Steinberg, P.C. today at 303-861-2800 for dedicated representation.
Potential Damages for the Loss of a Family Member
Determining the amount of damages that may be available to wrongful death claimants can be extremely complicated because of the various factors that come into play, such as the circumstances of the decedent's death, whether the defendant was a governmental entity, and so forth. Some of the damages that may be available include economic damages, such as funeral costs and financial benefits lost due to the decedent's death, as well as non-economic damages like compensation for grief and emotional stress. Punitive or exemplary damages sometimes may be available (in accordance with § 13-21-102).
In addition to wrongful death damages for qualified claimants under the Act, the Colorado Survival Statute allows for the recovery of a decedent's pre-death pecuniary losses, such as medical expenses and lost wages, in situations in which the decedent was not killed instantly but instead lingered for a time before succumbing to his or her injuries.
Don't Delay! We're Standing By to Get Started on Your Case!
If your family lost a loved one because of a negligent or reckless person, company, or arm of the government, you should not delay in speaking to an experienced Denver wrongful death lawyer about your right to pursue compensation.
In addition to risking dismissal of your case on grounds of untimeliness, a delay in seeking counsel can also result in a reduction of compensation due to spoliation of evidence. Unfortunately, accident scenes can change over time, and witnesses' memory can fade. Unless critical evidence and statements are preserved early on, it can be difficult to prove a case in court later.
Call us at 303-861-2800 or contact us online to schedule a free evaluation of your case.