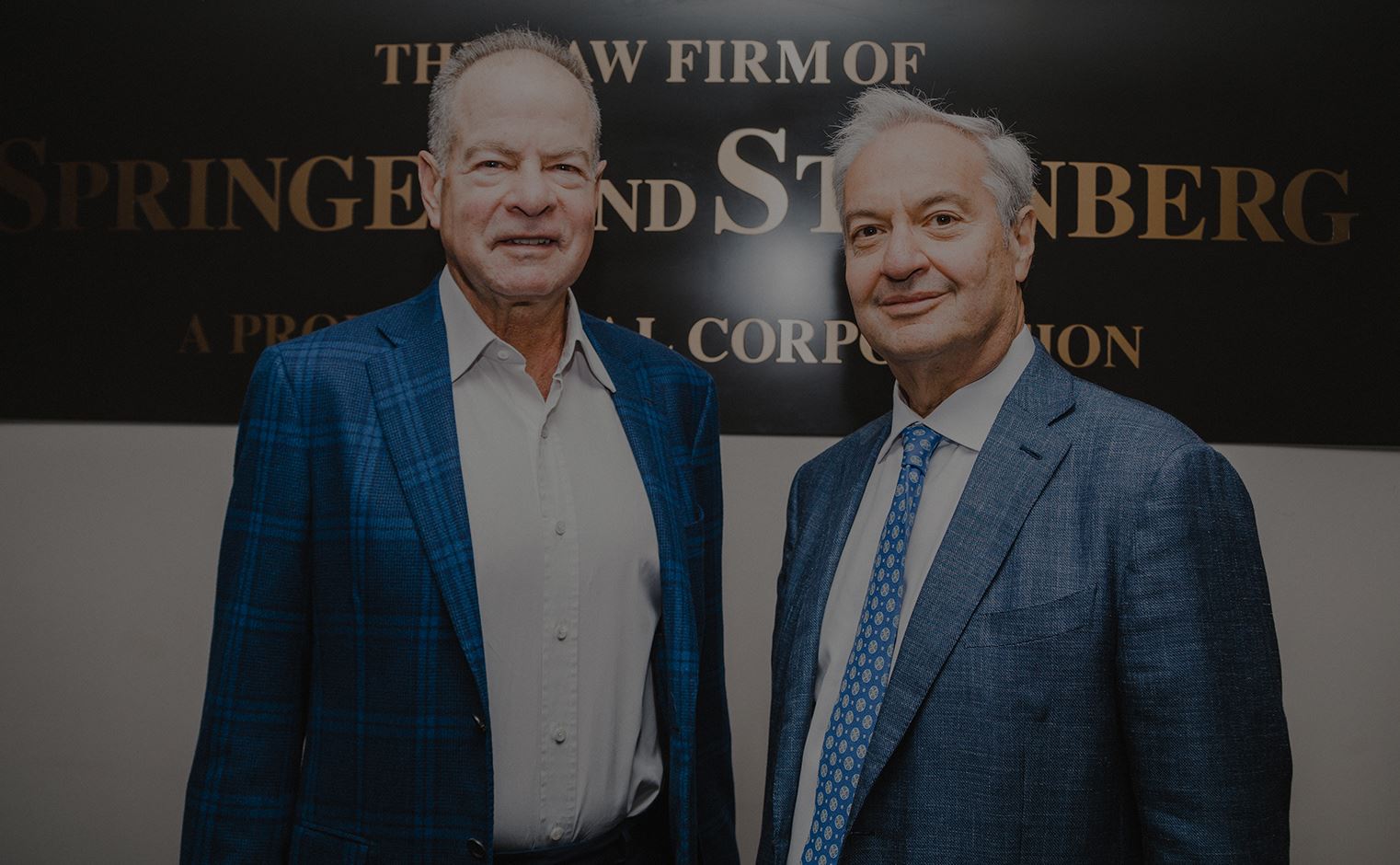 Colorado Personal Injury Lawyers
Prominent Medical Malpractice Attorneys in Colorado
At Springer & Steinberg, P.C., our skilled Colorado medical malpractice lawyers believe no one should seek medical care only to become more injured than when they arrived.
Whether our clients suffer injuries caused by the negligent actions or inaction of a medical care provider during a routine doctor's appointment, scheduled surgical procedure, while seeking emergency care, or even while at the dentist, the liable party must be held accountable for breaching of the required standard of care necessary to keep our clients safe.
Unfortunately, medical malpractice injuries and fatalities occur more than most people think.
It is estimated that one million Americans suffer from medical errors, negligence, and malpractice injuries each year, and a recent study by Johns Hopkins University suggests that medical malpractice is the third-leading cause of death in the U.S., accounting for approximately 250,000 fatalities each year.
If you or a loved one sought medical care to improve your physical, emotional, or psychological state, but became increasingly injured as a result, we want to help you understand each of your legal rights and options to hold each involved person, party, or facility responsible for your full financial recovery.
Our committed team of experienced and diverse attorneys and support staff have transformed the way medical malpractice cases are handled to ensure that each of our clients is treated fairly and with respect throughout settlement negotiations or the litigation process.
Contact us today to schedule a free consultation to learn how we can help you.
What are the Most Common Types of Medical Malpractice in Colorado?
Identifying medical negligence is complex and requires each case to rise to the level of malpractice by establishing that the provider did not deliver the same level of care another medical care professional would have under the same circumstances.
Some of the most common forms of medical malpractice in Colorado may include, but are not limited to:
Disregarding or not taking appropriate patient history
Failure to recognize symptoms
Failure to diagnose or misdiagnosis
Lack of informed consent
Misreading or ignoring laboratory results
Failure to order proper testing
Premature discharge
Emergency room negligence
Poor follow-up or aftercare
Defective or improperly prescribed medication
Anesthesia Errors
Medical product liability
Birth injuries
Retained surgical instruments
Nursing home negligence and abuse
Contamination and hospital-acquired infections
Surgical errors or wrong site surgery
If you believe your injuries or the loss of your loved one was caused by a healthcare provider's negligence, contact our experienced Colorado medical malpractice attorneys today to learn more about your legal rights and options to hold the liable party accountable for your full financial recovery needs.
Which Medical Care Providers Can Be Held Liable for Medical Malpractice Injuries and Fatalities in Colorado?
When negligence is a factor during a medical procedure, there are many levels of checks and balances that should catch the mistake before it causes an injury to anyone who is trying to improve their health by seeking medical care.
When any part of the medical care experience is disrupted by negligence, it is our clients who pay the price.
Medical malpractice can occur at any level of treatment, including:
Medical support staff
Technicians
Nurses
Physicians
Surgeons
Plastic Surgeons
Dentists
Therapists
Medical device manufacturers
Pharmaceutical companies
Medical facilities, hospitals, surgery centers, and even private practices may also be held liable for negligent hiring practices, understaffing, or failing to remove incompetent healthcare personnel who are placing patients in harm's way.
If you have been injured or lost a loved one to medical negligence anywhere in Colorado, contact our skilled medical malpractice attorneys today to schedule a free consultation to discuss your unique recovery needs with a law firm that cares.
Is There a Limit to the Financial Recovery Amount I Can Pursue for a Medical Malpractice Claim in Colorado?
In Colorado, there is a limit to the amount of compensation that you can receive for medical malpractice damages, which total the losses our clients experience because of negligence.
Colorado has two separate limits: One applying to non-economic damages and one for the total damages, including economic damages like medical bills, lost income and diminished earning capacity.
The cap for non-economic damages, which may include physical impairment or disfigurement, is currently $300,000, and the overall limit for all damages is $1 million.
However, if the court finds our client's past and future economic damages would be more than the limit, and that there is a relevant and accurate reason it would be unfair to apply the cap, they may award economic damages over the $1 million limit.
Once we have examined the details of your case, we will aggressively pursue the financial outcome that fits your precise recovery needs, so you can move forward with confidence.
Our experienced medical malpractice attorneys in Colorado ensure your damages are calculated and predicted accurately, so you are awarded fairly. Should our negotiations with the insurance company end in a less than just outcome, we will end our talks and take your case to trial where our skilled litigators have produced proven results.
Why Choose Springer & Steinberg as Your Colorado Medical Malpractice Lawyers?
At Springer & Steinberg, our dedicated medical malpractice lawyers in Colorado believe our clients deserve access to prominent legal solutions that allow their losses to be recognized and paid back, so they can focus on getting healthy and being there for their families.
Our compassionate Colorado medical malpractice attorneys and support staff will listen to your concerns, answer your questions, and provide the legal strength and perseverance you need to build a compelling case that produces results.
No matter how medical negligence has interrupted your quality of life, we can help you pursue the financial outcome you deserve for your complete physical, emotional, and financial injuries, so you can take back control of your life and prosper.
Contact Our Skilled Colorado Medical Malpractice Lawyers at Springer & Steinberg Today For a Free Consultation
If you have been while seeking medical care, or have tragically lost a loved one to negligent circumstances, contact our skilled Colorado medical malpractice attorneys at Springer & Steinberg by calling 303-861-2800 or online today to discuss the details of your case with a team of legal advocates who care about your future.
Our dedicated Colorado personal injury lawyers provide free consultations for all Colorado residents, and never charge any legal fees unless you make a recovery on your unique case.