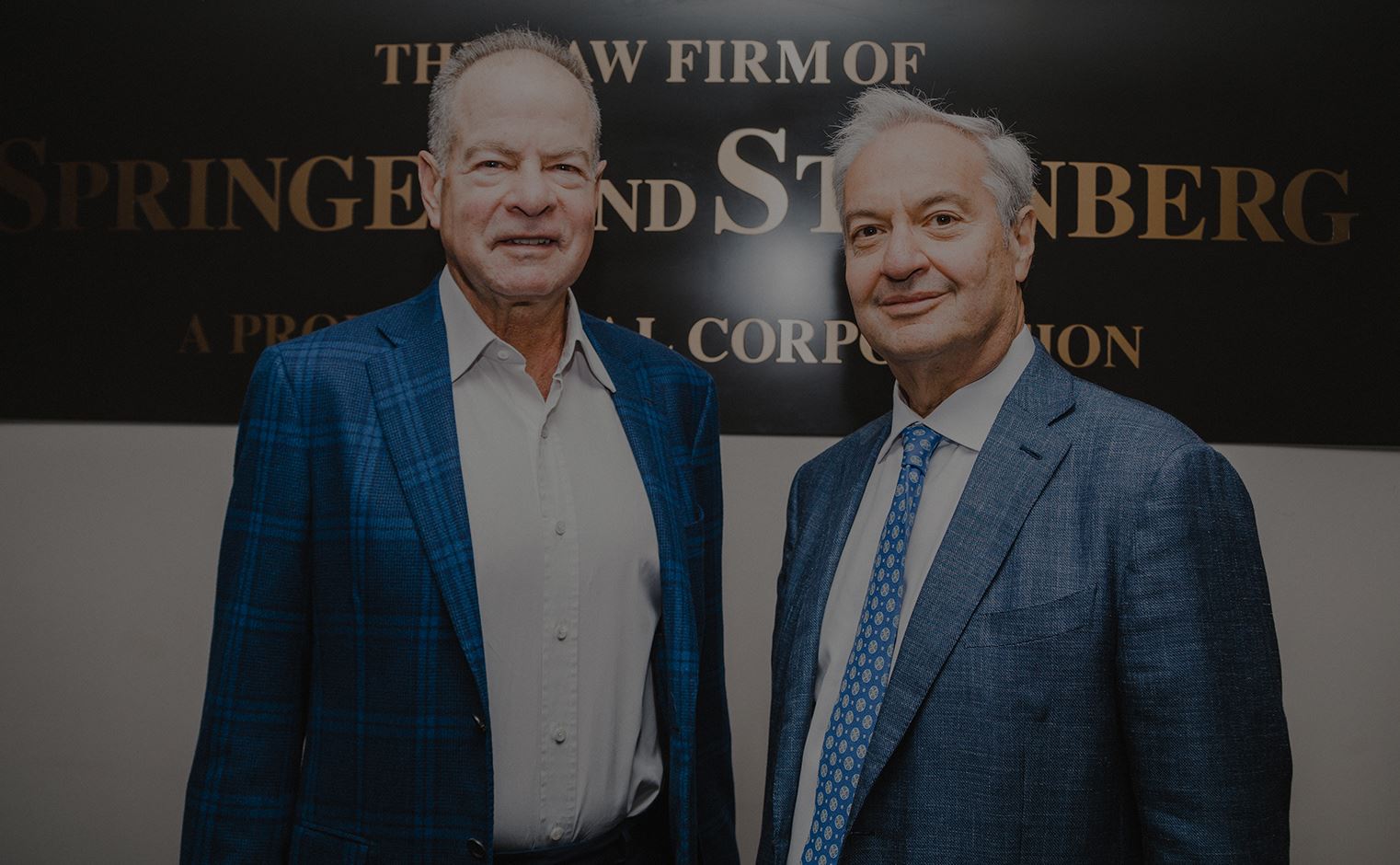 Colorado Personal Injury Lawyers
Skilled Workplace Accident and Injury Attorneys in Colorado
At Springer & Steinberg, P.C., our leading Colorado workplace injury lawyers know that depending on the industry, work injury and fatality causes will differ, as some jobs hold more risks than others.
According to the U.S. Bureau of Labor Statistics, which records both nonfatal workplace injuries and illnesses and fatal workplace injuries, 2.7 million workers were injured in private industry jobs last year throughout the country.
In addition, there were 4,764 fatal occupational injuries over the same period, including 78 that occurred in Colorado workplaces.
While transportation incidents remained the most frequent type of fatal event, accounting for 37% of all work-related fatalities, there is seemingly no end to the ways workers can get hurt on the job when negligence is a factor.
That is why we are here.
While we hope you never need us, our devoted legal advocates work diligently to outline each of our client's vulnerable positions, so the insurance companies are fully aware of how their injuries have affected their day-to-day lives and overall well-being, so we can pursue the financial outcome they deserve.
With the distinction of an AV Preeminent® rating by Martindale-Hubbell®, SuperLawyers, our identification as a U.S. News Best Law Firm, and spots in the National Trial Lawyers: Top 100 and the ASLA Top 40 Lawyers Under 40, we genuinely care about each of our clients and are here to help to produce real results for real people using elite legal strategies that are designed for success.
What are the Most Common Causes of Workplace Injuries in Colorado?
Workplace injuries and fatalities can occur anywhere in Colorado and often do without warning.
Some of the more common Colorado workplace injury causes include:
Overexertion
Crane collapses
Forklift accidents
Fires and explosions
Slips, trips, and falls
Hit by falling objects
Exposure to loud noises
Motor vehicle accidents
Heavy machinery accidents
Crushed by or against injuries
Being struck by or against an object
Falls from scaffolding or other heights
Malfunctioning or improperly guarded machinery
Repetitive trauma caused by repeated, work-related movements
Chemical exposure, including contact with toxic materials like asbestos
At Springer & Steinberg, P.C., our skilled team of Colorado workplace accident attorneys has recovered hundreds of millions of dollars in compensation for our clients, all starting with free consultations, and will use our experience and resources to pursue a positive result for your case too.
Who Can I Pursue My Colorado Workplace Injuries?
A workplace accident may be compensable under product liability, workers' compensation, wrongful death, or general negligence laws in Colorado.
While workers' compensation provides automatic benefits for wage loss and medical care for work-related injuries regardless of fault, this only covers a portion of lost wages.
Additional compensation for emotional trauma, ongoing care, or other expenses is usually not covered at all, meaning you could be left paying for a significant portion of your injury expenses out of pocket.
In some cases, the legal solution to our client's financial recovery options may be to file a personal injury lawsuit to recover full compensation after a workplace accident if a third party, not counting their employers or coworkers, was at fault.
In other cases, a product liability claim may be brought against the manufacturer of a defective product that is the cause of a workplace accident or injury.
Our Colorado personal injury attorneys understand each applicable component of our Colorado statutes and how they apply to the different types and causes of on-the-job injuries and illnesses.
Our knowledge, experience, and resources allow us to file the right type of case and pursue the maximum level of compensation owed to our clients, so they can get their lives back.
What Type of Financial Compensation Can I Pursue After a Workplace Accident with Injuries in Colorado?
Once we have examined the details of your case, we will aggressively pursue the financial outcome that fits your precise recovery needs, so you can move forward with confidence.
Depending on the extent of your injuries, and the liable parties pursued during your unique case, your complete financial needs may be complex and include:
Current and future medical costs
Medical devices and prescription expenses
Therapy and rehabilitation appointments
Current and future lost wages
Diminished working capacity
Temporary or permanent disability
Pain, suffering, and psychological damages
Our experienced workplace accident and injury attorneys in Colorado ensure your damages are calculated and predicted accurately, so you are awarded fairly. Should our negotiations with the insurance company end in a less than just outcome, we will end our talks and take your case to trial where our skilled litigators have produced proven results.
Contact Our Leading Colorado Workplace Injury Lawyers at Springer & Steinberg, P.C. Today to Schedule a Free Consultation
If you have been hurt at work or have tragically lost a loved one who was doing their job at the time of the incident, contact our skilled Colorado workplace injury lawyers at Springer & Steinberg, P.C. by calling 303-861-2800 or online today to discuss the details of your case with a team of legal advocates who care about your future.
Our dedicated personal injury lawyers provide free consultations for all Colorado residents, and never charge any legal fees unless you make a recovery on your unique case.