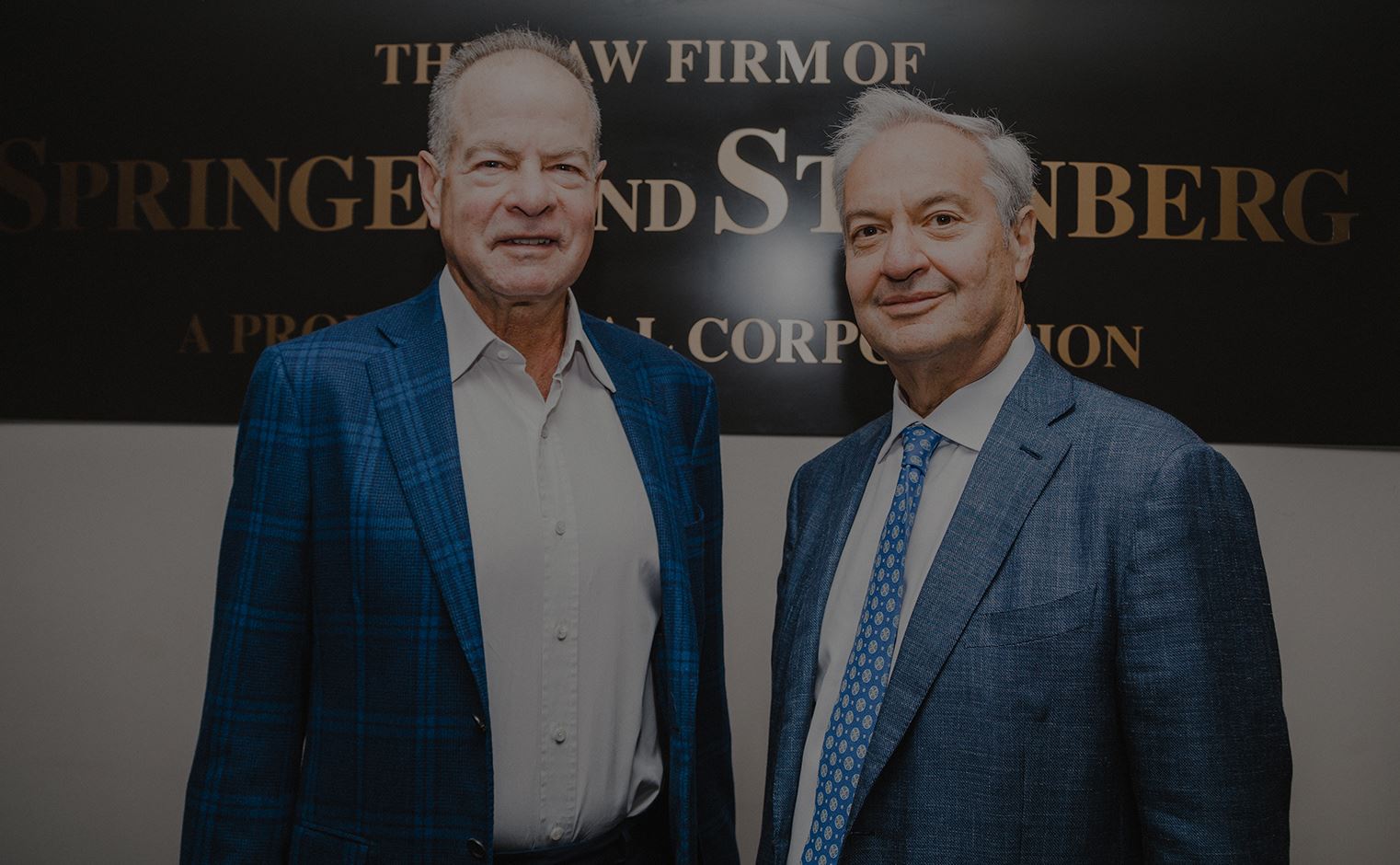 Colorado Personal Injury Lawyers
Prominent Wrongful Death Attorneys in Colorado
At Springer & Steinberg, P.C., our skilled Colorado wrongful death lawyers know how hard it is to lose a loved one under any circumstances. When our clients lose their loved ones to negligence, the tragic loss can be physically, emotionally, and financially overwhelming.
That is why we are here.
Our experienced Colorado wrongful death attorneys sincerely hope you never need us. If you do, our devoted legal advocates will work diligently to outline your vulnerable position, so the at-fault party's insurance company is fully aware of how your loss and the resulting damages have affected your life, so we can pursue the financial outcome you deserve.
With the distinction of an AV Preeminent® rating by Martindale-Hubbell®, SuperLawyers, our identification as a U.S. News Best Law Firm, and spots in the National Trial Lawyers: Top 100 and the ASLA Top 40 Lawyers Under 40, we genuinely care about each of our clients and are here to help to produce real results for real people using elite legal strategies that are designed for success.
What are the Most Common Causes of Wrongful Death in Colorado?
According to the National Highway Traffic Safety Administration, motor vehicle collisions are the leading cause of wrongful death throughout the United States, accounting for over 36,000 fatalities last year alone — including the 648 traffic fatalities that occurred in Colorado over the same period.
These crash fatalities can be caused during:
Sadly, more than half of our state's traffic fatalities were the direct result of negligence, including:
Speeding was a factor in 35% of all traffic fatalities, leading to 230 speeding-related motor vehicle fatalities — a 9% increase from the previous year.
Alcohol-impaired driving was a factor in 27% of all traffic fatalities, leading to an estimated 177 motor vehicle deaths — also a 9% increase from the previous year.
Traffic collisions are not the only cause of wrongful death in Colorado, or across the nation.
If you lost a loved one to negligence in Colorado, you may be eligible to file a wrongful death claim to pursue the damages you and your family have sustained because of their loss.
Contact our nationally recognized and award-winning legal advocates at Springer & Steinberg, P.C. who provide the expansive resources, connections, and knowledge our clients need to pursue success inside and outside the courtroom.
Who Is Eligible to Pursue a Wrongful Death Claim in Colorado?
In the State of Colorado, generally, only the surviving spouse may pursue litigation during the first year following the decedent's death.
In some cases, a spouse can choose to include the decedent's heirs in the suit.
In cases in which the surviving spouse brings the action, he or she does so both in an individual capacity and on behalf of all children of the deceased.
During the second year after the decedent's passing, the spouse, the heirs, or the designated beneficiary may bring a wrongful death claim. They may bring their claims separately, or they may join them together.
All wrongful death lawsuits must be filed within two years of the date of death.
If the reason a person dies is due to the negligence of another person or party, the claimant must show, by a preponderance of the evidence, four basic elements:
Duty
Breach of duty
Causation
Damages
These elements are difficult to prove without the help of a skilled wrongful death attorney by your side, especially if there is more than one party that may be held liable for your family's financial recovery.
At Springer & Steinberg, P.C. our skilled team of Colorado personal injury attorneys has recovered hundreds of millions of dollars in compensation for our clients, all starting with free consultations, and will use our experience and resources to pursue a positive result for your case too.
What Type of Financial Compensation Can I Pursue?
Once we have examined the details of your case, we will aggressively pursue the financial outcome that fits your family's precise recovery needs, so you can take the time you need to grieve without focusing on your financial strain.
Some of the damages that may be available to eligible surviving family members may include:
Medical expenses incurred before the decedent's death
Funeral and burial costs
Loss of future earnings
Loss of benefits, including pensions or retirement funds
Non-economic losses suffered by the surviving spouse or heirs, including grief and emotional distress
Punitive or exemplary damages, when applicable
Our experienced wrongful death attorneys in Colorado ensure your damages are calculated and predicted accurately, so you are awarded fairly. Should our negotiations with the insurance company end in a less than just outcome, we will end our talks and take your case to trial where our skilled litigators have produced proven results.
Contact Our Leading Colorado Wrongful Death Lawyers at Springer & Steinberg, P.C. Today to Schedule a Free Consultation
If you have lost a loved one to negligence contact our skilled Colorado wrongful death lawyers at Springer & Steinberg by calling 303-861-2800 or online today to discuss the details of your case with a team of legal advocates who care about your future.
Our dedicated personal injury lawyers provide free consultations for all Colorado residents, and never charge any legal fees unless you make a recovery on your unique case.