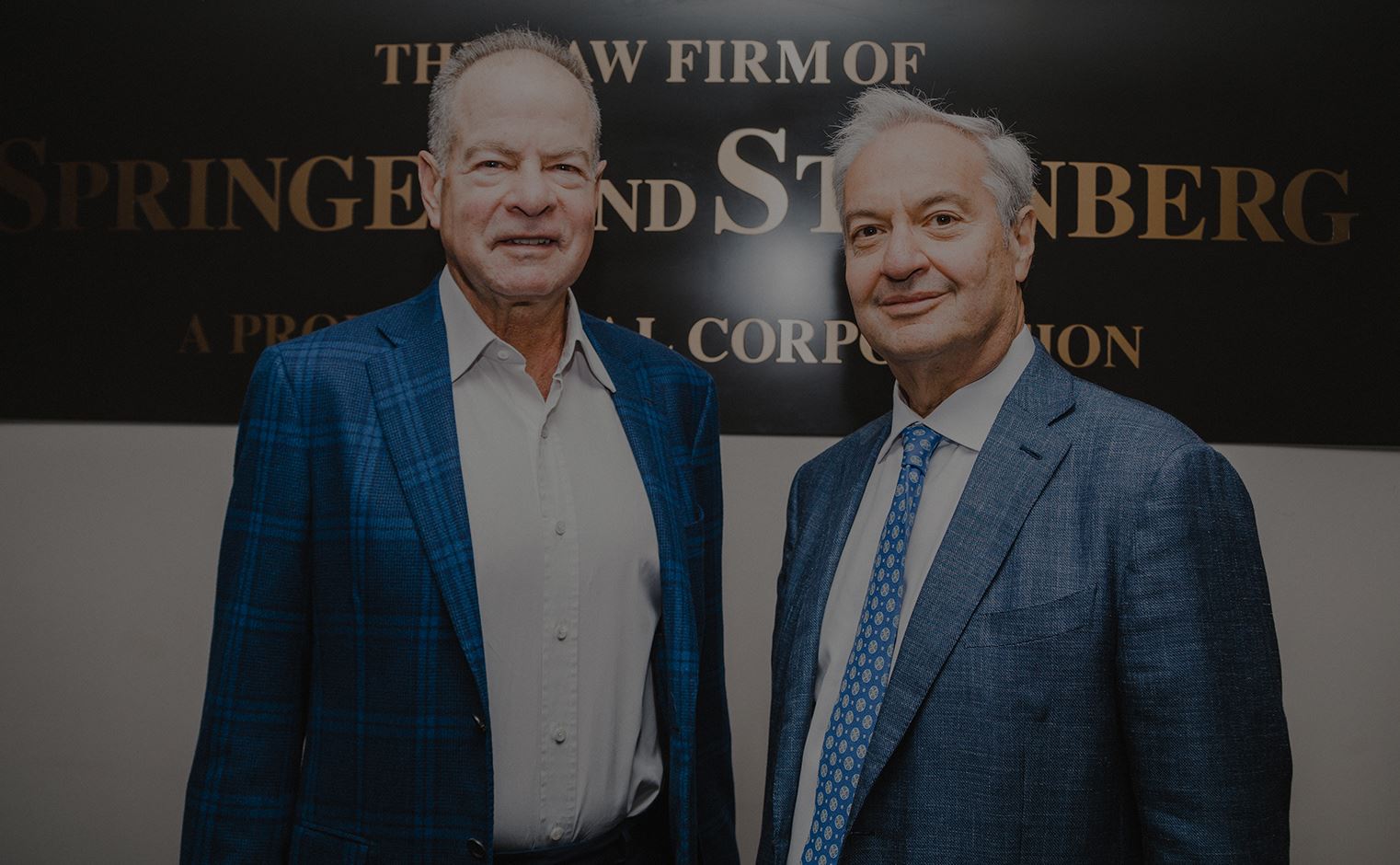 Colorado Personal Injury Lawyers
Skilled Product Liability Attorneys in Colorado
At Springer & Steinberg, P.C., our experienced Colorado product liability lawyers know we all rely on large and small products each day and rarely think twice about how they are designed, manufactured, or operated.
Unfortunately, flawed designs, manufacturing defects, and improper instructions or labeling can lead to significant injuries, illnesses, or fatalities without notice.
That is why we are here.
Our committed team of experienced and diverse attorneys and support staff have transformed the way product liability cases are handled to ensure that each of our clients is treated fairly and with respect throughout settlement negotiations or the litigation process.
While we hope you never need us, our devoted legal advocates work diligently to outline each of our client's cases, so the insurance companies are fully aware of how their injuries have affected their day-to-day lives and overall well-being, so we can pursue the financial outcome they deserve.
What Constitutes Product Liability in Colorado?
Product designers, manufacturers, marketers, distributors, and retailers all contribute to the product supply chain and must ensure the delivered goods are safe for consumer use.
Colorado is a "strict liability" product liability state, meaning that someone injured by a defective product may not need to prove that a manufacturer acted negligently.  However, when negligence is a factor within the supply chain, injuries, illnesses, or fatalities can occur.
Including those caused by:
Injuries caused by design defects stem from flaws in the way the product was designed, making it unreasonably dangerous.  Our skilled product liability attorneys in Colorado can prove that a product is defective in its design, even if it is manufactured and performs exactly as intended if any part of its design makes the product unreasonably dangerous.
A manufacturer is obligated to create products that are defect-free and safe to use.
If a manufacturer creates a product that is unreasonably dangerous because of defects that would not ordinarily be expected, the manufacturer may be held liable for the injuries that resulted from the unexpected defects.
Failing to Provide Adequate Instructions, Directions, or Warnings
Adequate instructions, directions, or warnings should be distributed with all products to ensure they are being used safely.
When instructions are lacking, or do not exist, consumers may be injured by using the product the wrong way.
If you have been injured by a defective product, contact our experienced product liability attorneys in Colorado today to discuss your injuries and the circumstances that led to them during a free consultation.
What are the Most Common Types of Product Liability Claims in Colorado?
When products are not immediately recalled because of a defect that occurred in the supply chain, people are going to get hurt.
Some of the most common types of product liability claims include defects in:
Furniture
Sporting goods
Safety equipment
Cleaning products
Tools and machinery
Playground equipment
Strollers, cribs, and car seats
E-cigarettes and vaping products
Smartphones and other electronics
Household products and appliances
Agricultural and lawn care equipment
Pesticides and other toxic substances
Children's toys, furniture, and clothing
Medical devices, surgical tools, and prescription medications
Unreasonable fire hazards presented by furniture, bedding, curtains, and carpets
Car parts and components, including seatbelts, airbags, seatbacks, and child car seats
If you have been injured by a defective product or have tragically lost a loved one to negligent circumstances, contact our skilled product liability attorneys in Colorado today to discuss your case.
What Type of Financial Compensation Can I Pursue After a Product Liability Injury?
At Springer & Steinberg, P.C., our skilled team of Colorado personal injury attorneys has recovered hundreds of millions of dollars in compensation for our clients, all starting with free consultations, and will use our experience and resources to pursue a positive result for your case too.
We focus on your individual circumstances and provide access to the complete resources our law firm has to offer to create customized and effective solutions for your unique claim.
Once we have examined the details of your case, we will aggressively pursue the financial outcome that fits your precise recovery needs, so you can move forward with confidence.
Depending on the extent of your injuries, your complete financial needs may be complex and include:
Current and future medical costs
Medical devices and prescription expenses
Therapy and rehabilitation appointments
Current and future lost wages
Diminished working capacity
Temporary or permanent disability
Pain, suffering, and psychological damages
Our experienced personal injury attorneys in Colorado ensure your damages are calculated and predicted accurately, so you are awarded fairly. Should our negotiations with the insurance company end in a less than just outcome, we will end our talks and take your case to trial where our skilled litigators have produced proven results.
Meet Our Prominent Colorado Personal Injury Attorneys at Springer & Steinberg P.C.
Nearly 40 years ago, a dedicated team of strategists partnered to create Springer & Steinberg to ensure Colorado personal injury victims had access to nationally recognized and award-winning legal advocates who provide the expansive resources, connections, and knowledge our clients need to pursue success inside and outside the courtroom.
With the distinction of an AV Preeminent® rating by Martindale-Hubbell®, SuperLawyers, our identification as a U.S. News Best Law Firm, and spots in the National Trial Lawyers: Top 100 and the ASLA Top 40 Lawyers Under 40, we genuinely care about each of our clients and are here to help to produce real results for real people using elite legal strategies that are designed for success.
Contact Our Leading Colorado Product Liability Lawyers at Springer & Steinberg Today to Schedule a Free Consultation
If you have been hurt while using a defective product or have tragically lost a loved one to negligent circumstances, contact our skilled Colorado product liability lawyers at Springer & Steinberg by calling 303-861-2800 or online today to discuss the details of your case with a team of legal advocates who care about your future.
Our dedicated Colorado personal injury lawyers provide free consultations for all Colorado residents, and never charge any legal fees unless you make a recovery on your unique case.