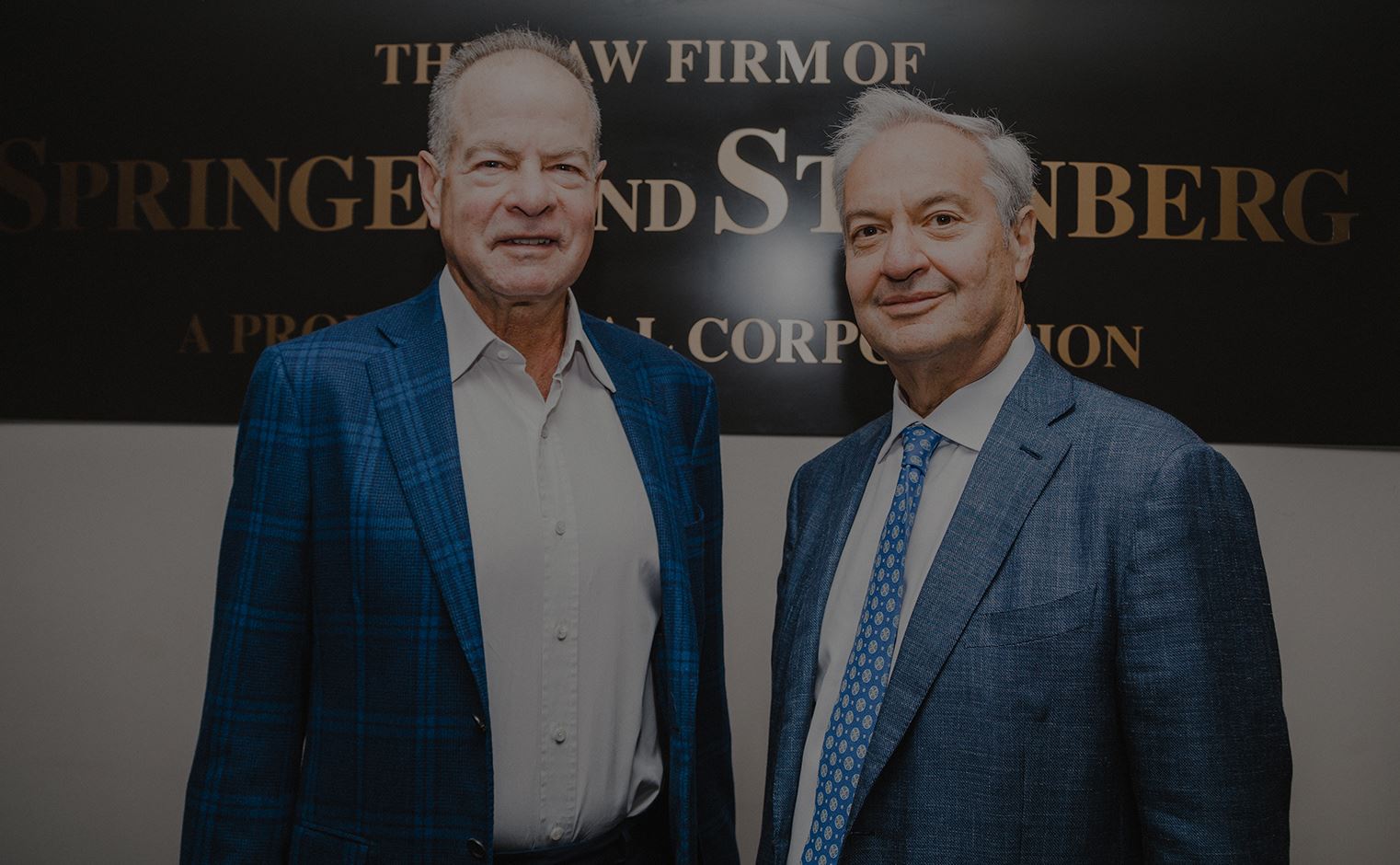 Colorado Personal Injury Lawyers
Experienced Auto Accident Attorneys in Colorado
At Springer & Steinberg, P.C., our skilled Colorado car accident lawyers know our residents see the damaging impact negligent drivers have on our roadways each time they pass a crash scene.
What most may not know is there were an overwhelming number of crashes throughout the state last year, totaling 118,842 traffic collisions reported by the Colorado Department of Transportation's latest Problem Identification Report.
While some crashes involved property damage, others changed the lives of tens of thousands of people, including the 11,668 people who were injured, the 2,884 catastrophically injured, and the families of the 648 people who lost their lives.
Because of these astonishing numbers, our committed team of experienced and diverse attorneys and support staff have transformed the way car accident cases are handled to ensure that each of our clients is treated fairly and with respect throughout settlement negotiations or the litigation process.
If you have been hurt in a vehicle collision in Colorado, or lost a loved one to negligence, we want to help you pursue the financial recovery you deserve to get your life back on track and give your family the time they need to grieve.
Contact us today to learn how we can help customize a legal strategy for your unique recovery needs that pursues results.
Is Negligence a Major Factor in Colorado Car Accidents?
At Springer & Steinberg, our skilled Colorado auto accident attorneys know safe drivers cannot control the actions of other motorists on our roadways, but that negligence is not hard to spot.
Whether is it someone texting while driving — which is banned for all Colorado drivers — speeding, driving recklessly, or while under the influence, over half of the state's traffic collision fatalities were directly caused by negligence last year, including:
35% of all traffic fatalities, or 230 motor vehicle fatalities —a 9% increase from the previous year — were caused by speeding
27% of all traffic fatalities, leading to an estimated 177 motor vehicle deaths — also a 9% increase from the previous year — were caused by alcohol-impaired driving
When negligence is a factor behind the wheel, people are going to get hurt or killed.
Our compassionate auto accident attorneys in Colorado sincerely hope you and your family never need us, but if you do, our legal advocacy can help you pursue a positive outcome, so you can start putting the pieces back together.
How Can I Pursue the Financial Compensation I Need to Recover from a Colorado Auto Accident Caused by a Negligent Driver?
Each person we represent has a unique set of vehicle collision and recovery needs.
At Springer & Steinberg, our auto accident attorneys focus on your individual circumstances and provide access to the complete resources our law firm has to offer to create customized and effective solutions for your unique claim.
Our skilled team of Colorado car accident lawyers and support staff have recovered hundreds of millions of dollars in compensation for our clients, all starting with free consultations, and will use our experience and resources to pursue a positive result for your case too.
Once we have examined the details of your case, we will aggressively pursue the financial outcome that fits your precise recovery needs, so you can move forward with confidence.
Depending on the extent of your injuries, your complete financial needs may be complex and include:
Current and future medical costs
Medical devices and prescription expenses
Therapy and rehabilitation appointments
Current and future lost wages
Diminished working capacity
Temporary or permanent disability
Pain, suffering, and psychological damages
Our experienced Colorado car accident lawyers ensure your damages are calculated and predicted accurately, so you are awarded fairly. Should our negotiations with the insurance company end in a less than just outcome, we will end our talks and take your case to trial where our skilled litigators have produced proven results.
Why Choose Springer & Steinberg as Your Colorado Car Accident Lawyers?
Nearly 40 years ago, a dedicated team of strategists partnered to create Springer & Steinberg, P.C. to ensure Colorado car accident victims had access to nationally recognized and award-winning legal advocates who provide the expansive resources, connections, and knowledge our clients need to pursue success inside and outside the courtroom.
At Springer & Steinberg, our experienced Colorado traffic collision attorneys and support staff will listen to your concerns, answer your questions, and provide the legal strength and perseverance you need to build a compelling case that produces results.
No matter how negligence has interrupted your quality of life, we can help you pursue the financial outcome you deserve for your complete physical, emotional, and financial injuries, so you can take back control of your life and prosper.
With the distinction of an AV Preeminent® rating by Martindale-Hubbell®, our identification as a U.S. News Best Law Firm, and spots in the National Trial Lawyers: Top 100 and the ASLA Top 40 Lawyers Under 40, we genuinely care about each of our clients and are here to help to produce real results for real people using elite legal strategies that are designed for success.
If you have been injured or lost a loved one to negligence anywhere in Colorado, contact our skilled auto accident attorneys today to schedule a free consultation to discuss your unique recovery needs with a law firm that cares.
Contact Our Leading Colorado Auto Accident Lawyers Today to Schedule a Free Consultation
If you have been hurt in a vehicle collision or lost a loved one to negligence, contact our skilled Colorado car accident lawyers at Springer & Steinberg by calling 970-341-2298 or online today to discuss the details of your case with a team of legal advocates who care about your future.
Our dedicated Colorado personal injury lawyers provide free consultations for all Colorado residents, and never charge any legal fees unless you make a recovery on your unique case.
---
We Also Serve The Following Areas:
Boulder | Brighton | Centennial | Castle Rock | Fort Collins | Denver | Grand Junction | Golden