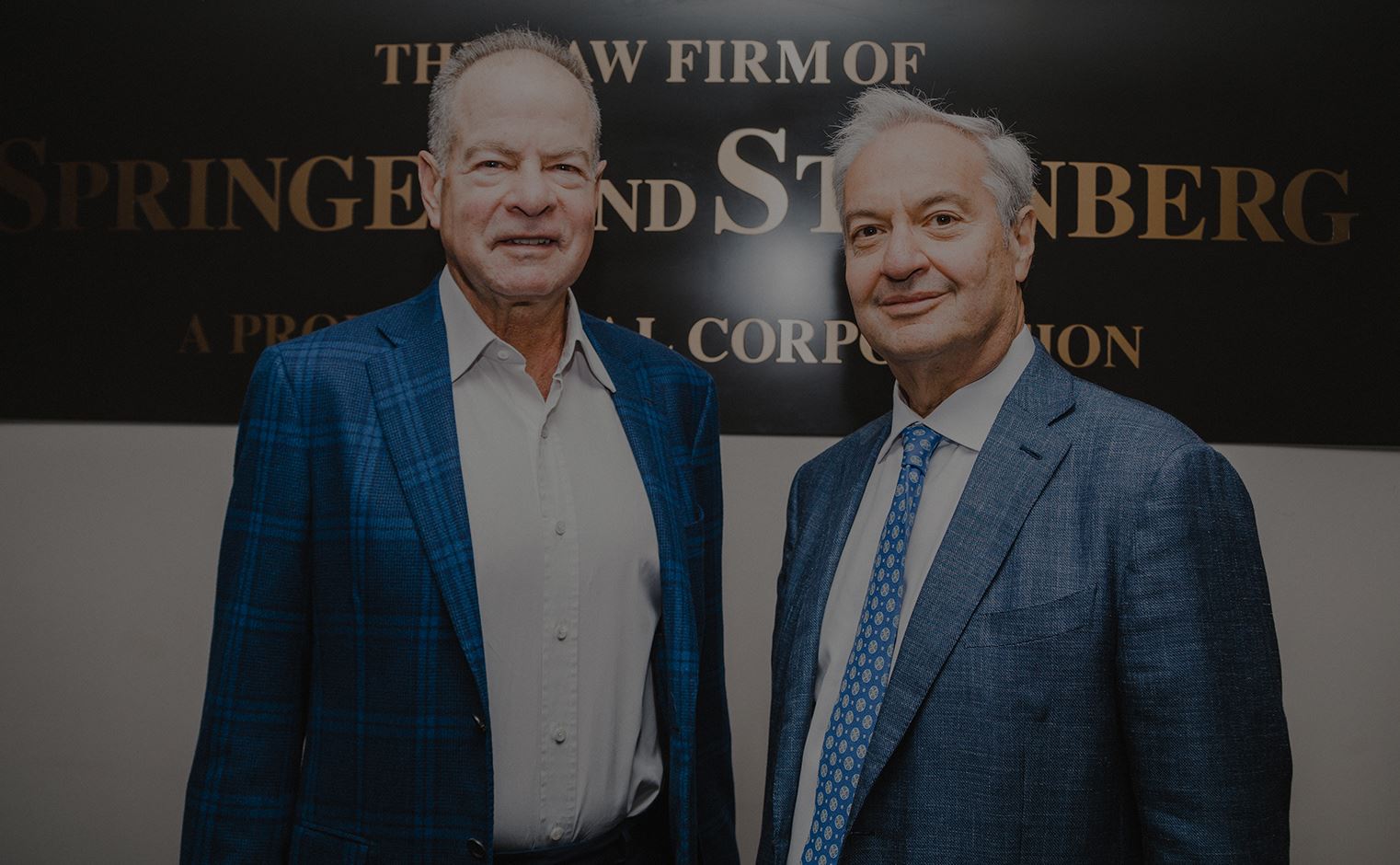 Colorado Personal Injury Lawyers
Experienced Slip and Fall Attorneys in Colorado
At Springer & Steinberg, P.C., our skilled Colorado slip and fall lawyers know when negligence is a factor on public or private property, our residents can get hurt anytime, anywhere, without notice.
When they do, their lives are changed by mounting medical bills, extended time away from work without pay, and out-of-pocket expenses that can devastate their finances.
That is why we are here.
Our devoted legal advocates work diligently to outline each of our client's vulnerable positions, so the insurance companies are fully aware of how their injuries have affected their day-to-day lives and overall well-being, so we can pursue the financial outcome they deserve.
Our committed team of experienced and diverse attorneys and support staff have transformed the way personal injury cases are handled to ensure that each of our clients is treated fairly and with respect throughout settlement negotiations or the litigation process.
What are the Most Common Causes of Slip and Fall Accidents?
Slip and fall accidents in Colorado can occur anywhere negligence is a factor, including on public and private property. Whether you were injured inside a shopping mall, restaurant, or grocery store, while visiting a friend, or during your stay at a vacation rental, the physical, emotional, and financial damages can be overwhelming.
Some of the most common causes of slip and fall accidents may include, but are not limited to:
Broken stairs, elevators, or escalators
Cluttered floors and walkways
Exposed, loose, or unfastened cables
Falls from heights
Freshly waxed or mopped surfaces
Inadequate lighting
Loose floor mats
Missing or damaged hand railings
Spilled food or liquids
Uncleared snow and ice from walkways and parking lots
Uneven sidewalks
Wet floors
When public or private businesses and property owners fail to post warnings about the dangers on their premises, delay fixing defects, improperly train employees about the importance of identifying potentially dangerous conditions, provide instructions on how to correct them, or warn patrons and visitors about them, people are going to get hurt.
When they do, we want to help them hold the liable party responsible for their financial recovery.
For nearly four decades, our dedicated team of strategists who partnered to create Springer & Steinberg, P.C. have ensured Colorado personal injury victims have access to nationally recognized and award-winning legal advocates who provide the expansive resources, connections, and knowledge they need to pursue success inside and outside the courtroom.
With the distinction of an AV Preeminent® rating by Martindale-Hubbell®, SuperLawyers, our identification as a U.S. News Best Law Firm, and spots in the National Trial Lawyers: Top 100 and the ASLA Top 40 Lawyers Under 40, we genuinely care about each of our clients and are here to help to produce real results for real people using elite legal strategies that are designed for success.
What are the Most Common Injuries Associated with Slip and Fall Accidents?
Our Colorado slip and fall accident lawyers know that when our clients are injured on public or private property, the incident often comes as surprise, which can exacerbate their injuries.
No one goes to lunch or shopping with friends and expects to be injured as a result. Unfortunately, when negligence leads to dangerous conditions, people are going to get hurt.
Some of the most common injuries associated with slip and fall accidents in Colorado include:
Bone fractures
Joint dislocations
Sprained and strained muscles
Soft tissue injuries
Neck injuries
Spinal cord injuries
Traumatic brain injury and other head injuries
Paralysis
If you have been injured on public or private property in Colorado, contact our skilled slip and fall accident and injury attorneys today to schedule a free consultation to discuss your case.
Can I Pursue Financial Compensation From the Property Owner After a Slip and Fall Injury in Colorado?
At Springer & Steinberg, P.C., our skilled team of Colorado personal injury attorneys has recovered hundreds of millions of dollars in compensation for our clients, all starting with free consultations, and will use our experience and resources to pursue a positive result for your case too.
Depending on the extent of your injuries, your complete financial needs may be complex and include:
Current and future medical costs
Medical devices and prescription expenses
Therapy and rehabilitation appointments
Current and future lost wages
Diminished working capacity
Temporary or permanent disability
Pain, suffering, and psychological damages
Our experienced slip and fall attorneys in Colorado ensure your damages are calculated and predicted accurately, so you are awarded fairly.
Should our negotiations with the insurance company end in a less than just outcome, we will end our talks and take your case to trial where our skilled litigators have produced proven results.
Contact Our Leading Colorado Slip & Fall Injury Lawyers at Springer & Steinberg, P.C. Today to Schedule a Free Consultation
If you have been hurt on public or private property because of the owner or operator's negligence, contact our skilled Colorado slip and fall lawyers at Springer & Steinberg, P.C. by calling 303-861-2800 or online today to discuss the details of your case with a team of legal advocates who care about your future.
Our dedicated Colorado personal injury attorneys provide free consultations for all Colorado residents, and never charge any legal fees unless you make a recovery on your unique case.