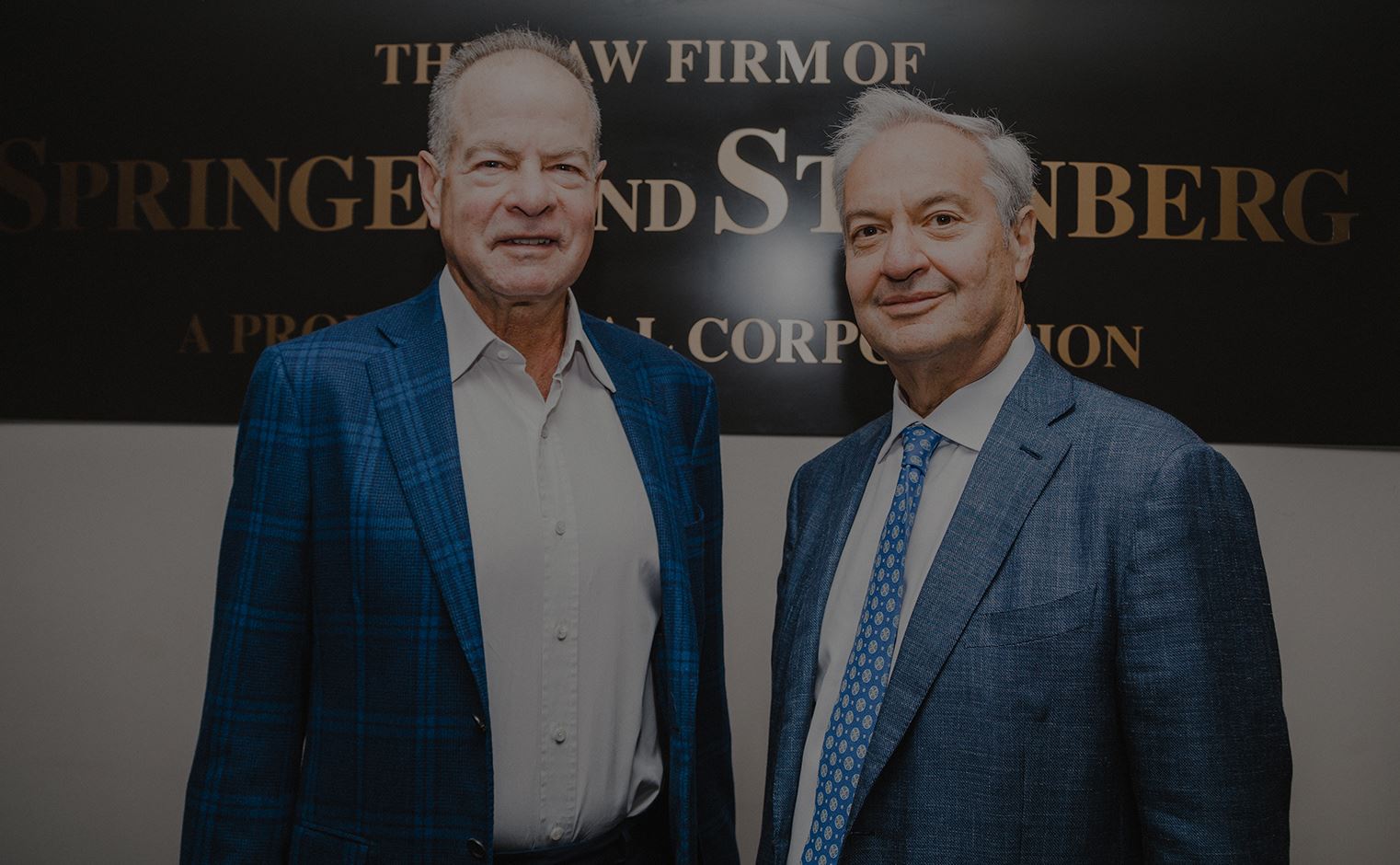 Colorado Personal Injury Lawyers
Leading Truck Accident Attorneys in Colorado
Since the trucking industry has so many moving parts to ensure the state's commerce operates seamlessly, the truck driver, trucking company, or other third parties must maintain extensive safety protocols to ensure no one gets hurt in the process. At Springer & Steinberg, P.C., our skilled Colorado truck accident lawyers know that is simply not the case all the time.
The Colorado Motor Carriers Association (CMCA) reported last year that the trucking industry in Colorado provided over 110,000 jobs throughout the state. These positions were made possible by the over 13,000 trucking companies located throughout the state, most of them small, locally-owned businesses.
The CMCA also reported over 79% of Colorado communities depend exclusively on trucks to move their goods, which requires employing tens of thousands of drivers to operate heavy, tractor-trailer, and commercial delivery vehicles.
When negligence is a factor anywhere in the transportation industry — whether it is an impaired truck driver getting behind the wheel or a trucking company pushing drivers to place profits over safety by exceeding the Hours-of-Service Regulations — people are going to get hurt.
That is why we are here.
While we hope you never need us, our devoted legal advocates work diligently to outline each of our client's vulnerable positions, so the insurance companies are fully aware of how their injuries have affected their day-to-day lives and overall well-being, so we can pursue the financial outcome they deserve.
Semi-Truck Traffic Traveling the Colorado Rockies Can Lead to Catastrophic Accidents, Injuries, and Fatalities
Colorado residents are all-too-familiar with Interstate 70, the major highway carrying commerce and passengers through the Rocky Mountain front range, which also serves as the main east-west throughway for long haul trucks that just pass through the state.
I-70 also serves the many Colorado Ski Resorts including Vail, Aspen, Winter Park, Keystone, Breckenridge, and others, creating weekend ski traffic that is heavy in both directions.
Winter weather on I-70 can be extremely challenging, which means traffic slows and increases the risk of accidents.
Adding to those challenges is the steep mountain pass with 7 and 8 percent grades that require the frequent use of truck run-away lanes.
For all motorists, one false move can lead to catastrophic accidents, injuries, and fatalities on our roadways. When truck drivers negligently get behind the wheel, it is a disaster waiting to happen.
Because of the dangers associated with truck traffic in Colorado, the Colorado Department of Transportation, in partnership with the Colorado State Patrol and Colorado Motor Carriers Association, created The Mountain Rules. This campaign is designed to educate truck drivers on the dangers of traveling Colorado's mountainous terrain year-round, to help limit the number of commercial truck crashes on our roads.
If you have been injured in a truck accident, or tragically lost a loved one in a commercial vehicle collision, contact our skilled Colorado truck accident lawyers to discuss your case. We will outline your case to ensure each liable party is included in our pursuit for financial recovery, so you can get your life back.
Who Can Be Held Liable for Truck Accidents, Injuries, and Fatalities in Colorado?
For nearly four decades, our Colorado truck accident attorneys at Springer & Steinberg, P.C. have provided the expansive resources, connections, and knowledge our clients need to pursue success inside and outside the courtroom.
Our experience, integrity, and accessibility become increasingly important during truck accident cases, because of the potential for multiple parties to be held liable for their role in the collision.
After a complete investigation, our skilled Colorado truck accident attorney will outline the responsible parties and hold each accountable for our client's financial recovery.
That may include:
The truck driver
The trucking company
Third-party cargo loaders
The truck's maintenance company
The commercial vehicle manufacturer or parts suppliers
Our experienced personal injury attorneys in Colorado ensure your damages are calculated and predicted accurately, so you are awarded fairly. Should our negotiations with the insurance company end in a less than just outcome, we will end our talks and take your case to trial where our skilled litigators have produced proven results.
We can pursue the same for you and your family, starting with a free consultation.
With the distinction of an AV Preeminent® rating by Martindale-Hubbell®, SuperLawyers, our identification as a U.S. News Best Law Firm, and spots in the National Trial Lawyers: Top 100 and the ASLA Top 40 Lawyers Under 40, we genuinely care about each of our clients and are here to help to produce real results for real people using elite legal strategies that are designed for success.
Contact Our Leading Colorado Truck Accident Lawyers at Springer & Steinberg, P.C. Today to Schedule a Free Consultation
If you have been hurt in a truck accident caused by negligence or have tragically lost a loved one to negligent circumstances, contact our skilled Colorado truck accident lawyers at Springer & Steinberg, P.C. by calling 303-861-2800 or online today to discuss the details of your case with a team of legal advocates who care about your future.
Our dedicated personal injury lawyers provide free consultations for all Colorado residents, and never charge any legal fees unless you make a recovery on your unique case.